Apple's latest innovation is a dream come true for small business owners. The mega tech company announced Apple Business Essentials today which is an all-new service that brings together a plethora of things. Have a look at how Apple is set to revolutionise your business.
What Does It Offer?
Apple Business Essentials offer device management, 24/7 Apple Support, and iCloud storage with flexible subscription plans for small businesses. It can cater to businesses with up to 500 employees. This program also comes with an app that enables employees to install apps for work and request support. Everybody in a business can be connected through this app.
Why Is It Important?
Apple Business Essentials is important because it saves precious time for small businesses and allows them to grow. This service targets small businesses through the total device management life cycle. For instance, from device setup to employee onboarding and device upgrades, everything is handled by it. Moreover, that too while providing strong security, prioritized support, and secure data storage and backup.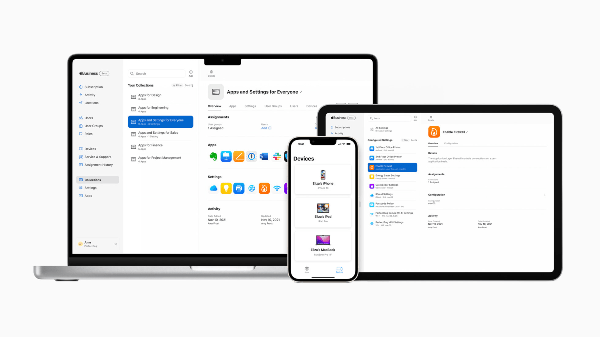 Susan Prescott, Apple's vice president of Enterprise and Education Marketing, said that "Small businesses are at the core of our economy" which is why Apple wants to help them. According to her, Apple Business Essentials is designed specifically to streamline every step of employee device management within a small business— you name it, it handles it. The core motivation is to do so so leaders can focus on running the business rather than managing it.
Read more: Apple Is Being Sued By Chinese Students
Offers The Strongest Security
Since Apple Business Essentials will have crucial information, it comes with tight security. IT managers of the company can enforce critical security settings such as the FileVault for full-disk encryption on Mac. Otherwise, the Activation Lock can be used to protect devices that may be lost or stolen. Moreover, Apple Business Essentials also ensures that these will not be easily turned off by mistake.
Secure Storage
Moreover, besides great security, information is consistently backed up in Apple style. Apple Business Essentials also provides a dedicated iCloud account for work which would be providing simple and secure storage backup. Also, it offers collaboration on files and documents to reduce inconveniences when switching between devices!
Read more: Here's Why The Long-rumored Apple Car Might Be On Its Way Soon
All in all, this innovation is bound to become the lifeline of small businesses soon. Try and download the app today to get started!
Stay tuned to Brandsynario for the latest news and updates.