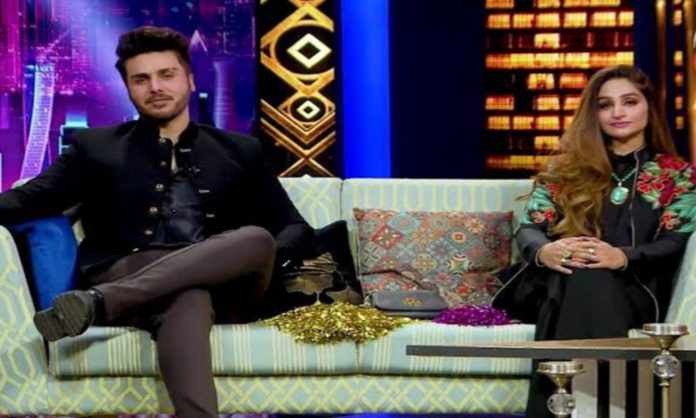 'The Couple's Show' hosted by Aagha Ali and Hina Altaf is in full swing. The celebrity couple sits down with other celebrity couples to talk about profession, marriage, and life in general. The latest episode of the couple's show featured Ahsan Khan and his wife, Fatima Ahsan. The duo talked about how Fatima got over Ahsan's acting carrier and made peace with him working with other actresses.
Ahsan Khan & Fatima Ahsan
In a series of questions, Hina Altaf asked Ahsan's wife how she managed with a husband in the showbiz industry. She then asked if she ever felt jealous by the fact that Ahsan works with great actresses in the industry?
Aagha then asked Fatima Ahsan, 'Are you the possessive kind?'
To which Fatima responded,
"Initially, yes, I was, but he never gave me an excuse. Since I never had an excuse so I then just let it go."
Read More: Should The Concept Of 'Ghar Damaad' Be Normalized In Our Society?
Later, Hina Altaf asked the same question from Ahsan whether he is possessive of his wife?
"The moment we opened our eyes, we met each other. We met at the age of 16 since it is very young. It's been twenty years since we have known each other. So now we are way past that age of getting jealous, and since our kids are all grown up, we are always thinking about them."
Take a look at the complete interview below.
The duo then discussed how Ahsan has a lot of exposure, given that he has worked with many actresses over the long course of his acting carrier. Fatima, on the other hand, was very invested in Ahsan and their relationship from the very beginning because they got married at a very young age.
Share your thoughts about the whole discussion in the comments below.
Read More: Netizens Enraged After Humaima Malick's Recent Video Goes Viral
Stay tuned to Brandsynario for the latest news and updates.