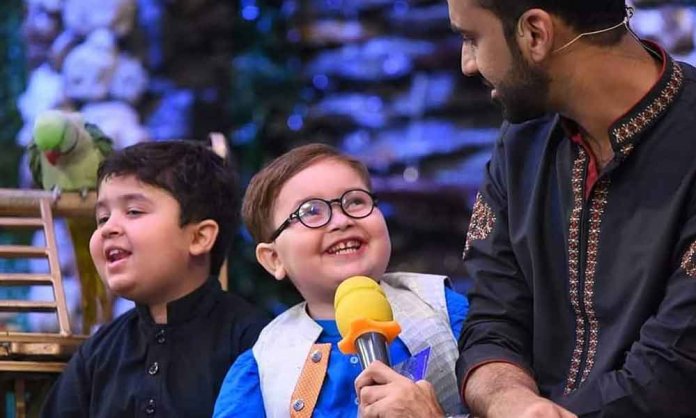 Ahmed Shah, the latest media sensation and talk of the town has once again taken the social media by storm. However, this time it is for a different reason than his usual cuteness.
Celebrities, journalists, and fans have all started noticing Ahmed Shah's constant presence at LIVE Ramzan transmissions, and they are not having it.
He has been spotted daily on ARY Digital in Shan e Iftar with Waseem Badami, Jeeto Pakistan with Fahad Mustafa, and also sometimes with Nida Yasir on her morning show.
Journalist and former PTV anchor, Sana Ejaz took to Twitter to express her views on the matter.
It's time we talked about our entertainment industry using Ahmed Shah as a prop.
Considering that the child star is a minor, and is probably kept at shows for ungodly long hours without his consent, it does seem a little unfair.
How was today's #RozaKushai segment in #ShaneIftar ?
Give us your valuable feedback in the comments section below!
Tune into #ARYDigital & watch #RamazanSpecial #ShaneRamazan transmission LIVE!#20thRamazan #WaseemBadami #PehlaajHassan #AhmedShah & other kids… pic.twitter.com/BuR749ahTl

— ARY Digital (@arydigitalasia) May 26, 2019
People are of the opinion that the child is being exploited by the media for ratings, even at the cost of his health, sleep, and him being away from his family and home.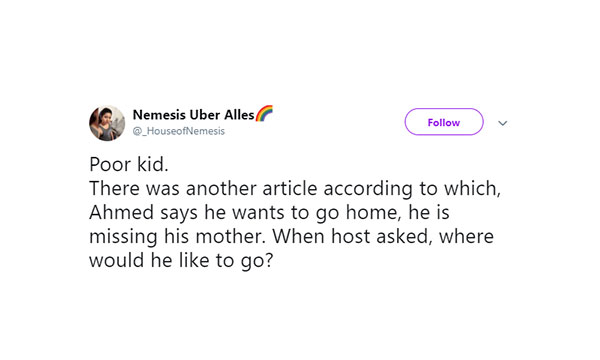 Exact thing I was talking about an hour ago with my friend.

Is bachey ka school wagira sab hatwaa k is kaam main lagaa diyaa hai sirf ratings k liye.

But somehow this is bad with this kid.

Behtareen review by @ComicsByArslanhttps://t.co/4hGXyRBUSH

— Azhar Ul Hasan. (@AzhrulHasan) May 28, 2019
Professional Pakistani Squash player, Noorena Shams also took to Twitter yesterday to ask Mahira Khan and Shehzad Roy a very important question regarding the child star's safety.
I had said it last year too. I dont see stars bringing their kids. Why is Ahmed Shah used that way? No wonder he is cute but I guess at this age he should go to school. I have no objection with him being with other kids in Shan e ramzan but jeeto Pakistan is wrong.

— Noorena Shams (@noorenashams) May 26, 2019
The athlete's question was in reference to Shehzad Roy's latest initiative #ProtectOurChildren, which involves celebrities like Mahira Khan and Zeba Bakhtiyar.
The initiative is aimed at demanding that the government introduce Life Skills Based Education in schools so the children can learn to understand and battle physical abuse.
Twitterverse is protesting how the young child is being exploited for ratings
Shame on you guys for using these kids especially Ahmed shah as prop for ratings. Kuch sharam kar lo

— Obaid ur Rahman (@Obisays) May 27, 2019
exploiting the cuteness of #AhmedShah & displaying his expression as showpiece to earn ratings is beyond sense. His childhood, his privacy & his reputation are all going to be affected for life.#ARYDigital

— farah lodhi khan (@farah_lodhi) May 28, 2019
Where's woke and anti harrasment crowd, Ahmed SHAH being used for giving chumis to Fahad Mustafa and his guests!

# Justice for that Cutiepie

— Shikaa (@ShikamaruPk) May 26, 2019
Earlier, an inappropriate video of Ahmed with self-proclaimed model and TikTok sensation, Hareem Shah got viral.
Child Star Ahmed Shah's Inappropriate Video With TikTok Celebrity Sparks Uproar!
Many people termed her behavior with the child as harassment, under the light of which these questions make sense.
Some are also saying that it is the child's parents who are at fault for allowing channels to keep him on set just for the sake of some money. The child is too young to have a will of his own, after all.
Can you just stop hating Ahmed Shah for no obvious reasons?? He's a kid, it's his parents, media and us who ruined him.

— شاہ زیب خان (@shzbkhn) May 26, 2019
What do you think? Let us know in the comments below.
Jeeto Pakistan: Mahira Khan & Ahmed Shah's Adorable Moments Take Over Internet
Stay tuned to Brandsynario for more updates.