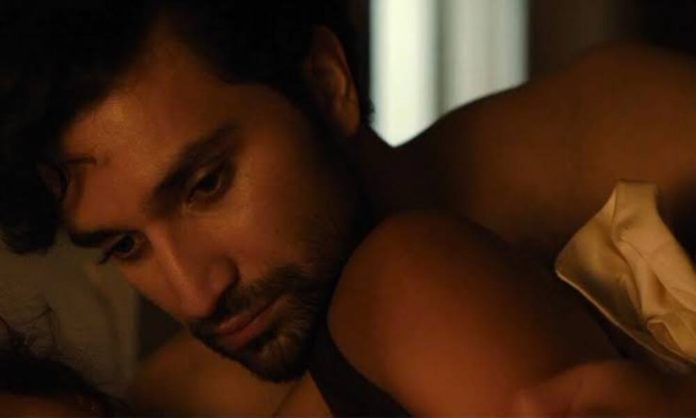 Resident Evil is finally out, and the anticipation regarding Ahad Raza Mir's role in the Netflix original has been resolved. The 28-year-old star in the new sci-fi horror series plays 'Arjun Batra', an Indian refugee following the global T-virus pandemic.
While many Pakistanis are praising him for landing a role in a big franchise, a relatively new development has caught everyone's eyes.
Resident Evil Scenes 
It is not strange to see intimate/kissing scenes in Netflix shows. However, it is pretty strange for a Pakistani to do so – according to netizens. Ahad Raza Mir is an artist whose art knows no boundaries. The actor has landed a role in yet another English series – the second season of BBC's 'World On Fire'. While Mir's acting has been met with applause in his Netflix debut, he is also being criticised for acting through intimate scenes – a boundary he sure failed to keep according to the local audience.
Specific clips from the series are doing rounds on social media, and while many are justifying the role, others are not impressed.
Astaghfirullah can't expect this,is he really a muslim?Is he a Pakistani?omg it's unexpected mein soch b nahi skti thi k ye itna gire ga,If any Pak male actor does this kind of things they're called hot but if any female actress does they become vulgar#AhadXResidentEvilNetflix https://t.co/i3V9OHmX3m

— Taliahussain (@Taliahussain1) July 14, 2022
Read More: 6 Entertainment Platforms In Pakistan You Should Definitely Subscribe To
While Ahad's steamy scenes look like a recipe for disaster for the local audience, the question of using a body double has also been raised by the netizens, and many fail to admit that the actor himself starred in those scenes.
bruh its acting + ye Visual hai I am very sure isne asal mei nahi kiya.

— Domlol💫 (Following Back) (@Domlolxd) July 15, 2022
Meanwhile, many raised the question of how romantic scenes are the essence of Pakistani movies and TV shows, and such scenes shouldn't come as a surprise for a massive international project.
And ppl who see all this, many others doing such romance in movies, despite of being Muslim and Pakistani.
Wo gunnah ni krty??

— Maria (@a_STRONG_irl) July 15, 2022
Social media has sparked a debate regarding the actor's Hollywood debut. It is not a surprise to see Sajal Aly in the mix. Netizens made sure to rest their case on the couple's divorce and mentioned the scenes behind the reason for the couple's separation.
Toxic fans are enough. People kiss all the time in movies and shows, so Ahad being Muslim doesn't mean shit. You same people watch the shit out of GoT, so u don't have a right to talk about this.#ResidentEvilNetflix #AhadXResidentEvilNetflix

— Maaz Hamid (@Sirenhead_Maaz) July 15, 2022
He wrapped up shooting #ResidentEvilNetflix last year during their marriage so obviously Saj@l knows about it.

So pls stop justify him for god sake.#AhadRazaMir #AhadXResidentEvilNetflix #ArjunBatra pic.twitter.com/nOOI4hVhbJ

— adam (@Musaafiir_) July 15, 2022
Is Ahad The Only One?
Ahad Raza Mir is not the first and certainly not the last for his role in an overseas project. Many celebrities have been met with severe criticism previously for their intimate and bold scenes on different platforms. However, according to netizens, being a male celebrity has given him the benefit of the doubt and a privilege not everyone seems to get amidst the moral and ethical codes set by the public.
Read More: 8 Pakistani Celebrity Couples Trolled For Being Too Affectionate In Public
What are your views on the actor's scenes? Share your thoughts in the comments below.
Stay tuned to Brandsynario for the latest news and updates.