Refusing to write 'Merry Christmas' on cakes is a new trend in the making and following the footsteps of Delizia, next in line is Auntie Munaver's bakery who straight up refused to write Merry Christmas on a cake.
Who Is Aunty Munaver?
Auntie Munaver's Food & Dessert are quite famous in Pakistan especially in Karachi and they also send their products to UAE and Saudi Arabia. Their cakes and other stuff are really yummy and the ingredients are always fresh. Prices are on the high side, but they don't compromise on quality.
Even though everything Auntie Munaver touches turns to gold (and streams of saliva in your mouth), the 3-milk cake is her crown jewel. The three milk chocolate cake by Auntie Munaver is the stuff of legends now, the centerpiece to every birthday party.
Read More: Delizia Bakery Under Fire For Hurting Christian Sentiments
What Actually Happened? 
A user posted a complaint on Karachi's biggest food group after the staff of Auntie Munaver's refused to write the greeting 'Merry Christmas' on the cake. Furthermore, they insisted the customer reach out to the officials of the bakery.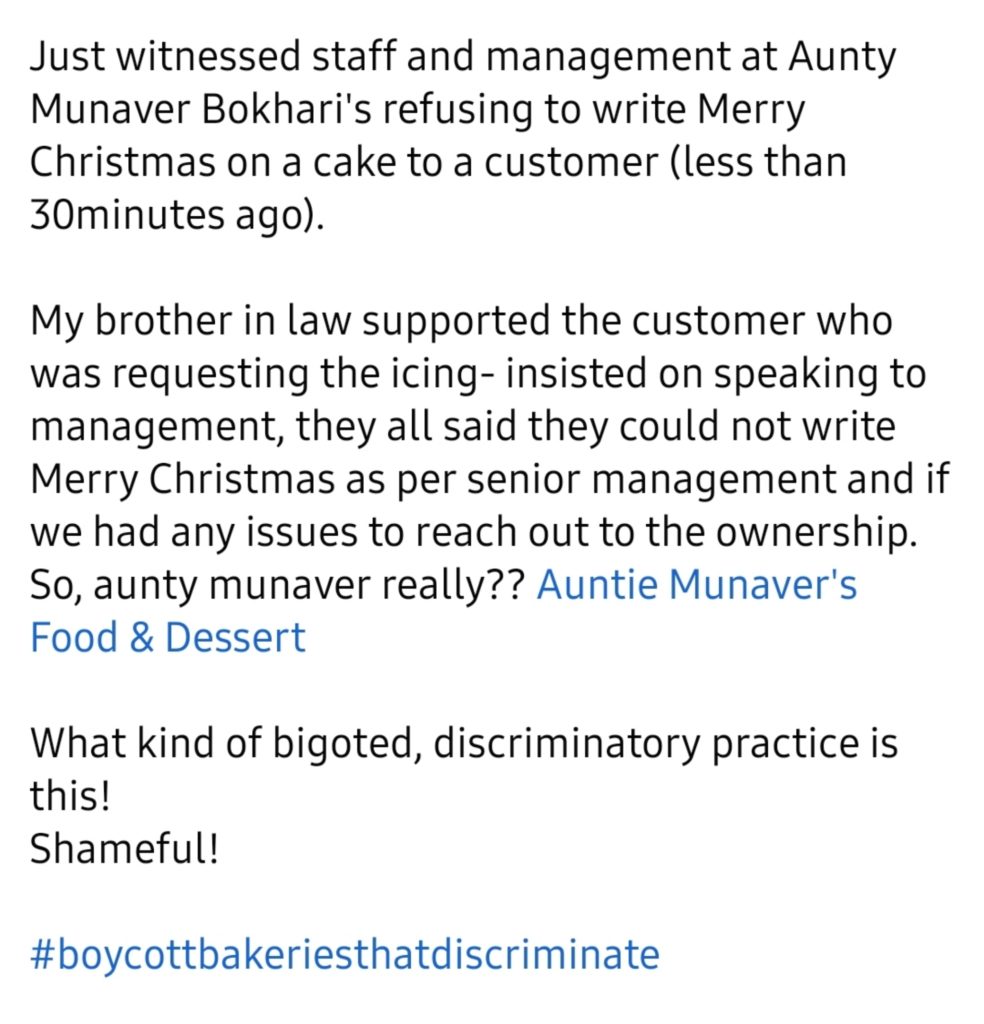 However, this was not on a single account. The bakery insists on refusing the different customer's request in lieu of accomodating them. Another customer shared their experience with the bakery and needless to say that Auntie Munaver's bakery might loose loyal customers for good.
Twitter's Viewpoint 
While the religious sentiments have been touched upon, it's not quite easy to point out the right thing to do. Meanwhile, many have shared their viewpoint and thoughts on social media.
It is not permissible for a Muslim to greet Christmas,means celebrating the day of"God's"birth – a concept absolutely abhorrent to Muslims&in direct contradiction to the Quranic verse,"He(Allah)did not give birth nor was He born."(Quran112:3)#AuntyMunaver#Delizia #AuntyMunaver pic.twitter.com/atkCj0jr7J

— Sarcasm 👤 (@sarcasm475) December 24, 2021
You cannot go to a Hindu bakery and tell them to write "I love sacrificing Cows"! Cuz its against their faith! Delezia is not disrespecting their faith, they are respecting their own! Something liberal Muslim Apologists fail to understand!

— Kamran Ali Haider (@KamranAliHaide7) December 23, 2021
Someone who can tweet in English n knows how to use internet SHOULD be able to check what Merry Christmas means if they still don't know. FYI merry Christmas does NOT mean I believe Jesus is son of God, it ONLY means I wish you enjoy the festival of Christ. FYI Islam does NOT +

— Ssabbasi (@Ssabbasi9) December 23, 2021
Read More: 6 Best 2021 Marketing Campaigns By Brands In Pakistan
The majority gave reasons as to why this thing is not acceptable in Islam. Others simply couldn't understand the reason for doing so.
Hats off to this logic. No body on earth write that on cake. But to write wishes and greetings are common in the existing world. And I can not understand how can wishing someone harms anybody? #Delizia did wrong. Being a #Christian I am hurt.

— Naila Waseem (@naila_waseem6) December 24, 2021
Customers have their right to be served. Writing Merry Christmas for Christians doesn't diminishes your faith

— Kazmi Sarkar (@syedalihassan54) December 23, 2021
What are your thoughts about this? Let us know in the comments below.
Stay tuned to Brandsynario for the latest news and updates.