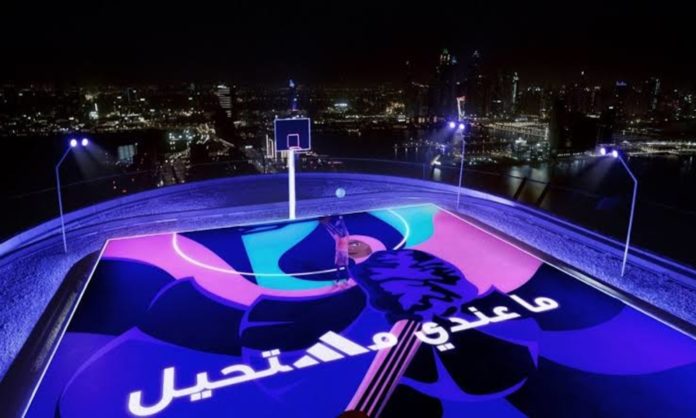 Adidas decided to create a basketball court on top of a 52-story building in Dubai, as an activation of the "I'm Possible" positioning. The strategy seeks to highlight how sport allows people to reach new horizons and ambitions.
'Impossible Is Nothing' Campaign
The installation stands with the help of hundreds of LED lights. The larger-than-life activation sits on top of a 52-floor tower at the heart of man-made island The Palm.
Read More: 5 Ways To Make Customers Trust Your Brand & Why It's Important
The structure features an illustration by Asma Elbadawi, a Sudanese-British basketball player, poet and activist who, in 2014, managed to provoke a movement to overturn the International Basketball Federation (FIBA) ban on the wearing of hijabs and religious hats. Asma also stars in the campaign film, which recalls her struggle to break down prejudice and create new possibilities.
The production, filmed from a helicopter more than 1,524m above the ground, shows the entire structure of the court, created with UV black lights, LED panels, and glow-in-the-dark paint. Meanwhile, Havas Middle East signs the action.
The voice over of Elbadawi follows, "When we wanted to end the ban on playing with hijab, they said impossible, But like this city, every time I'm told 'impossible', all I hear is 'I'm possible'."
The Followup 
The video comes as a follow-up to the campaign which came out two months ago. The women in the previous film include, Squid Game's HoYeon Jung, basketball player Asma Elbadawi. Volleyball player Tifanny Abreu, runner Fatima Ibrahimi, yoga teacher Jessamyn Stanley, skateboarder Momiji Nishiya as well as model Ellie Goldstein.
Read More: KitKat's Latest Limited Edition Flavor Will Make You Drool
"Adidas can only continue to be their ally. We are committed to serving them through innovation in our products, partnerships, and across all dimensions of sport," said Adidas' head of global marketing, Vicky Free.
Stay tuned to Brandsynario for the latest news and updates.