Ever since Drilis-Ertugrul gained fame in Pakistan, it was a bit hard for certain local producers and actors to accept, that Pakistanis were no longer interested in typical dramas whose plots revolved around mother-in-law and daughter-in-law's fights, Extra-marital affairs and overly-emotional unrealistic storylines.
The fame gained by the Turkish stars and dramas was criticized by a few noticeable people of the Pakistani industry who perceived the fame of Ertugrul as a threat rather than taking notes about what the Pakistani viewers were willing to watch. One of the noticeable critics of the drama being broadcasted in Pakistan was Yasir Hussain.
So Why Has Google Listed Esra Bilgic aka Halime Sultan as Yasir Hussain's Mother?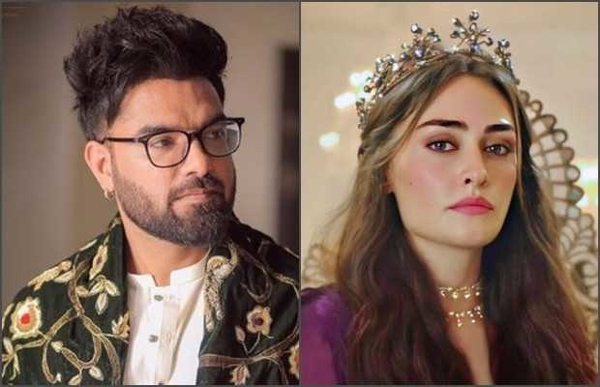 Now as we approach towards the end of 2020, someone vandalized Yasir Hussain's Wikipedia page, adding Ertugrul's Halime Sultan as his mother prompting Google to show Esra Bilgic as Yasir Hussain's mother.
However there is one problem, Esra Bilgic 8 years younger than Yasir.
Obviously the netizens took it to twitter and made fun of the entire ordeal and had jokes to crack.
Esra Bilgic mother of Yasir Hussain i love the internet😂😂😂😂😂#EsraBilgic #YasirHussain pic.twitter.com/xZgUHhOZTV

— Omer Saleem (@mirzaomersaleem) December 23, 2020
Life is "Ertugrul", I'm yasir Hussain. https://t.co/lqpYvQYZBt

— Aima (@Wtfayma) December 22, 2020
Google is not coming slow 😂 iukwim#yasirhussain #EsraBilgic pic.twitter.com/YFzhiR03cL

— Dr.Maham Khan|| PT (@MahiiDr) December 26, 2020
It has been a ride since Drilis-Ertugrul gained popularity in Pakistan. After Prime Minister Imran Khan suggested the series to the Pakistani public and it was announced that the series will be broadcasted on PTV, the drama gained immense popularity and love from the Pakistani public for its plot and the fact the story was centered around the Islamic values, contrary to the Indian and Western series and movies we are normally used to seeing.
Yasir has been able to make a name for himself since the past few years after being involved in numerous controversies which has already made him one of the polarized figures of Pakistan. He came under fire after he cracked a joke about child abuse in Hum Awards 2017 after which he had to later apologize.
He also made distasteful comments about transgenders on Instagram, made irresponsible comments about his fellow-star Hania Amir and her issues with acne along with several other irresponsible comments prompting him to become one of the actors of the Pakistani drama industry who are always intertwined in controversies. Recently, a rendition of Anwar Maqsood and Moin Akhtar's LooseTalk made rounds on social media with Yasir Hussain replacing Moin Akhtar which also prompted reaction from the audience.
With a track record like this, virtual vandalism like this was likely to happen with Yasir Hussain.
Follow Brandsynario for more news and updates.