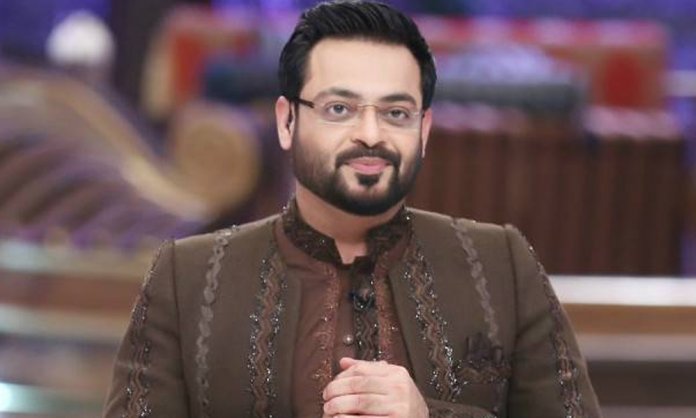 Aamir Liaquat knows the art of staying in the spotlight!
Just last week, he made a dramatic return to his Ramadan transmission after PEMRA declared a ban on his show, following a controversial feud between religious scholars.
Apparently, the televangelist turned lucky and Islamabad High Court permitted him to appear on television again.
Now in yet another twist, Aamir Liaquat has made it to the news again and this time it seems he will be quitting his political party Pakistan Tehreek-e-Insaf (PTI), just after 3 months of joining.
In an angry tweet, the scholar-turned- entertainer expressed his disappointment over being refused a ticket by PTI's Karachi leader Firdous Shamim Naqvi.
Sullen and annoyed at the party, Aamir Bhai announced that he will reveal his future political course by today.
میں تحریک انصاف کو اپنا گھر سمجھ کر آیا تھا لیکن جناب فردوس شمیم نقوی صاحب نے مجھے میرے ہی گھر سے ٹکٹ دینے سے انکار کردیا اور کچھ ایسی باتیں کیں جو میں @ImranKhanPTI کی عزت کوسامنے رکھتے ہوئے لکھنا مناسب نہیں سمجھتا ۔۔۔۔ بہرحال میں کل تک اپنا سیاسی فیصلہ قوم کے سامنے رکھ دوں گا

— Aamir Liaquat Husain (@AamirLiaquat) June 3, 2018
The host also accused PTI members of abusing him!
گالیاں دینے والے انصافینز کو بتانا چاہتا ہوں اپنی حدود میں رہیں ، معاملہ صرف ٹکٹ کا نہیں میرے شہر کراچی کی سیاسی سوجھ بوجھ کا ہے، مجھے ٹکٹ کی کوئی خواہش نہیں ، چیئرمین کا استدلال تھا کہ میں انتخاب لڑوں اسی لیے میں نے حوالہ دیا لیکن فردوس نقوی نے جو کچھ کہا مجھے اس سے اختلاف ہے

— Aamir Liaquat Husain (@AamirLiaquat) June 3, 2018
He ended up his Twitter rant by threatening that he will open the pandora box if immediate action is not taken against the matter.
میں شرافت کا مظاہرہ کرتے ہوئے کسی پر کوئی الزام یا بے ہودہ گوئی نہیں کررہا لیکن شریف النفسی کو کمزوری نہ سمجھا جائے ۔۔۔ @PTIofficial نوٹس لیں ورنہ پنڈورا باکس کھل جائے گا ہروقت گالیاں ناقابل برداشت ہیں @ImranKhanPTI

— Aamir Liaquat Husain (@AamirLiaquat) June 3, 2018
Well PTI better not mess with Aamir Liaquat, that too when the elections are just around the corner.
Aamir Liaquat has a long history of switching channels, becoming the only host in Pakistan who has worked for almost every network of the nation.
Not to forget, he left MQM in 2008 after a disagreement with the leaders of the political party!
Later, he rejoined the squad again in 2015 and shocked everybody with his impulsive nature.
He parted ways again with MQM in 2016, following the party's supremo Altaf Hussain's 'anti-Pakistan' speech.
However, he declared that he will NEVER enter politics ever again after his departure from his old party.
'Will never return into politics'
In March 2018, Aamir Liaquat declared that he is joining PTI and became a strong supporter of Imran Khan.
However, in light of the recent events, it seems that he will be bidding farewell to the political party soon.
Stay tuned to Brandsynario for more updates.