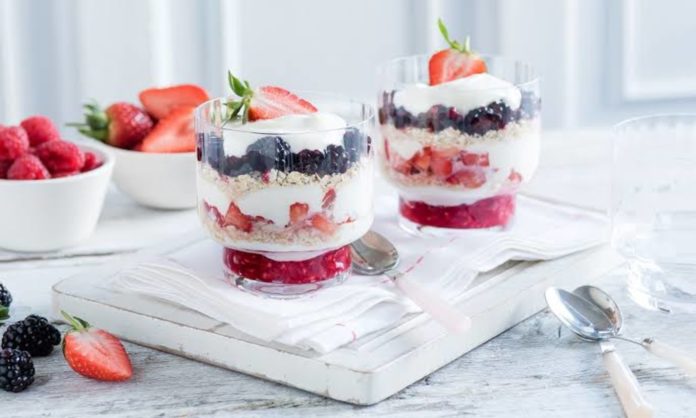 Yogurt is a household staple, and a day is incomplete without it. Not to mention Ramadan, when various recipes include Yogurt as a star ingredient. Known for its probiotic properties, yogurt is best for a healthy gut and a body. With various beneficial ingredients, it is rich in vitamins, minerals, and calcium. Yogurt is also used for a variety of dessert recipes and puddings.
If you are a dessert fanatic who is always on the hunt for a delicious dessert, then this thread is for you. Try out these delicious yogurt desserts for a quick fix.
1. Strawberry Banana Granola Parfaits
This deliciously layered dessert is perfect for any time of day. It is packed with protein and Vitamin C from strawberries and bananas. Plus, a good dose of manganese and potassium from the bananas and granola is a quick fix for when you are craving something sweet yet healthy.
2. Frozen Yogurt Popsicles 
Relive your inner child with this healthy twist on a popsicle. All you need is some yogurt and fruit, and you are good to go for this delicious yet easy recipe.
3. Frozen Yogurt Dessert 
If you ever miss frozen yogurt, then this is the recipe for you. A simple three-step and quick recipe need basic ingredients and no effort.
Read More: 6 Places To Find The Most Perfect Dumplings In Karachi
4. Yogurt Chocolate Mouse
This recipe is delicious, light, and easy to make, perfect for children and adults. Yogurt with the goodness and deliciousness of chocolate makes it a perfect summer dessert.
5. Yogurt Fruit Salad Recipe
If you dread eating yogurt in suhoor, then this is the perfect dessert for you. Make it late at night and store it in the refrigerator to chill before serving.
6. 3 Ingredient Microwave Cheesecake Dessert 
If you like baked dessert options but don't want to go through the hassle of baking, try this easy-to-make microwave cheesecake for your next dinner date.
7. Yogurt Pudding Dessert 
Create yogurt caramel pudding from scratch and amaze your friends and family with this delicious yet easy-to-make dessert.
Read More:  5 Delicious Stuffed Dates Ideas For Everyone To Enjoy
Let us know what are favourite desserts recipes in the comments below.
Stay tuned to Brandsynario for the latest news and updates.