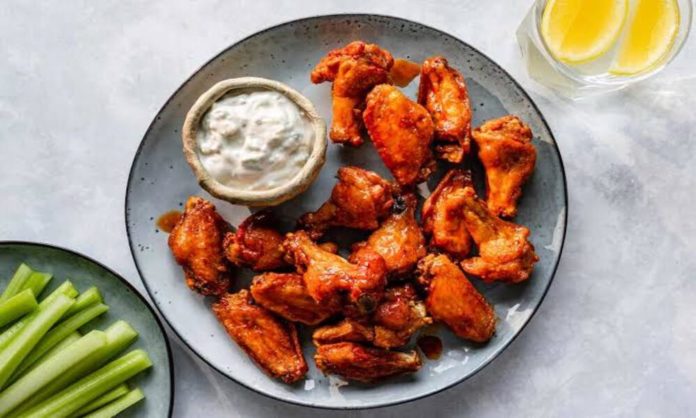 Nothing can beat the taste of chicken wings especially if they are coated in a spicy tangy sauce. Whether you are a fried chicken fanatic or a mukbang fan – spicy chicken wings are a perfect item to curb your spicy cravings. While there are numerous recipes available on the internet, it is still hard to find the one that goes on your signature menu. So, if you are on the hunt to master a spicy chicken wings recipe, we have got perfectly curated recipes for you.
1. Honey BBQ Wings 
This honey BBQ wings recipe is a perfect fit for anyone who can't tolerate extra spice. The sweet yet tangy recipe is straightforward, quick, and easy to make. Try changing your sauce to get a variety of flavors on a single platter.
2. Korean Wings 
If you haven't tried Korean wings then you are definitely missing out. The star ingredient of the famous Korean wings – the gochujang sauce is easily available in the market and can be created at home. This sauce adds a distinctive flavor to wings with a perfect balance of sweet and spicy.
Read More: 5 Ways You Can Make Traditional Gajar Ka Halwa
3. Spicy Chicken Wings
If you don't like chicken wings to be saucy then this simple recipe is the one for you. These fried spicy chicken wings aren't only easy to make but are also perfectly crunchy from the outside yet tender from the inside.
4. Spicy BBQ Wings 
If you want to test your spice level and take it up a notch then try these spicy BBQ wings. This easy-to-cook recipe can be made with minimal ingredients without spending hours in the kitchen.
5. Buffalo Wings
Buffalo wings are a star item of almost all the major pizza eateries. However, they can be quite a hit or miss in most instances. With this recipe, you can create buffalo styles wings at home without having to compromise on hygiene and taste.
6. Air Fried Spicy Wings 
There is nothing better than dodging the oily fried chicken when you are on a healthy diet while you try to overcome your cravings. This recipe comes with the option of making air-fried wings which are not only healthy but extremely delicious as well.
7. Regular Spicy Wings 
This is another recipe that doesn't require you to create a sauce. Easy to make with an adjustable spice level this recipe is also a good option for kids' lunch boxes.
Read More: Simple Chocolate & Coffee Desserts To Enjoy This Winter
Which one did you like the best? Let us know in the comments below.
Stay tuned to Brandsynario for the latest news and updates.