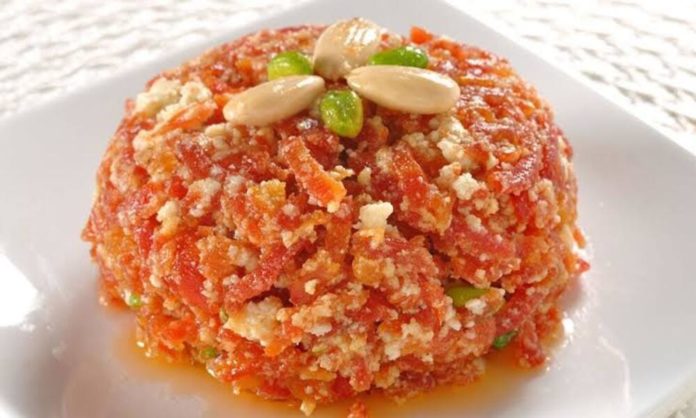 Gajar Ka Halwa is among the most traditional Pakistani deserts. Comes winter season and it is served on all occasions be it weddings, dinners, or simple get togethers. Gajar ka Halwa isn't just a dessert it has its sentiments attached to it. Since there isn't any better way to welcome the winter season in Karachi, we present you with some of the most amazing Gajar Halwa recipes to get you into the cozy season.
1. Traditional Gajar Halwa 
This traditional recipe is the perfect option for anyone who is a kitchen noob. Since halwa are a little difficult to cook, landing the easiest-to-follow recipes is like hitting a halwa jackpot. This delicious yet easy recipe will not only help you finetune your halwa skills but will also help you master the art of gajar ka halwa.
2. Halwai Style Gajar Halwa
If you like some of the most grandeur ingredients in your halwa recipes then this is the perfect fit for you. Loaded with the goodness of nuts and saffron this recipe is both nutritious and delicious.
Read More: 5 Delightful Honey Desserts To Make Your Day Extra Sweet
3. Instant Pot Halwa 
Life is smart with instant pot and this recipe doesn't need all the carrot shredding and peeling you generally need to do before cooking gajar ka halwa. Just grab some good-quality carrots and chop them. This recipe might not be traditional but offers the same taste as any other recipe. Just make sure to load your tray with lots of nuts and khoya to add an extra touch and flavor.
4. Gajar Ki Barfi 
Add a twist of barfi to your regular gajar ka halwa and vow your guests with this amazing creation. This recipe is a perfect fit to add to wedding favors or simply serve at dinners.
5. Milky Gajar Ka Halwa 
Cooking your Gajar ka Halwa in milk offers the added benefit of flavor. This recipe can be cooked without having to spend extra time in the kitchen without compromising on favors.
Read More: What Are Jacket Potatoes? 7 Recipes You Should Definitely Try
Stay tuned to Brandsynario for the latest news and updates.