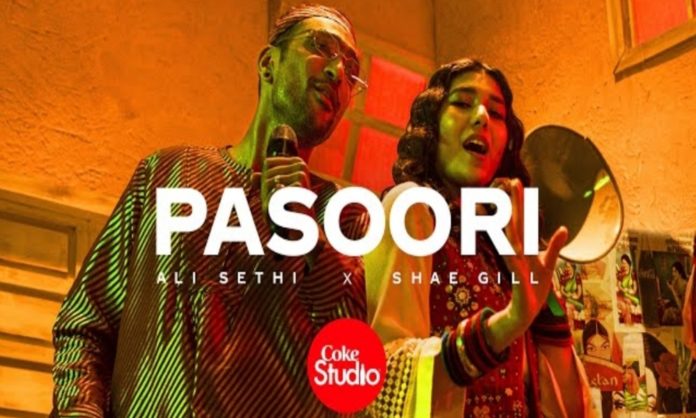 Pakistani songs have started dominating the music industry but this is only the beginning. While Coke Studio has managed to roll out some famous hits over the years, our singers have started to receive the much-needed attention of the mainstream media as well as the international platforms. From 'Pasoori' to 'Habibi', some of the hit bangers didn't only manage to capture the local audiences but their tunes spread across borders as well. As 2022 wraps up we share some of the big Pakistani hits which topped the charts this year.
1. Pasoori 
Shae Gill and Ali Sethi's masterpiece 'Pasoori', was released under the banner of Coke Studio. Soon after its release, the song managed to capture the audience's attention for its catchy lyrics and upbeat tunes. Pasoori became more of a pop culture phenomenon and put Shae Gill on the road to stardom. The Pasoori fever managed to spread across the border and many Indian artists also shared their playlists featuring Pasoori.
2. Peechay Hut
Hasan Raheem has given the Gen-Z something to look forward to. His music started dominating the industry as soon as he released his first solo album. Needless to say, he already has some of the biggest hits under his belt, and among those Peechay Hut featuring 'Justin Bibis managed to become the highlight of every party and wedding this year.
Read More: Spotify Wrapped 2022: How To Find Your Top Songs, Artists & More
3. Habibi 
'Habibi' from Asim Azhar was another fan favorite this year. The catchy beat and the laidback vibes of the song made it a hit soon after its release. Habibi also managed to cross the borders and was featured on the playlists of many international artists and actors.
4. Why Not Meri Jaan?
Calling 'Why Not Meri Jaan' an anthem would not be an overstatement. The song featured some of the most relatable and coolest lyrics. The Young Stunners did an amazing job with the song outdoing themselves. The song was released in collaboration with Pepsi and became one of the biggest collaborations with Pepsi ever.
5. Tu Jhoom 
Another major hit by Coke Studio was sung by Abida Parveen & Naseebo Laal. 'Tu Jhoom' was nonetheless a masterpiece featuring some of the biggest names in the Pakistani music industry.
6. Kana Yaari
The 'Kana Yaari' singers Kaifi Khalil, Eva B, and Abdul Wahab Bugti rose to fame thanks to this collaboration with Coke Studio. Kana Yaari managed to gain the attention of the famous dance group The Quick Style and their choreography on the song has only made the song more iconic.
Read More: Netflix Rolls Out 9 More Games Including Some Of Your Favourite Ones
Which are your favorite Pakistani songs from the list? Comment down below.
Stay tuned to Brandsynario for the latest news and updates.