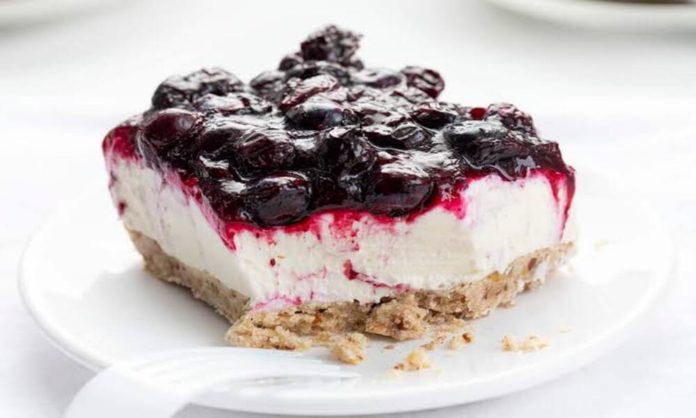 You might have come across cheesecakes of all kinds but did you know cream cheese is the star ingredient in many desserts? Yes, you heard that right! A cheesecake might be the most loved dessert to come out of the ingredient but there are a lot of desserts you can create from cream cheese. From cheesecakes and frostings to tarts and roulades, cream cheese is incredibly versatile and is a must-have in your fridge.
If you are already craving one, take your pick from our favourite desserts below.
1. Oreo Churros With Cream Cheese Dip
This oreo combination is the perfect treat to satisfy your sweet tooth. With minimal ingredients and cooking time, it is a must-have dessert for kids' birthday parties.
Ingredients
10 Oreo cookies
3/4 cup frozen whipped cream
2 ounces cream cheese, softened
3 tablespoons powdered sugar
1/2 cup (4 oz.) unsalted butter, softened and divided
1 teaspoon kosher salt, divided
1/2 cup granulated sugar
2 ¼cups water
2 ¼ cups  all-purpose flour
1 large egg
Canola oil
Instructions
Separate cookies, and scrape cream filling into a small bowl, reserving cookies in a separate medium bowl. Transfer cream filling to the bowl of a stand mixer fitted with the paddle attachment. Add whipped cream, cream cheese, powdered sugar, 2 tablespoons of the butter, and 1/4 teaspoon of the salt, and beat on medium speed until creamy and smooth, about 2 minutes, stopping to scrape down sides as needed. Transfer to a medium bowl, and set Oreo Cream Dip aside.
Pulse reserved cookies in a food processor until cookies become fine crumbs. Reserve 2 tablespoons of crumbs. Pour the remaining crumbs into a medium bowl, and stir in granulated sugar and 1/4 teaspoon of the salt. Transfer to a shallow dish, and set the Oreo crumb mixture aside.
Combine water, remaining 6 tablespoons butter, and remaining 1/2 teaspoon salt in a large saucepan over medium; bring to a simmer, stirring occasionally. As soon as the mixture begins to simmer, add flour all at once, and quickly stir with a wooden spoon until completely incorporated about 30 seconds.
Transfer the mixture to the bowl of a stand mixer fitted with the paddle attachment. Beat on medium speed until dough is smooth, about 3 minutes. Add egg, and beat until completely incorporated, about 20 seconds. Stir in reserved 2 tablespoons of cookie crumbs. Transfer dough to a pastry bag fitted with a 1/3-inch open star tip.
Pipe 4-inch-long ropes of batter onto parchment paper-lined baking sheets. Refrigerate churros until firm, about 30 minutes.
Meanwhile, pour oil to a depth of 2 1/2 inches into a large Dutch oven; heat over medium-high to 350°F. Working in batches, fry chilled churros, turning once, until golden brown, about 1 1/2 to 2 minutes per side. Using a slotted spoon or spider, transfer churros to the Oreo crumb mixture, allowing excess oil to drip back into the Dutch oven. Using a spoon, carefully roll churros in crumb mixture to fully coat. Serve immediately with Oreo Cream Dip.
2. Cream Cheese Cookies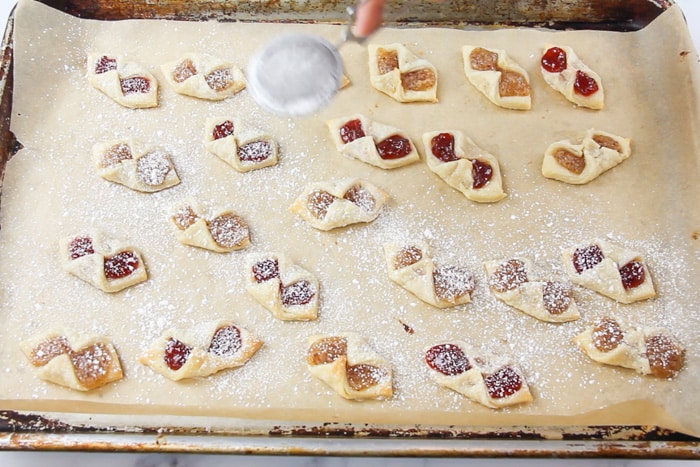 Kolaczki cookies are traditional Polish cream cheese cookies. The cookie dough almost mimics a pastry and is filled with a variety of fillings.
Ingredients
1 cup unsalted butter, room temp
8 oz cream cheese, room temp
1/4 tsp vanilla extract
1/2 tsp kosher salt
2 ¼ cups all-purpose flour
powdered sugar for rolling and dusting
For Filling 
Instructions
In a large bowl mix cream together with butter and cream cheese on medium/high speed until light and fluffy. This should take about 2 minutes. Mix in the vanilla and the salt until well combined.
With the mixer running on low speed, add the flour slowly until all is incorporated. You will have a very thick and sticky dough.
Transfer the dough between two pieces of plastic wrap or parchment paper and press it out to about 1/2″ thick. Chill in the refrigerator for about 45 minutes, until easy to handle.
Dust a clean work surface liberally with powdered sugar. Take about 1/4th of the dough and dust the top with more powdered sugar. Roll out to a square about 1/4″ thick. Keep the rest of the dough in the refrigerator as you work.
Using a pizza cutter or bench knife, cut the dough into 2-inch by 2-inch squares. Spread about 1 tsp of filling down the middle of each square, corner to corner. To seal, dab a bit of water on one of the corners without filling it and seal it in the centre with the other corner. Press to seal so the cookies do not pop open in the oven. Transfer the filled cookies onto parchment-lined baking sheets.
Bake at 350 F (170 C) for 14-18 minutes, until just barely golden brown. Transfer to cooling racks to cool completely. Dust cooled cookies with powdered sugar before serving. If you will not be serving right away, wait to dust until right before serving.
Read More: 5 Popular Mandi Places You Should Try In Karachi
3. Cream Cheese Truffles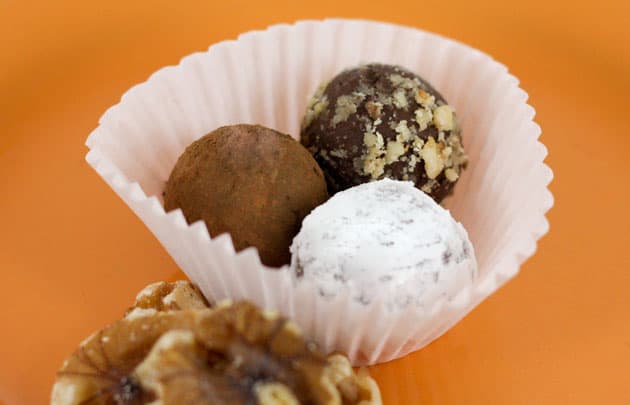 Quick? Easy? Delicious? All check. This recipe is the quickest one on the list and doesn't require any cooking while cream cheese adds a perfect touch to traditional truffles.
Ingredients
4 oz cream cheese, softened
1 1/2 cup icing sugar
1 1/2 cups semi-sweet chocolate chips, melted
3/4 tsp vanilla
1/2 cup crushed walnuts
1/4 cup powdered sugar
1/4 cup cocoa powder
Instructions
In a medium bowl, beat the cream cheese until a smooth consistency.
Beat in icing sugar until smooth.
Add the melted chocolate and vanilla until the mixture is well blended. Refrigerate truffle mix for 1 hour.
Pick up chocolate mix 1 teaspoon at a time and roll into 1-inch balls with your hands.
For cocoa powder and powdered sugar, pour each into ramekins and roll the chocolate ball in the bowl until evenly coated. For nut covering, press the nuts gently into the truffle.
4. Cinnamon Roll Ups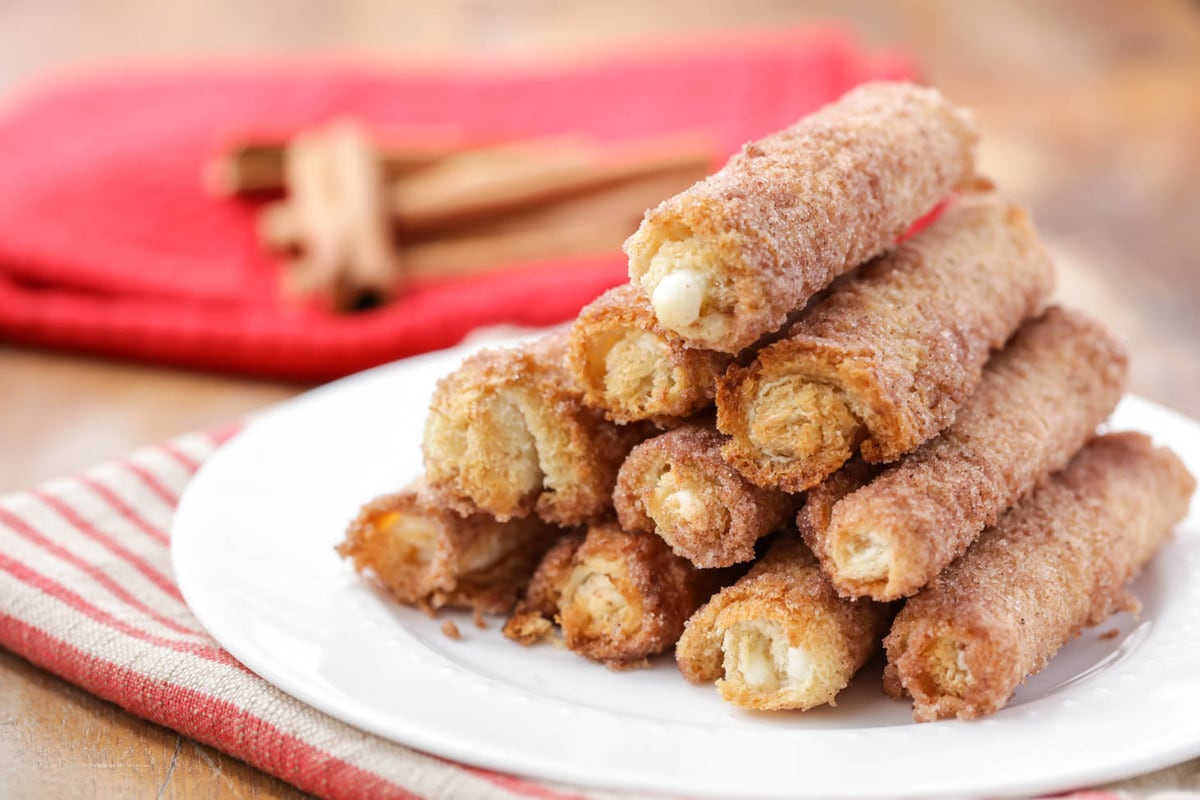 Churros are one of our favourite Mexican desserts. However, they can be a bit tricky to make for inexperienced cooks.
However, this recipe for cinnamon and cream cheese roll-ups uses a handy hack that allows you to make dozens of delicious cream cheese-filled churros at once!
Ingredients
1 loaf of white bread in thin slices
5 1/2 oz cream cheese softened
1/2 cup powdered sugar
3/4 cups sugar
1 tbsp cinnamon
1/2 cup butter melted
Instructions
Cut off the crust of the bread. With a rolling pin, flatten bread.
In a small bowl combine cream cheese and powdered sugar until well blended.
In a separate bowl combine sugar and cinnamon – set aside.
Spread 1 – 1½ tablespoons of cream cheese mixture onto each flattened bread piece and roll up.
Dip each rolled bread into melted butter and then into the cinnamon and sugar mix. Place on an ungreased cookie sheet.
Repeat for the remaining pieces of bread. Bake at 350 for 16-20 minutes. Serve warm.
5. Chocolate Brownies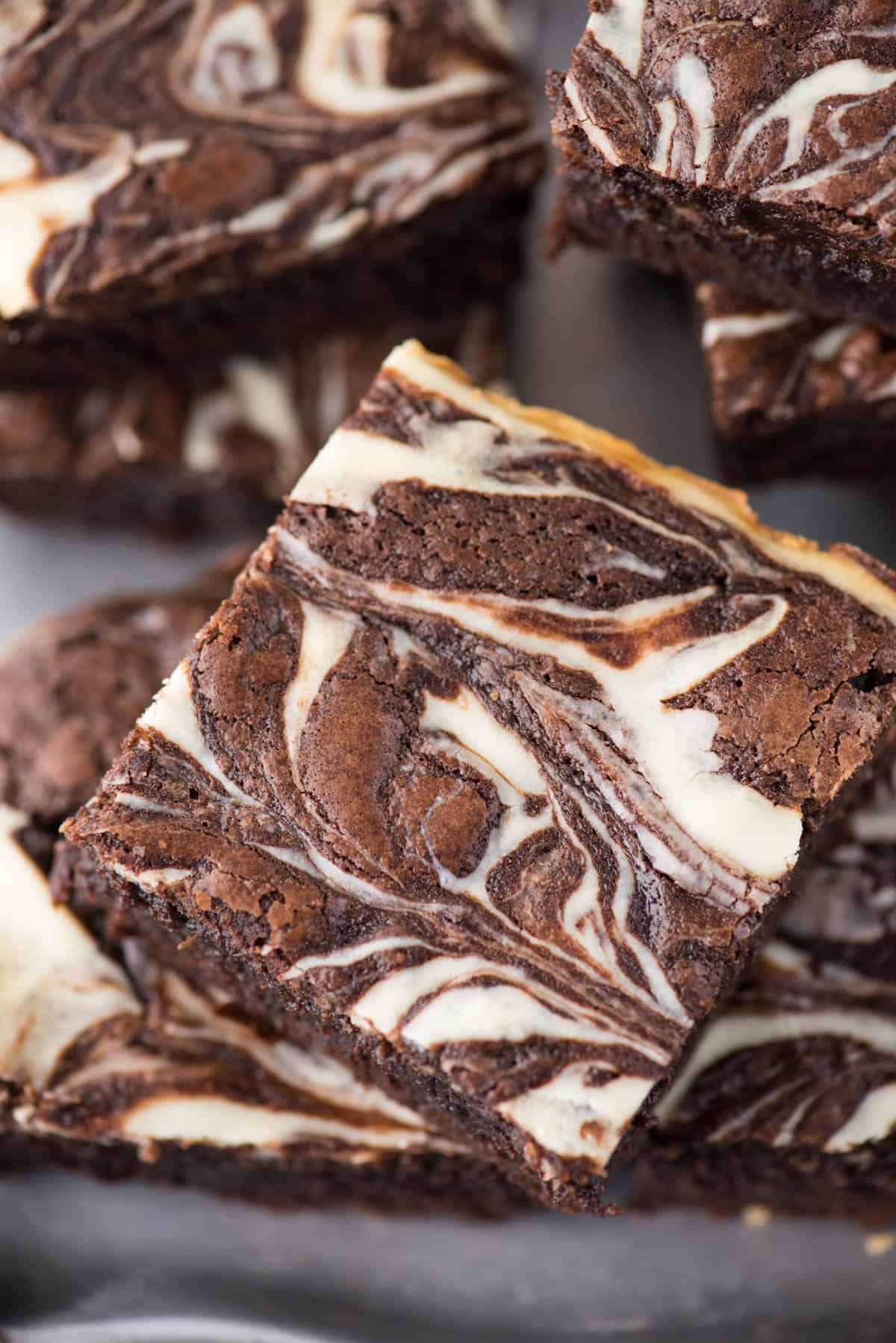 Cream Cheese Swirl Brownies are a basic brownie recipe that is layered with a cream cheese batter and then marbled to create those beautiful swirls on top.
Ingredients
3/4 cup unsalted butter
100 gr bittersweet chocolate, coarsely chopped
1/2 cup cocoa powder
1/2 cup granulated sugar
1/2 cup light brown sugar
2 eggs
1 egg yolk
1/2 tsp vanilla extract
1/2 tsp salt
1 cup all-purpose flour
250 gr cream cheese, softened
1/4 cup granulated sugar
1 egg
1/2 tsp vanilla extract
Instructions
For Brownies
Preheat the oven to 350°F/175°C. Grease an 8×8-inch/20x20cm pan and line the bottom and the side with parchment paper.
In a medium saucepan, melt butter completely. Turn off the heat and add chopped chocolate and sifted cocoa powder. Stir until smooth and silky. Set aside.
In a large bowl, whisk eggs, granulated sugar, brown sugar, and vanilla extract until well combined. Sift in all-purpose flour and salt into the batter and whisk until well incorporated.
Whisk in the chocolate mixture into the batter until well incorporated.
Pour the chocolate brownies batter into the prepared pan, leaving 3-4 tablespoons for the swirl on the top.
Read More: In A Rush? 7 Foods You Can Make In A Microwave
For Cream Cheese Topping
In a medium bowl, beat cream cheese, sugar, egg, and vanilla extract with an electric beater until creamy and smooth.
Gently pour the cream cheese batter onto the chocolate brownies batter by spoonfuls.
Drop small dollops of remaining chocolate brownies batter on cream cheese batter. Using a toothpick or chopstick, swirl the top, creating a marbled effect.
Bake for 35-40 minutes or until a toothpick inserted in the centre comes out mostly clean with a few fudgy crumbs.
Allow the brownies to cool completely in the pan before cutting and serving.
Which one would you love to try? Let us know in the comments below.
Stay tuned to Brandsynario for the latest news and updates.