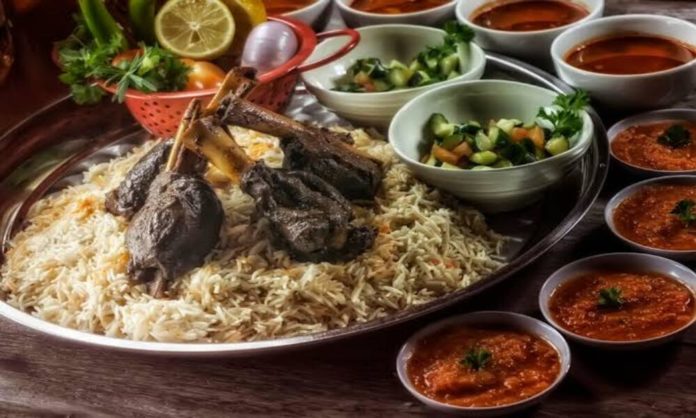 Arabic cuisine is all about rich, exotic flavors with a hint of spice. The dishes from the Greek, Roman, Persian, and Turks cultures also have a major influence on Arabic cuisine. From falafels to shawarma and mandi, the Arabic menus are full of delicious tasting recipes made with a handful of ingredients. Mandi is an Arabic delicacy that was introduced in Pakistan a few years ago by small-scale eateries. Ever since then, Pakistanis developed the taste for it and gave more room for the expansion of the treat.
Today, we share such eateries where you can try delicious Arabic Mandi.
1. Al-Ridan House Of Mandi 
Al-Ridan was one of the eateries which set the ground for Mandi restaurants in Karachi. Their exquisite and consistent taste is still one of the reasons why Mandi lovers go to the restaurant again and again.
2. Ibn e Batuta Mandi
This Arabic-themed eatery is famous for its delicious Arabic menu which offers a wide range of options including Arabic desserts and Mandi. With a decent ambiance and a dedicated staff, the restaurant's signature Mandi dishes are some of the best in town.
Read More: 10 Quick And Easy Snacks That Can Help You Lose Weight
3. Maskan Mandi 
Maskan Mandi is another favorite restaurant of the Karachiites located in the vicinity of phase 5 in Defence. Maskan Mandi is in business for 15 years with a professional team. Their Bajaj Mandi and Kharif Mandi are quite a hit!
4. Mandi House
Curb your Mandi cravings with a home delivery service from Mandi house. The middle eastern themed restaurant serves a variety of mandi platters known for their signature taste with meat cooked to perfection.
Read More: In A Rush? 7 Foods You Can Make In A Microwave
5. Mandi Al Khaleej
Try the Middle Eastern flavors and delicacies by Mandi Al Khaleej and get a first-hand experience of what Arabic cuisine tastes like. Their Mandi can be customized according to the level of spice and comes with a variety of options making it a perfect place to visit at least once.
Stay tuned to Brandsynario for the latest news and updates.