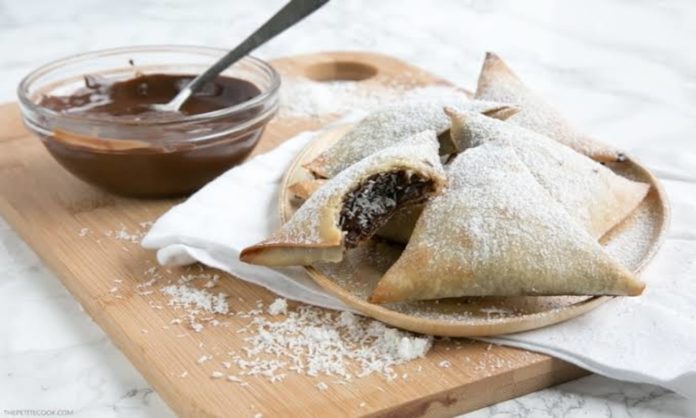 Crispy on the outside and a yummy-filled samosa is a delicious snack that we all enjoy on a daily basis. Comes Ramadan and we try our best to come up with the most delicious versions of a samosa. Enjoyed with a cup of tea/coffee, there are several variations of samosa that you must try at home. However, did you know that you could also put a sweet twist on your favorite snack? If you haven't already tried these dessert samosa recipes to take your Iftar to the next level.
Here are some of the most popular dessert samosas that can be easily made at home.
Read More: Delicious Stuffed Dates Ideas For Everyone To Enjoy
1. Samosa With Chocolate Filling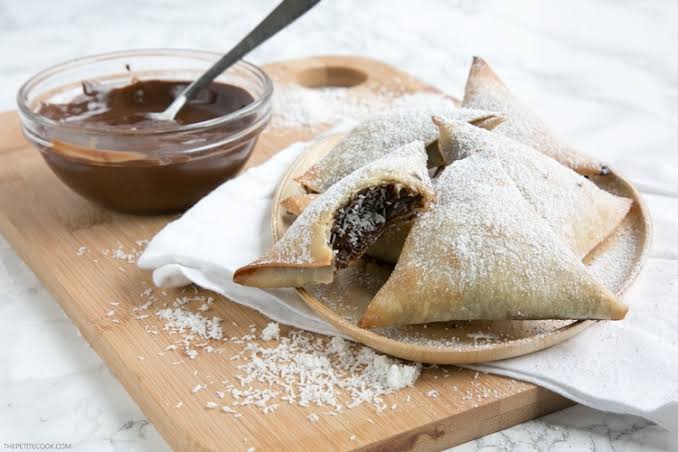 Ingredients
3 1/2 cup all-purpose flour
2 1/2 cup dark chocolate
2 cups refined oil
For Filling
2 1/2 tablespoon pistachios
8 teaspoon caster sugar
2 cup sugar
For Dough
4 tablespoon ghee
Kneaded dough for samosa
Instructions
Melt dark chocolate in a bowl. In a separate bowl, add caster sugar, all-purpose flour, ghee, and mix. Mix all the ingredients until the mixture gets a crumbly texture. Pour sufficient water and knead a partially rigid dough. Place the dough in a bowl and refrigerate for 7-8 minutes.
For the filling, mix pistachios and melted dark chocolate along with the remaining caster sugar. Place a saucepan over medium flame and heat 2 cups of water in it. Add sugar and heat until the sugar dissolves. It should have a thick consistency. Once done, take it off the flame.
Take small portions from the dough and roll small size chapattis out of these. The size must be something that fits in the palm of your hand easily. Make sure that the small-sized chapattis are not too soft or hard.
Add 2 teaspoons of the chocolate-pistachio filling inside the chapattis. Seal the chapattis from the outside to make a samosa.
In a deep-bottomed pan, heat refined oil over medium flame and deep fry the samosas until they turn golden brown.
2. Nutella and Coconut Samosas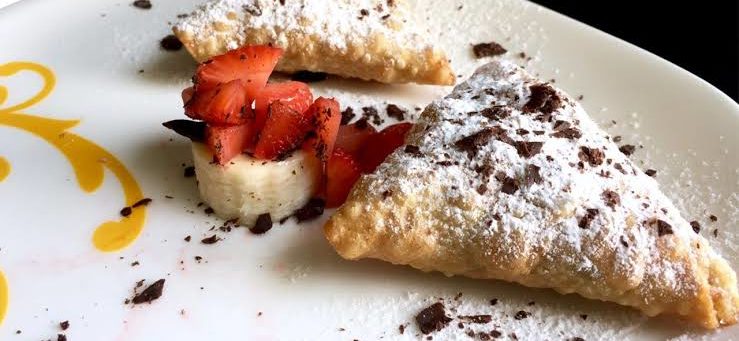 Ingredients
8 Samosa pastry sheets
120 g Nutella, refrigerated
1 banana, sliced
4 tablespoon desiccated coconut flakes
Spray oil, for baking
1 tablespoon all-purpose flour + 2 teaspoon water, for the paste
Instructions
Start with one samosa pastry sheet, and fold it to form a triangle. Then roll the sheet in the shape of a cone and spread some flour paste to keep it well sealed.
Fill it up with a generous teaspoon of nutella spread, a slice of banana and sprinkle with coconut flakes.
Spread some flour paste on the sheet edge and fold again to seal the samosa.
Arrange the samosas on a baking sheet covered with parchment paper and bake for 15-17 mins, turning them on the other side half-way through cooking time.
3. Cinnamon Cheesecake Dessert Samosas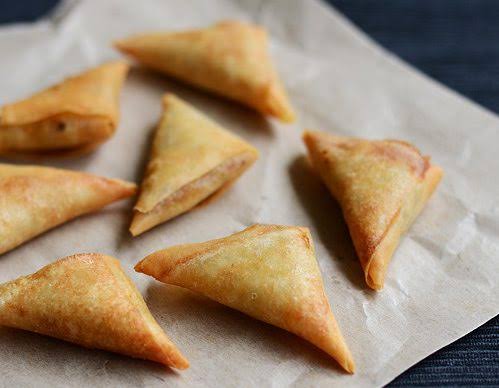 Ingredients
8 medium flour tortillas
8 oz. cream cheese softened
1/2 cup granulated sugar
1 large egg beaten1 tsp vanilla extract
1/2 cup chopped pecans
cinnamon/sugar to garnish
Instructions
Mix cream cheese, sugar, vanilla, and 1/2 beaten egg until well-combined. (Save the other 1/2 of the beaten egg to use as an egg wash to seal samosas!)
Pour the cream cheese mixture into a foil-lined jelly roll pan.
Bake at 350 for 30 minutes.
Toast the pecans at 300 degrees for 5-7 minutes.
Once cool, place the cream cheese mixture in a small bowl and stir in toasted pecans.
Take the tortillas and cut them in a rectangle. Fold the rectangle in such a way to make a cone.
Fill with 1-2 tablespoons of filling (cone should be about 3/4 full).
Brush more egg wash onto top of the cone and then press together to seal samosa.
Place 2-3 samosas at a time into oil and cook until deep golden brown in color.
4. Apple Pie Samosa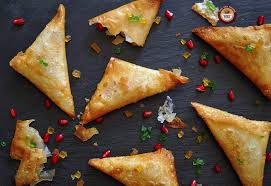 Ingredients
3/4 chopped apples
1/8 tsp. cinnamon powder
1 tsp. sugar (to taste)
a drop of lemon juice
Instructions
Combine all the ingredients (chopped apples, sugar, lemon juice, cinnamon powder) in a small pan, and let it cook and soften over medium heat. Once the apples are cooked and all the juices evaporated, remove from heat and let cool completely. Set aside.
Taking one samosa sheet at a time, place a little filling on one end and fold into a triangle. Seal the end using a little cornstarch paste. Repeat until you run out of filling/pastry sheets or both.
Deep fry the samosa until golden brown in color.
5. Mini Cream Cheese Samosas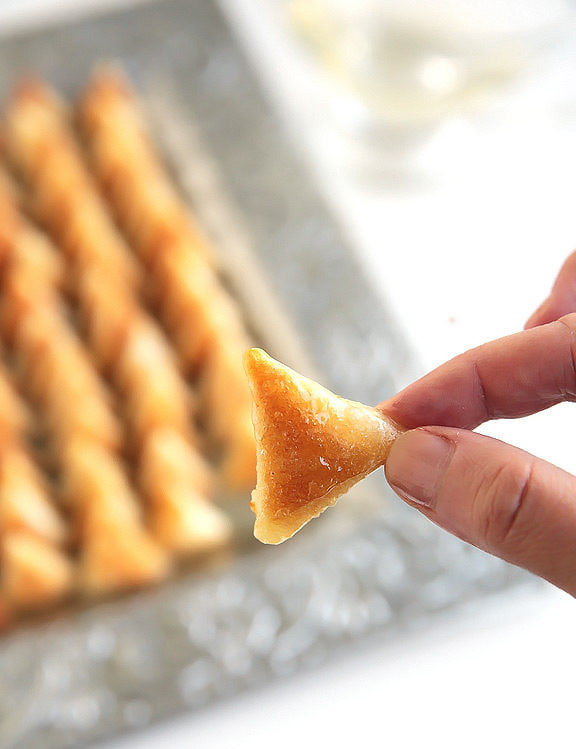 Ingredients
1 1/2 cups granulated sugar
Cream Cheese cubes (as needed)
3/4 cup water
1/2 teaspoon fresh lemon juice
Samosa sheets as needed
Instructions
In a medium saucepan, combine together the sugar, water, and squeeze of lemon juice. Set on a stovetop over high heat. Try to avoid stirring it as it heats to prevent crystallization from happening. It should be slightly thicker than the average simple syrup used for kunafa.
Bring to a rolling boil, then reduce the heat to medium and let it simmer for 10 minutes.
Transfer to a medium bowl, liquid measuring cup, or gravy boat and allow to cool to room temperature before using.
Fold the samosa sheet to make a cone and grab a cube of cream cheese to tuck it inside the pocket in the triangle to close it up. Repeat with the remaining sheets.
Fill a large skillet with enough oil to cover the bottom of the skillet. Deep fry the samosas on low heat.
Read More: e.l.f. Cosmetics & Dunkin' To Launch A Collection Of Your Sweet Dreams
Stay tuned to Brandsynario for the latest news and updates.