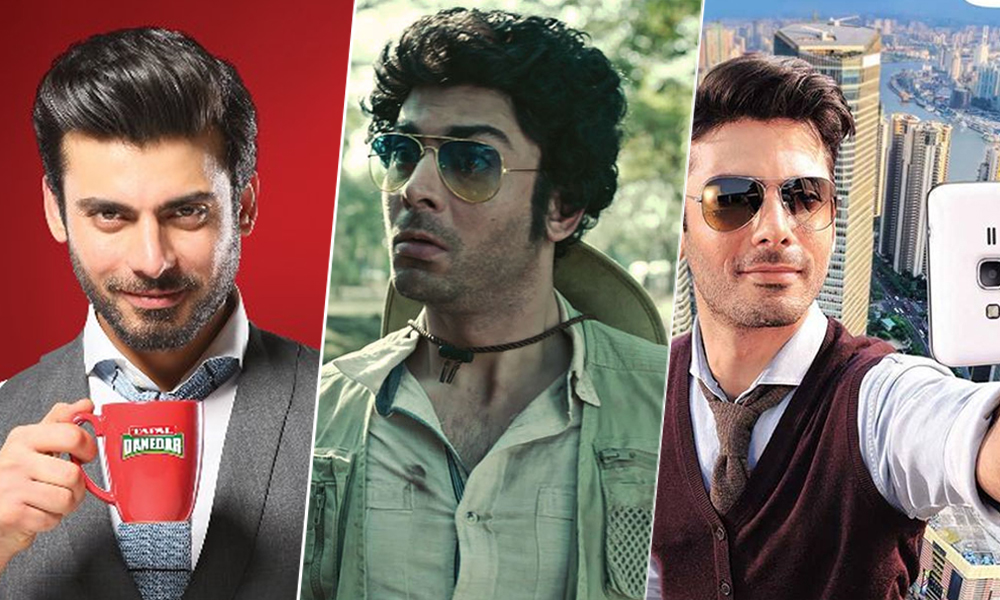 Fawad Khan is a killer, a heartthrob, and every girl's dream guy, there is no arguing that.
Fawad Khan nails everything that he is a part of; be it Asher from Humsafar, Zaroon from Zindagi Gulzar Hai or Prince Vikram from the movie Khoobsurat.
Pakistani audiences have loved him in any and every role.
But there are some Television Commercials that Fawad Khan has been a part of and we couldn't help but think he is made for those TVCs. These ONE-minute TVCs make us fall in love with Fawad Khan all over again. So here is a list of TEN of those TVCs. Enjoy!
Oye Hoye Chips
Fawad Khan never fails to charm us! Whether he is dressed as a debonair Indian prince or the whacky curly-haired guy "Oonchi"; he can truly make his fans fall in love with him every time. His latest ad for Oye Hoye chips will have you in fits of laughter and adore the superstar even more!
Tapal Danedar
'Tum, Mai Aur Aik Cup Chai', the recent advertisement conceptualized by IAL Saatchi and Saatchi has made every girl wish for a husband like Fawad Khan. The advertisement aims at re-installing the main brand promise and linking it with the emotions of the consumers. Watch the video here:
[fb_embed_post href="https://www.facebook.com/tapalofficial/videos/vb.512476162176683/911393205618308/?type=2&theater/" width="550″/]
Pepsi
Released in 2015, Fawad Khan also appeared in a TVC for Pepsi. Telling his only solution to kill the heat, Fawad totally nailed the TVC yet again. Watch the TVC here:
[dailymotion id="x2xivwa"]
Tarang
Don't we all love Sonam Kapoor and Fawad Khan together? Always eager to see them togather,  their Tarang advert was like a fairytale. You must reminisce the promo here all over again!
Who minds a dancing Fawad Khan? No one! Tarang, as always, has showed a dance sequence in the TVC, but we can ignore the mindless dancing because it has Fawad Khan. Published two years back, Tarang paid a tribute to Noor Jehan with this TVC.
[dailymotion id="x1bs7x4″]
Samsung Smartphone
Fawad Khan starred in a jaunty TVC for Samsung Galaxy J Series. Yet again, the Pakistani King Khan has appeared in a double role in the advert.
Samsung's old advertisement portrays the dream of every fan; to get a grandfie with Fawad Khan. It doesn't help that Fawad Khan looks great in a  blue shirt, maroon-ish vest and his sunglasses!
[fb_embed_post href="https://www.facebook.com/SamsungPakistan/videos/vb.151132238272187/969440063108063/?type=2&theater/" width="550″/]
Fawad Khan promotes Samsung Galaxy Grand Prime Selfie Camera
Servis Shoes
If you liked the old Fawad Khan look, then this TVC is a must watch for you. Rocking the long hair, Fawad Khan looked great in the Servis Eid special advertisement. Have a look:
[dailymotion id="x11sggm"]
Warid
An information based advertisement in which Fawad Khan endorses Warid for providing all sorts of packages for different scenarios just like his ever-changing routine.
[dailymotion id="x393pt4″]
Lux
Seems like Mahira Khan and Fawad Khan are the most popular couple to feature in Lux ads. The two have an undeniable chemistry that no other onscreen couple does. This chemistry is further visible in the 2016 TVC by LUX. The grace of Mahira Khan and the sultriness of Fawad Khan come together in a very playful manner.
[iframe id="https://tune.pk/player/embed_player.php?vid=6485168&folder=2016/04/15/&width=600&height=350&autoplay=no"]
This TVC promoted the chance to meet the stars at the Lux Style AwardsLux 2015 and was endorsed by Fawad Khan and Mahira Khan.
Fawad Khan also did a TVC with Imaan Ali for Lux.
[dailymotion id="x32ltsn"]
Aquafina
Our favorite couple, Fawad and Mahira, were together in yet another TVC. 'Kehne Ko tou Yeh Sirf Paani Hai' is a lyrical advertisement showing the life journey of the couple. Watch the video here:
[iframe id="http://tune.pk/player/embed_player.php?vid=6242076&folder=2015/09/19/&width=600&height=350&autoplay=no"]
Clear
Conceptualized by Lowe Lintas agency, the Clear 'No Dandruff' TVc was done by Fawad Khan and Ileana. Fawad Khan looked as dashing as ever.
[fb_embed_post href="https://www.facebook.com/ClearPakistan/videos/632528673513105//" width="550″/]
Olper's
The Ramzan special TVC, which was conceptualized by The Vision Factory and released in 2014, is a refreshing concept to see. This TVC also includes Abdul Sattar Edhi. Watch the TVC here:
[dailymotion id="x20d2u8″]
Is your favorite Fawad Khan TVC on the list? Comment below to let us know!