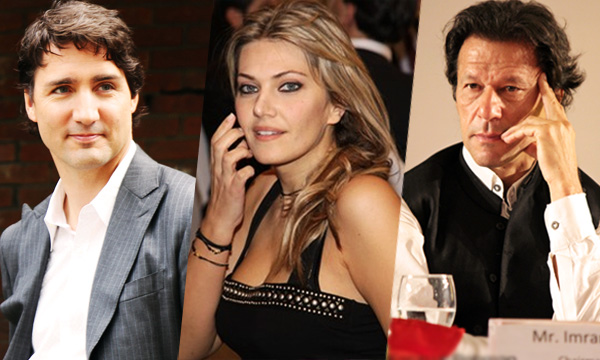 When we talk about ideal looks, we always refer to movie stars but we now have a more authentic list of real people who look even better than them. Yes, there are politicians who look much more glamoros and ideal than the stars we see on the big screen.
Here is a list of TEN such politicians. Take a look!
Imran Khan
We all are well aware of the Tabdeeli leader who is known to melt a woman's heart even at the age of 63. Former cricketer and full-time politician, Khan founded the Pakistan Tehreek-e-Insaaf (Movement for Justice) party.
Recognized as the face of anti-drone movement in Pakistan, Khan was elected as third in the list of nine most influential people in the world by Global Post. He was also voted as Asia's Person of the year 2012 by the Asia Society and a survey done in 2012 revealed that he is the most famous politician amongst the youth in Pakistan.
Justin Trudeau
The second on our list is a no-brainer. Justin Trudeau, the man who made it to the news several times after becoming the Prime Minister of Canada not just because of his good looks but also of his refreshing and just methods to lead and govern a country.
The eye-candy PM is married and now has three children as well. We would love to see other politicians following Trudeau's footsteps in order to make this world a better place to live.
Aaron Schock
Aaron, an American politician, became the youngest member of the Illinois General Assembly in state history. He has been involved in a number of controversies and was made to resign from his position as a result. Nonetheless, Aaron has done great things in his era as well.
Michelle Obama
Michelle Obama, the first African-American First Lady of the United States and the wife of the current president of the United States, is amongst the most influential speakers in the world. She has raised her voice against some grave issues including  inequality and has proved to be a role model for young girls.
Angela Gerekou
A Greek politician, who has also made an appearance in several Greek films is another such politician who looks better than the movie stars. She was born in the Corfu Island in Greece in 1959 and is currently serving as vice minister of Ministry of Culture and Sport.
Eva Kaili
A member of the European Parliament and a former TV news presenter, Eva Kaili is known to be a beauty with brains. An Istanbul-born mechanical and electrical engineer, Eva has worked as an engineer for some time before starting her career is politics.
Eunice Olsen
Olsen, a Singaporean actress, TV host and beauty pageant titleholder, was appointed as a Nominated Member of Parliament (NMP) in 2000. She has conferred the Singapore Youth Award for her community services and dedication. She was a proud recipient of the prestigious ASEAN Youth Award. Olsen has proved to be an inspirational role model for the youth.
Ben Cannon
An American educator and policy maker, Cannon was appointed as the Oregan House of Representatives in 2006. n 2013, he was appointed to lead Oregon's new Higher Education Coordinating Commission.
Ruby Dhalla
A Canadian politician, Ruby Dhalla was the first Sikh woman to serve in Canadian House of Commons. Born to an immigrant family from India, Dhalla became a prominent member of the Winnipeg Young Liberals and was was elected as the youth representative of the party's standing committee on multiculturalism.
Hina Rabbani Kher
The 26th Foreign Minister of Pakistan, Hina hails from a powerful feudal family. After successfully contesting the 2008 general election, she served again in the Finance Ministry and directed policies concerning the national economy in the absence of the then Finance Minister in 2009. In 2015, Khar was named as the "Most Beautiful Female Politician" by an Indian newspaper Dainik Bhaskar, and was ranked as the "4th Most Stylish Woman in Politics" by the American magazine Bustle.
Who is your favorite? Let us know!