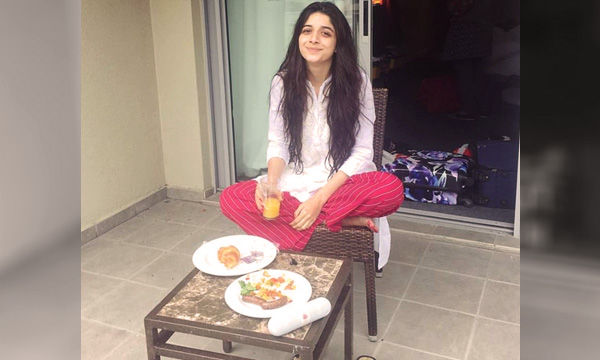 Coined as the Foodie Nation, Pakistan hosts more than its fair share of good restaurants and even a bigger share of citizens who don't need a reason to eat. Be it a wedding event, a small family gathering or simply mindless munching, we Pakistanis make sure the highlight of the moment is food. Our focus is more often than not on food: junk food, Asian, continental, desi, fusion food… You get the picture.
Read More: 10 Pakistani Celebrities Who Rejected Bollywood Offers
However, what's amazing is that it's not only us, regular citizens hogging food, trying every new restaurant that pops up every weekend; our beloved Pakistani celebrities are die-hard foodies too!
Check out the top 10 Pakistani celebrities who are die-hard foodies like us!
1. Urwa Hocane
The Na-Maloom Afraad actress Urwa Hocane is an avid chocoholic! How she maintains her good looks with such an addiction is beyond us!
Oh and she is a good chef too!
2. Sikander Rizvi
We have seen how good of an actor Noor Jehan's grandson is but what most of us didn't know was that Sikander Rizvi was previously a restaurateur and a chef by profession! While working on new movies, he is also running the popular gourmet café, Xanders on the side.
3. Anoushey Ashraf
Pakistan's youth icon, Anoushey Ashraf is yet another one of our favorite foodies! She loves ALL kinds of food but she has a slight bias in favor of good old desi food. She is currently shooting for 7Up's #AsalFoodie show.
[fb_embed_post href="https://www.facebook.com/7UPPK/videos/923196794403759/"/]
4. Sarwat Gillani
Dimpled beauty, Sarwat Gillani is an all things a biryani fan! Be it Hyderabadi biryani, Sindhi one or Karachi biryani, the JPNA star loves them all!
She was recently spotted with fellow actress Anoushey Ashraf at the shooting of #AsalFoodies!
https://instagram.com/p/7HaLlFv1LZ/?taken-by=anousheyashraf
5. Mawra Hocane
Currently trotting the globe for her Bollywood debut, Mawra Hocane loves eating a lot but she has a strict exercise regime to keep her fit and as good looking as she does too!
We are loving her recent Travel Diary foodstagrams!
https://instagram.com/p/6xkfHnIEIT/?taken-by=mawrellous
6. Ali Zafar
Pakistan's very own party animal, Ali Zafar is a self-confessed foodie. We will let the picture do the talking for this one:
7. Meesha Shafi
You saw her dare Adeel Hussain for a Mirchi ka Tarka challenge in the Sprite ad, but did you know she prefers her food with some Siracha (a spice) at home too?
8. Tooba Siddiqui
Yet another self-confessed foodie, Tooba Siddiqui loves all things food too! How she maintains her size zero figure is a mystery!
9. Sanam Saeed
Another foodie who absolutely loves food but luckily doesn't show for it! Her favorite food is daal chawal and she Instagrammed her recent food outing in Dubai to show her love for desi food!
10. Sohai Ali Abro
The Fair and Lovely girl loves Pakistani and Chinese food but apparently has a thing for junk food too! Her foodstagram from the infamous Hooters has us all drooling!
Read More: Pakistani Celebrities & Their Families – Picture Gallery
We let you in on celebrity food diaries. Do you have any other names on your mind? Let us know by commenting below: