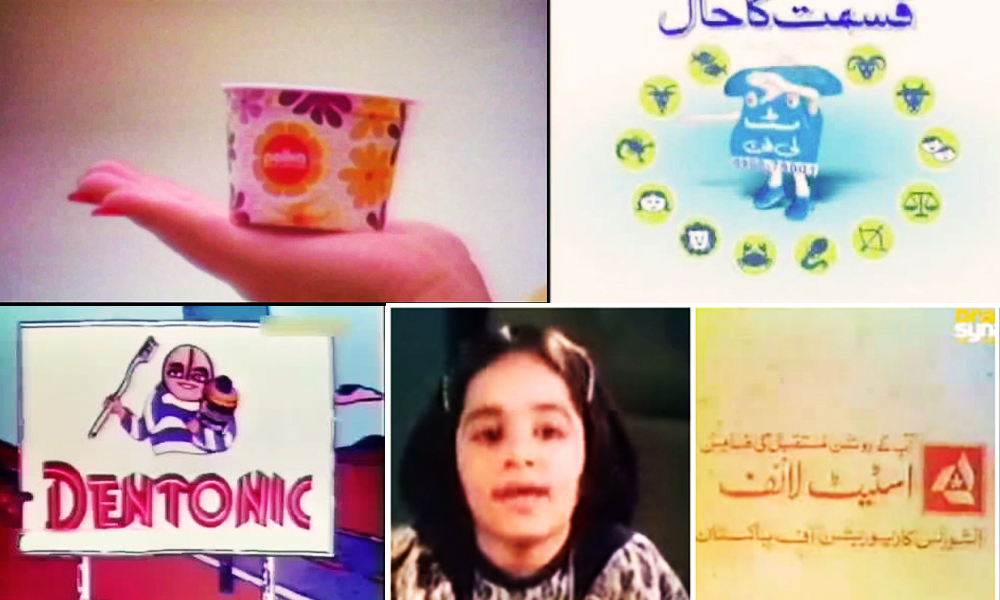 Some commercials have managed to make their mark in our memories and have withstood the test of time. Their catchy jingles can never be forgotten, and we still find ourselves unconsciously humming their tunes.
Here is a list of ten most memorable Pakistani ads from the '90s that will most definitely be passed on through generations. Let's take a walk down memory lane!
1. Kiwi Shoe Polish
This ad opens up with a teacher singing to her class, asking them about the kiwi bird that has been featured on the lid of this local shoe polish. Who remembers this one?
2. Dentonic
Who does not remember the round cartoon figure from the Dentonic ad! The nostalgic bottle of Dentonic is enough to bring the cartoon-figure back to our minds- you know, the one whose eyes and nose looked like the words' ala', and we'd spend forever trying to figure out what these words meant!
Hats off to this brand for still managing to have such a broad grasp on the market.
3. Ding Dong Bubble
The jingle is all set in our brains! I still end up humming the entire song every time I hear it. The cat with the bells in its ears has become the trademark logo for this bubble gum brand.
Even the older generations find this chewing gum a hard one to replace! Forget Trident and Extra; just give me a Ding Dong, please. Plus, the gum comes with small cartoon-strips. What more could we ask for?
4. Polka Ice-cream
There have been nursery rhymes composed on this famous brand of Pakistani ice-cream, who can forget 'hum ne khaayi polka, polka bari thandi, hum gaye mandi…' Now we've got Walls, and Omore to (sort of) fill that empty void.
This one is truly unforgettable!
5. Metro Milan Agerbati
I still remember how I used to get all excited about purchasing a box of agerbattis – incense sticks with scents like sandalwood and rose. The commercial took me down memory lane.
Thank you for the sweet memories, Metro Milan!
6. Naurus
The Naurus video shows an adorable little girl lip-syncing somewhat successfully to a jingle about how good Naurus is, and how her brother sneakily takes the syrup away from her from time to time.
Watch the video and reminisce those good old times!
7. Morven Gold, aka. Rhythm of Unity
This one-minute video introduces a new perspective on a tobacco product: an adventurous one. It ends with: 'Morven Gold, share the taste of adventure.' This was an interesting take, especially considering how different it was from the types of advertisements prevalent in those days.
8. State Life Insurance Policy
This ad decided to 'go deep' and touch quite a few heartstrings; it starts with a girl singing 'ay khuda mere abbu salamat rahe' (Dear God, please keep my father safe). Now, who does not remember this jingle?
Talk about getting to the point- this life insurance policy wastes no time in its 30-second advertisement explaining what it is there for. But we do appreciate the candid manner with which it is presented, quite unlike the messages spun by commercials today.
9. Naz Pan Masala
Nowadays, Tulsi Pan Masala and Shahi Deluxe are all the rage, but back in the days, Naz ruled. The video shows a couple whose entire love story seems to start and end with this little packet of joy.
The best part is when the girl slowly opens her hand to reveal the pan masala in her palm; we love the way she opens it with two jerks.
10. Telefun
Did you sincerely believe that we would compose a list of the top 10 memorable Pakistani advertisements, and forget to include this little gem of a piece? Understandably, this commercial annoyed a lot of its viewers, who turned to the media years later to broach the subject of this mysterious video.
All we can say at this point is that the jingle got stuck in the heads of many people; years later, I can still recall the number we were to dial for 'telefun': 0900-78601. At charges of fourteen rupees per minute, I wonder who tried it!
10 Memorable 80's & 90's Pakistani Songs That Will Never Get Old!
We cannot decide which one of these ten ads is our favorite; they're all equally memorable, and we simply cannot get them out of our heads! If this is the first time you have watched them, we apologize for making them stick in your head.
Which one of these ads do you remember from your childhood? Let us know in the comments below.
Stay tuned to Brandsynario for more updates.