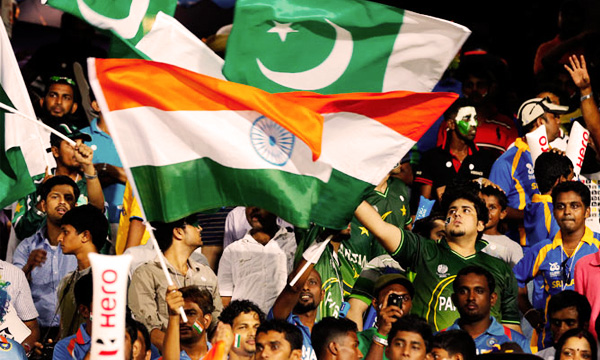 It's one of the world's fiercest sporting rivalries and previous showdowns have taken place while the countries have been at war, or used as an icebreaker between frosty leaders.
But when India and Pakistan face off in cricket's World Twenty20, love will be in the air amid a determination to ensure Saturday's game soothes rather than stokes tensions.
While there's no shortage of patriotic fervour, a recent Facebook craze has seen thousands of fans posting profile pictures framed by the sporting emblems of their rivals.
After being garlanded on his arrival in Kolkata, Pakistani captain Shahid Afridi has spoken of the "love" he receives from Indian fans.
The leading classical singer Shafqat Amanat Ali is set to serenade a packed house at Edens Gardens with Pakistan's national anthem, before Bollywood legend Amitabh Bachchan belts out the rival Indian number.
Tensions have prevented the two sides from playing each other in Tests for more than a decade, and the match is only happening because the World T20 is an International Cricket Council tournament.
Although there had been signs of a thaw, an attack on an Indian army base in January dashed hopes the countries' leaders would watch the match together, as they did at the 2011 World Cup.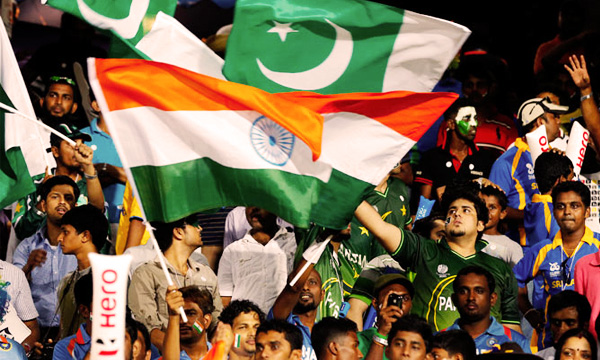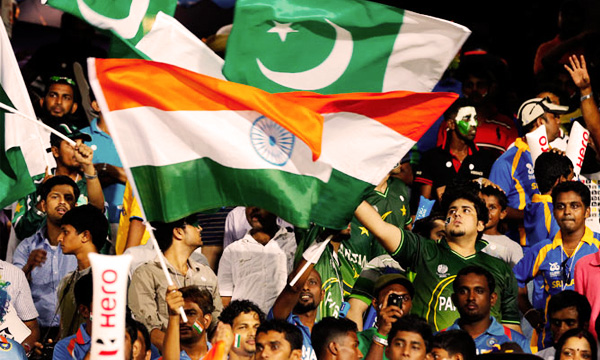 Afridi's message was that his team is delighted to be back in India.
"We have always enjoyed playing in India and have been loved by Indian crowds more than crowds back home in Pakistan," he said.
"Cricket has always brought people together and I think politics should be kept away from cricket."
Whole lot of fun
After a row over security, Saturday's match was switched from Dharamsala to Kolkata, the capital of India before the subcontinent's 1947 partition that led to Pakistan's creation.
Eden Gardens is one of the world's biggest grounds, even after a recent refit which reduced capacity to 66,000.
Despite the cauldron-like atmosphere, its fans have a reputation for showing appreciation to opposing players.
Subrata Nag, a college student, said the home crowd wanted an Indian victory but would be gracious in defeat.
"Eden Gardens has a history of supporting the team which performs better. We want India to win, but we will support Pakistan team if it plays well," Nag told AFP.
Kolkata's police chief has promised maximum security for the visitors.
But Pakistani bowling legend Wasim Akram, a popular figure in India as a commentator on a Hindi television channel, said there was no reason to believe the rivalry would be anything but sporting.
"It's a whole lot of fun. I think not just the teams but the supporters of the two countries do enjoy the clash wholeheartedly," Akram told AFP.
"It's a festival, people get together at dinner parties… It's a mega-event that everybody gets involved in."
Former Indian international Arshad Ayub said the match was always a little bit special.
"The game brings with it a lot of emotions, excitement and I just hope we have a really good game," said Ayub, India's manager at the 2015 World Cup when the teams faced off in Australia.
Cross-border shelling
Possibly the most famous encounter came during the 1999 World Cup, when the teams played in the middle of a mini-war over the Kargil region in disputed Kashmir.
Although there was a lull in fighting during the match, key moments were greeted with volleys of gunfire and cross-border shelling.
Some politicians have argued it is inappropriate for the two countries to even contemplate a game of cricket.
But Sehyr Mirza, a Pakistani journalist from Lahore who has changed her profile picture to show support for India in Saturday's match, wrote on Facebook: "Here's to breaking imaginary boundaries, and nulling the faulty idea of automatic cross-national hate".
The success of the social media campaign was even noted by Facebook chief Mark Zuckerberg.
"Something pretty interesting is happening in India and Pakistan on Facebook right now," Zuckerberg wrote in a post, adding that "what unites us is more important than what divides us".
The match is expected to be watched by hundreds of millions of television viewers, including in the Indian-controlled part of Kashmir where many residents will be rooting for Pakistan.
"On Friday, I will go to Jamia Masjid (the grand mosque) and pray for my team's victory over India," said Bashir Ahmed, a shopkeeper in the city of Srinagar.
"On Saturday, I will see my prayers answered, inshallah."
Stay tuned to Brandsynario for more.