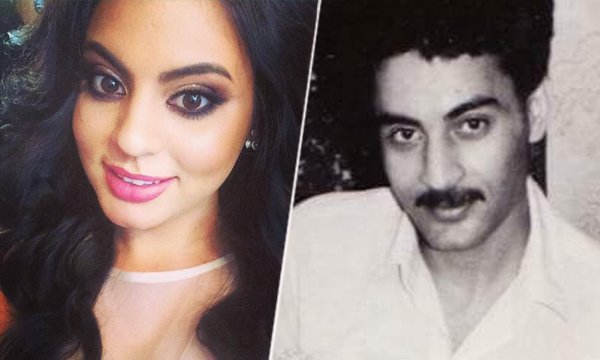 In the age of social media, there is so much connectivity that sometimes it feels that we live in a world without borders.
Metaphorically of course. Anyway, since no one can build a wall on the Internet, people have the power to connect with anyone, in any part of the World.
Recently, a tweet by a young woman Yasmina Derejovskaia from Moldova created a storm on social media
The lady plead the world to help her find her lost father who lives in Pakistan.
Tweeps from Peshawar, Help this girl meet her father. RT please! #Peshawar pic.twitter.com/nvDrL5NFIN

— Arshad Afridi (@Arshad_Afridi) September 3, 2017
She posted her story on twitter and shared her heart-wrenching tale of separation.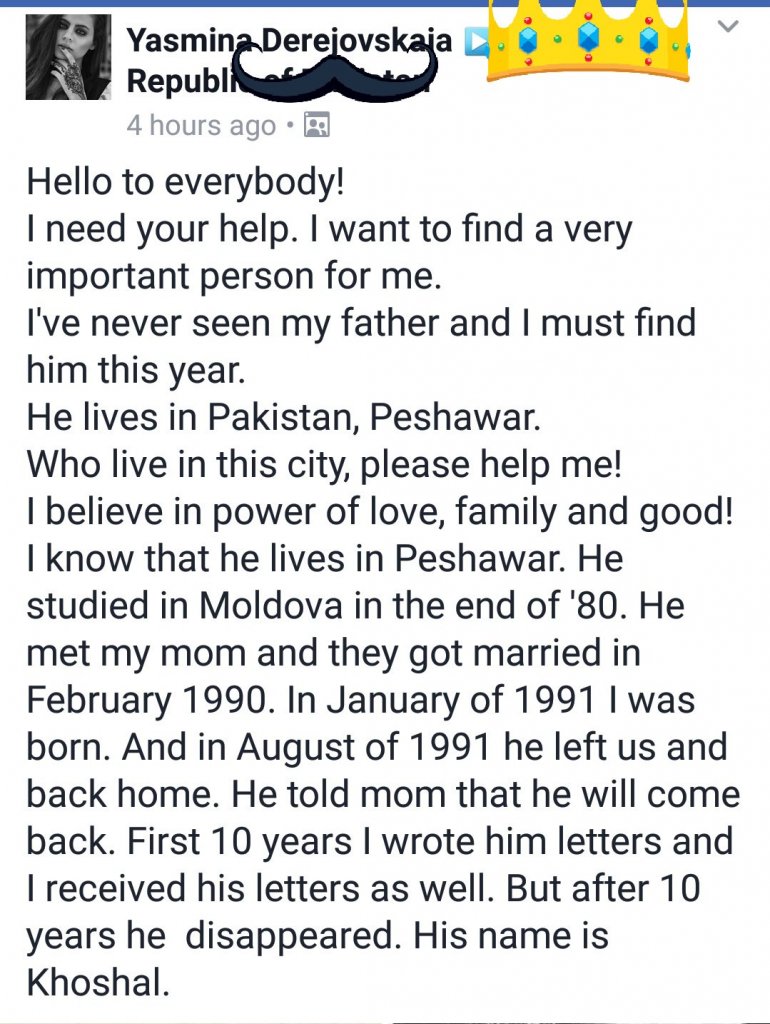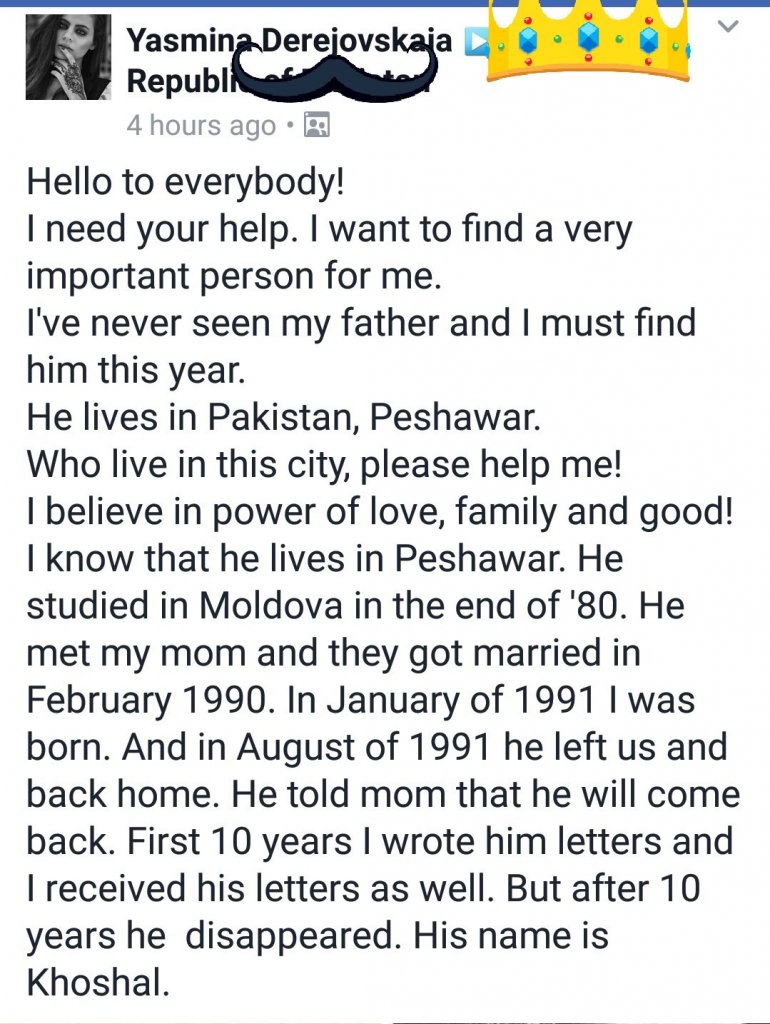 In recent years, there have been many stories where the Internet helped reunite people with their long lost loved ones. This story might be on its way to a happy ending of a father daughter reunion.
Twitter has mixed feelings about this. Some are earnestly hoping that she is reunited with her father.
Hope she finds him soon.

— Fakhruzzaman khan (@fakhruzzamank) September 3, 2017
Ameen.

— Attiya Bakhtiar (@ProudPashtun) September 3, 2017
Yasmina should Contact Ministry of Interior, Pakistan for help IF the Story is TRUE .

— AdnanJATT9LIVETOLOVE (@LIVETOLOVEjatt9) September 4, 2017
Others remain skeptical.
Its v old message circulated b4 also 3 or 4 years back… I am not sure but I sometimes think its scam message ..

— Tatom (@tatom2k) September 4, 2017
why would she want to meet such a piece of shit father. Obviously he abandoned her.

— Anonymous (@cyber_demon93) September 5, 2017
He would turn out to be another fucking asshole who left his family to marry again, common in our country now ,the girl will be more

— Saad (@Saadead3) September 3, 2017
Disappointed to meet that piece of shit and probably will not be able to trust too many people in her life ,which may be the only good thing

— Saad (@Saadead3) September 3, 2017
We hope with all our heart that she reunites with her daddy and the family celebrates a happy get togather.
Have anything else to add to the story? Let us know in the comments below.