[Update]: Minal Khan and Ahsan Mohsin Ikram had posted pictures on valentine's day that hinted the two got engaged. Minal had a ring on her engagement finger and neither of them gave any clarification when the speculation of them getting engaged went all over the internet.
Now, once again Minal has hinted at something and it is very unclear. Her pose in the video is one that flaunts her engagement ring as she gets ready in what is clearly a salon. And the caption is even stranger, 'Preparing for something big."
Could she be saying that she is getting ready for an official engagement party?
Well, that's what her fans were speculating at least.

Okay, aside from some fans who directly jumped to the conclusion that she is getting married, others thought she might be getting ready for her official engagement.


We will have to wait and see.
---
---
[Feb 15th, 2021]: Minal Khan and Ahsan Ikram have been in a relationship for some time. Although they never confirmed it, their lovey-dovey replies on Insta posts and their pictures were evidence enough that the relationship was going strong. Taking the relationship one step further was Minal being a part of Ahsan's dadi's birthday celebration.
Getting Introduced to Family
Now, it seems that Minal has announced her engagement with Ahsan. Yesterday was Valentine's day, and both the celebrities took to their Instagram posting how they celebrated it.
Ahsan also posted a picture of them together and, well, a picture of Minal.
The next picture on the slider is…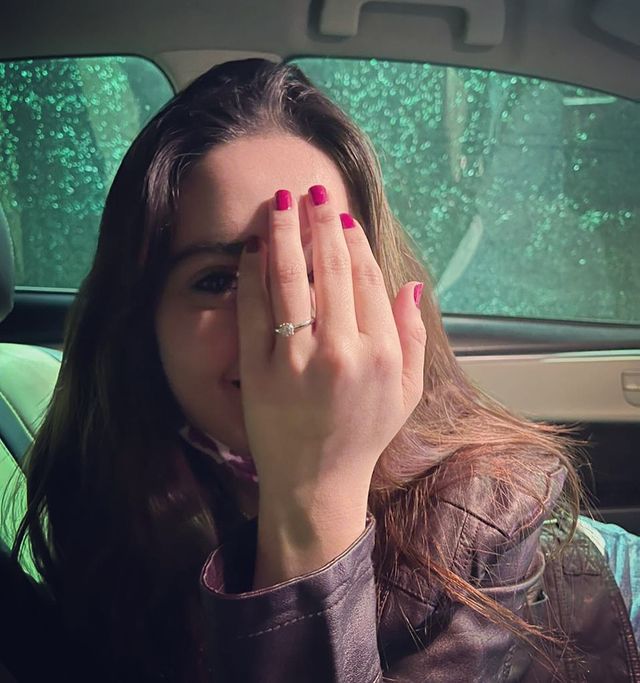 We agree that Minal does wear many rings on her hands, but this picture just speaks that Ahsan proposed with the ring she is wearing on her engagement finger. Plus, it also looks different from her usual rings.
The question here is, the two never gave verbal confirmation of their relationship. Will they do the same regarding their engagement.
---
---
Is there a new couple on the block, or are these rumors just playing with our hearts?
Minal Khan and Ahsan Ikram Spark Rumours
The two actors have worked together in Parchayee. Being co-actors in a drama can make you friends anyway but are these two taking it a step further? Minal Khan had posted a picture of herself under which Ahsan Ikram commented: "I love you"! What?!

And that's not just it. All millennials know that emojis are another language, too— you can say a lot with only one. Well, it turns out these two are using a lot of red hearts and kiss emojis! Talk about making it obvious, though, because we doubt any friends converse in this manner. 
Ahsan Ikram Trying To Make It Official
Ahsan Ikram's Instagram profile also features his picture with Minal Khan that can be perceived to be quite telling. Though they're shooting (our guesses), the way Ahsan Ikram is taking in Minal Khan is also something out of a Bollywood film. Could it be that he's trying to make it official?
See the picture and decide for yourself!
View this post on Instagram
Minal Khan Is In A League Of Her Own
Minal Khan was the first celebrity in Pakistan to amass 6 million followers on Instagram. The two sisters, Aiman Khan and Minal Khan made their duo a while back, but there has been no turning back for them since then.
View this post on Instagram
Minal Khan has been in several hit dramas, delivering one splendid performance after another. Take Parchayee, for example, the drama is doing incredibly well, and now it will even more. You might be thinking why and that's because people will now want to see the two together.
Is This A Publicity Stunt?
It definitely can be one, though. Like we just mentioned, creating rumors about the chemistry between the two co-actors can really reel in the audience. For instance, just like Mawra Hocane and Ameer Gillani's rumors started taking their drama to the new level, this might just be it too.
Following Mawra Hocane and Ameer Gillani?
The two were also rumored to be getting cozy with many pictures, making it to the gram. However, what took it to the next level with them was that Ameer Gillani's mom was also involved in Mawra Hocane's birthday!
Stay tuned to Brandsynario for the latest news and updates.