No matter how strong someone is, sometimes they give in to people's judgment and constant validation because they are human. There is a limit to what a human can take. No one is strange to the effect social media can have on our lives. Yet when it comes to scrutiny, we don't shy away from making extreme comments regarding people's lives. Yesterday, Hania Aamir shared why she has been MIA from social media, and we are not surprised given the actress has been trolled for sharing her thoughts on even the simplest of matters.
Hania Aamir And Social Media 
Hania Aamir took to her social media to interact with fans in a series of questions. The actress addressed the issue when a fan asked;
"Why are you not as active on Instagram as you used to be?"
In response to the question, Hania replied with;
"Don't feel like it anymore. I've picked enough battles here. Voicing your opinions come at a price. And the price is your mental health. The gossip, the mean comments, the putting each other down on the internet had started getting to me. And honestly, I lost faith in humanity so I needed a break. Don't like putting my life out there anymore. And tbh I'm at peace. I like that people know less and say less. Maybe, one day Instagram and I can rekindle the friendship we once had but for now, I'm good."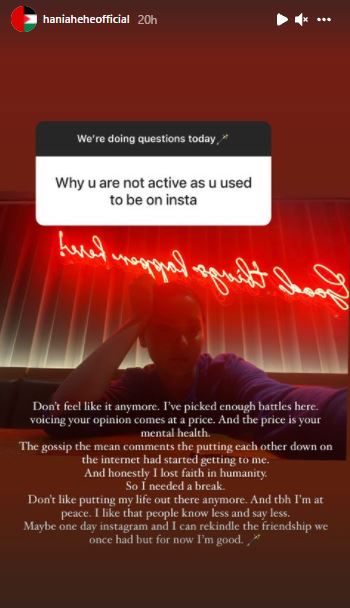 Read More: Hania Aamir Clears The Air On The Ongoing Debate On Beauty Standards
Hania Aamir became a subject for social media trolls on several occasions. Known for a blunt personality and straightforward remarks, the actress has been vocal on a variety of issues including Palestine, and colorism in our society. However, things took a drastic turn in an argument with her rumored boyfriend, Asim Azhar. And both netizens and the media fraternity started picking sides which ultimately got ugly.
Read More: Asim Azhar & Hania Amir Memes Take Over The Internet!
Despite being a celebrity, there is only a limit to what humans can take, and since it's the mental health, we are talking about, being a little more empathetic and kind goes a long way.
Stay tuned to Brandsynario for the latest news and updates.