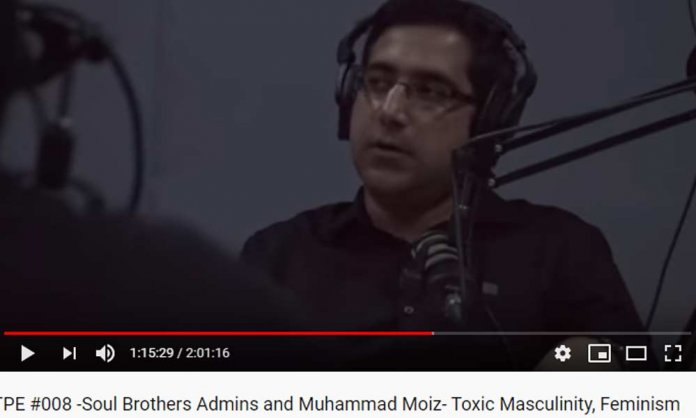 We've all heard about the popular female only Facebook group called Soul Sisters. And after the group became big and successful, a male-only group called Soul Brothers emerged.
Two of the admins of Soul Brothers were invited to Shehzad Ghias's YouTube podcast called The Pakistan Experience.
An extensive discussion on the group's policies over Toxic Masculinity, Feminism and online male spaces was held and some of the problematic behaviours observed on the group were questioned in light of those policies.
Below are some of the problematic things said by the admins in response to certain questions asked by Shehzad or Moiz (co-host and the person behind Desi Bobmshell):
Shehzad: Why do you have a policy against discussing religion and sex?
The admins mentioned that they allow discussions on these topics but they strictly don't allow members to abuse each other.
If they notice abusive language being used in such heated discussions, they inbox the members engaging in such behaviour to find out whether or not they are personally familiar/friends with each other; if they turn out to be friends, they continue to let them use abusive language against each other and give them freeodm of speech.
"Where there are 35,000 people in a group, maa-behen and everything will be discussed."
Moiz: If that is the case, then how come a woman's instagram post was shared on your group with a very misogynistic caption, without blurring the female's name or photo, and it was left on the group without being moderated?
The admins were slightly taken aback by this, and at first they tried to maintain that the post had been made public by the woman herself on her public instagram account, so it was completely ok for the post to also be shared on Soul Brothers.
When Shehzad argued that the message that woman had to give out was being circulated on social media, not the photo, and it was wrong to use her photo along with her message with the intent to bash her with personal comments.
To that, one of the admins responded:
"If she wants to look like an activist by discussing a public issue on instagram, then she should face it(harassment and online violence from members of the Soul Brothers group)".
When it comes to moderating a group for language and behaviour, policies need to be as clear as possible and their implementation must also be strict and constant.
Once members realize that they can get away with behaving violently, especially towards a certain gender, they will take the policies lightly which is bound to encourage them to continue behaving in the same way, if not worse.
Watch the full video below:
https://youtu.be/z3lP6aCDdIs
What are your thoughts?
Let us know in the comments.
Stay tuned to Brandsynario for more news and updates.