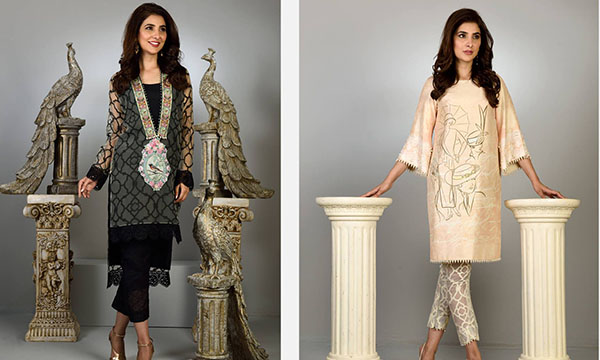 Wardha Saleem launches her Festive Eid Collection S/S'2016 with a range of her signature digital printed, block printed and luxury embroidered ensembles. The collection has been divided into 3 ranges starting from Rs.6,500 and going up-to Rs.29,900.
Digital Printed Eid Collection: Incorporating our renowned S/S'16 Fashion Week Collections (London Fashion Week and Jafferjees), the collection comprises of modern cut tops, pants and tunics. Using digital printing, hand embellishment, contemporary embroideries and appliqué techniques on Raw Silks, Short Silks, Organza and Chiffon, the collection promises to make a vibrant statement this festive season. This collection comprises of 11 looks.
Block Printed Cotton Eid Collection: The exclusive limited edition, summer chic range of our four block printed tunics are perfect to beat the summer heat this season.
Embroidered Eid Collection: This season, Wardha Saleem launches her exclusive luxury embroidered three piece ensemble range for festive Eid season. Incorporating intricate pearl and stone details and premium embroideries on pure organza and net fabrics, the collection comprises of four designs (in three colour ways each) inclusive of sequined boot cut pants, tulip shalwars and organza detail pants.
The Wardha Saleem Festive Eid S/S'16 Collection ranges is available in Karachi, Lahore, Islamabad, Dubai & USA at following stores:
KARACHI – Wardha Saleem Flagship Store, ENSEMBLE, BRANDS JUST PRET
LAHORE- FASHION PAKISTAN LOUNGE
ISLAMABAD – LABELS STORE
DUBAI- COLLAGE BOUTIQUE AND ENSEMBLE
USA- BRANDS JUST PRET
The Collection is also available at Wardha Saleem Flagship Store in Karachi and at our e-store www.wardhasaleem.com.pk  on a special 10% Discount till Eid.