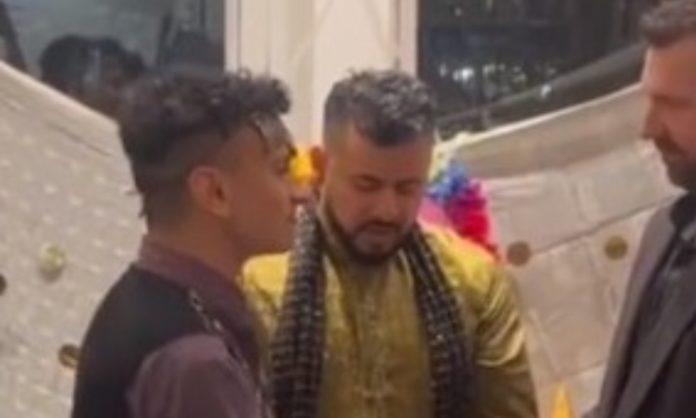 A video that went viral over social media for all the wrong reasons is raising an alarming concern.
A 'Queer Nikkah' In Happening 
The video got subjected to severe criticism after it showed a Queer Nikkah happening. The queer couple which happened to be two men are seen in the video holding hands while getting emotional. The Imam starts the Nikkah ceremony with the recitation of the Holy Quran. The video ever since has been receiving mixed reviews and comments on social media. Meanwhile, the authenticity of the video is still in question and the public is curious if the event actually happened.
Here's a look at the video below.
End of days pic.twitter.com/FrUHy439EJ

— Roshan M Salih (@RmSalih) July 9, 2023
Read More: Haris Rauf's Wedding Videos Are Stealing The Spotlight
Twitter Reacts To The Post 
Twitter's reaction to the post has been predictable, to say the least. However, the people complimenting and praising the notion of a Queer Nikkah is something that is a problem on its own.
Many scholars would agree that the two men and the guy doing this ceremony would be considered out of the fold of Islam by engaging in this

— Abdullah (@AvdullahYousef) July 9, 2023
Even a common Muslim would say the same as this is next level haram. I cant even believe what I am seeing

— SSWmastering (@SSWmastering) July 9, 2023
Some Twitter users couldn't believe the event and shared how the end of the world is near. Since this event itself is one of the grave signs of the doomsday. For it to happen very openly and casually is something every Muslim needs to be concerned about.
It's a mockery

— Masaza (@Masaza98631612) July 10, 2023
WTF is this. Qiyamah is near.

— Saifuddin Amri, CISSP (@saifuddin_amri) July 9, 2023
The reactions of those who don't understand the gravity of the situation were all praise for the Muslims opening up to the idea of queer marriages.
What a beautiful thing.
Islam accepting the natural World. ❤️

— Billy Meredith (@BillyMeredithMU) July 9, 2023
Read More: Tere Bin's Cute Moments That Made Fans Fall In Love
What are your views about the Queer Nikkah event video going viral on TikTok? Share your thoughts in the comments below.
Stay tuned to Brandsynario for the latest news and updates.