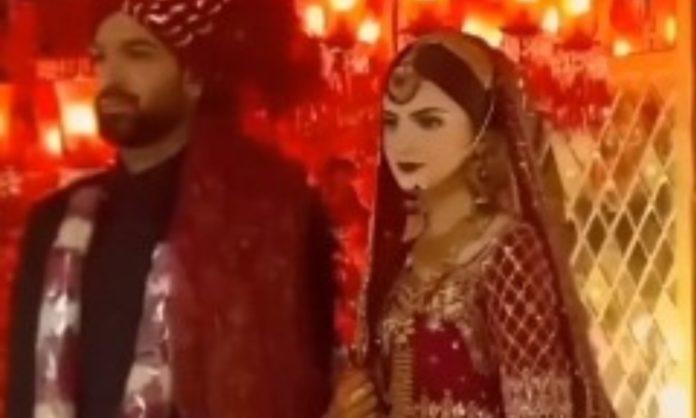 Renowned and fan-favorite Pakistani fast bowler, Haris Rauf, has begun his wedding festivities in a joyful celebration of love. The vibrant evening was filled with energetic dance performances and soul warming reactions from the newly wedded individuals and the 29-year-old athlete, who captured the nation's attention with his exceptional bowling skills also went viral for his marriage. He started trending on Twitter and Instagram. He exchanged vows with his beloved partner, Muzna Masood Malik, in a memorable nikkah ceremony last December.
The Prettiest Bride & Groom😍✨
Say MashAllah ❤️#HarisRaufpic.twitter.com/eshBRh3bwH

— Maheen🖤🇵🇰 (@mahi5621) July 7, 2023
As they prepare to start their new journey as a married couple, the couple's wedding celebrations are in full swing. The official events unfolded with great enthusiasm, as numerous videos and images capturing the moments surfaced on social media platforms. Have a look at these behind the scenes of the Rukhsati and Barat of the newlyweds.
Haris Rauf Barat Look♥️💯. #HarisRauf pic.twitter.com/49mNshyx7b

— Shaharyar Ejaz 🏏 (@SharyOfficial) July 6, 2023
Haris Rauf's wife's emotional moment during Rukhsati❤️#HarisRauf pic.twitter.com/tOhvnS3pXv

— Laiba Abbasi 🏏 (@abbasiilaiba) July 6, 2023
Earlier, social media also got to witness glimpses showing the cricketer brimming with happiness, fully engaged in the enchanting melodies and joyful atmosphere at his Qawali event. He was seen surrounded by loved ones and friends. Rauf looked exceptional in an intricately embellished blue kurta, paired elegantly with matching trousers, radiating charm and grace.
Haris Rauf Dholki. #HarisRauf pic.twitter.com/h3nLRmwuUU

— Shaharyar Ejaz 🏏 (@SharyOfficial) July 4, 2023
To accommodate the players' attendance at the wedding, they will be temporarily released from the training camp on Friday evening. After the festivities in Islamabad, the players will reconvene in Karachi on Saturday, promptly resuming their training for the Test series. Subsequently, the team will depart for Sri Lanka, with a stopover in Dubai, on the same day, as they embark on their cricketing campaign against the Sri Lankan side.
And as for these two lovebirds, the whole nation is happy for them as the two are officially about to start a new chapter in their life. Let us know what you would wish them.
Stay tuned to Brandsynario for more news and updates.