A video of Bushra Ansari dancing on an Indian number is going viral on social media and the netizens have a lot to say.
Bushra Ansari set the stage on fire when she took the stage with Azaan Sami in a mehndi function of Shahmeer Shunaid, grandson of the president of Hum Network. The majority of our favorite celebrities attended the function and danced the night away. Videos of celebrities are doing rounds on social media ever since Friday night.
However, out of all of them, Bushra Ansari received the most backlash over her dance moves and choice of clothes included.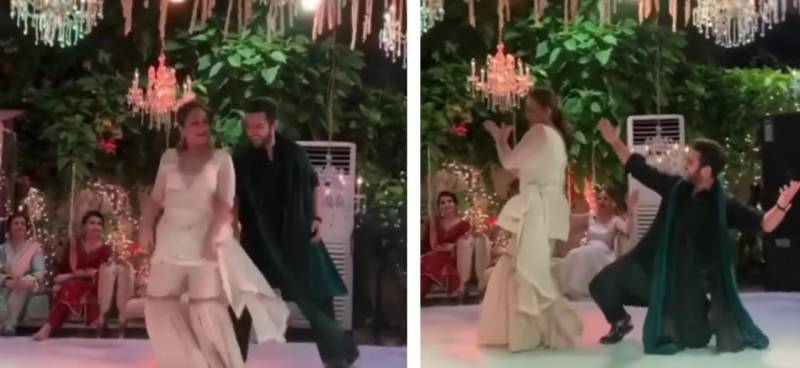 Bushra Ansari Dancing With Azaan
The moral police took to the social media handles to call out the veteran actress. While some commented on her choice of dressing, others took a dig at her dance moves and what she seems to be teaching to the younger generation of Pakistan.
"So this is the culture she is teaching youngsters?" one user wrote.
"I was a fan of Bushra Ansari but now by the time she is losing dignity", another wrote. 
At the same time, the majority of the people couldn't help but pinpoint that the actress should be mourning the loss of her sister.
While Bushra Ansari proved that age is just a number, the stage presence of the veteran actress is evergreen. And her charisma is still there after many years of being in the industry.
Other Celebrities Dancing The Night Away 
Many other celebrities took to stage to give performances. Among them, Kubra, Mahira, and Gohar Rasheed were also there.
Kubra and Gohar gave a synchronized performance together and Mahira was seen dancing with a little boy and boy it was cuteness overload.
Stay tuned to Brandsynario for the latest news and updates.