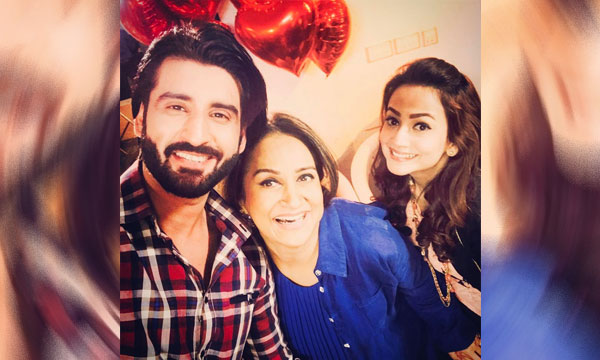 Currently, people are loving Agha Ali's power-packed performance in Urdu1's Andaz-e-Sitam as the bad boy "Wamiq". With time, he has proved his mettle in the industry. Now get ready to see the rising hero in a completely different look in Urdu1's Valentine Special "Yeh Ishq Nahi Asaan"
Guess who will be playing his love-interest in the telefilm?
It is none other than Urdu1's Khoobsurat drama heroin "Mehru" played by Zarnish Khan. The never-seen-before celebrity couple will be turning their romantic game on in the Valentine's Day special feature!
Surprise 🤗 Wait for it, cuz it's gonna be a biggie… 😎 And excuse the guys who're totally ruining my frame! Lol #sunkissed🌞🚦🚴🏻‍♀️🌅
But the best part about Yeh Ishq Nahi Asaan is that it will be featuring the 'queen of humor', Bushra Ansari! It has been long since we last saw the veteran actress in a hilarious avatar. Doing serious roles for quite some time, Ansari will be making us roll with laughter with her stellar acting all over again!
I can't even begin to explain what this moment meant to me, the legend whom I idealized all my life and was grown up watching her being so fearless and flawless on screen and each time surprising her followers and fans with her mesmerizing performances, was right next to me. When I started working my only wish was to work with all the legends of our country, few have passed away and may their soul RIP, and she of course was at the top of my wishlist. So here I am shooting a short film with her, and it's truly a great experience. It's gonna be aired soon, will keep updating you! ❤️️❤️️❤️️❤️️❤️️❤️️❤️️❤️️

A photo posted by Zarnish Khan (@xarnishkhan) on
Promos
The title of the telefilm itself says a lot of the plot of the drama. Zarnish sports a bubbly, girl-next-door look in the play. Agha Ali appears his usual handsome self and will be charming the ladies all over again.
Of course, the hero will fall head over heels in love with heroin. But Agha's mommy dearest, played by Bushra Ansari, will be a tough nut to crack. Will she finally accept Zarnish as her bahu, let's wait and watch!
Why You Should Watch Urdu1's "Yeh Ishq Nahi Asaan" Valentine's Day Special?
From the looks of its trailers and promos, the cutesy love tale will be a roller coaster ride of laughter and emotions! It is a romantic saga for everyone- for those who are riding solo on the international day of love and even the ones who have their special one by their side.
This Valentine's Day – Only On Urdu 1. #AaghaAli #WithTheLegend #BushraAnsari #ValentinesDaySpecial #ZarnishKhan #Urdu1 #ComingSoon #LoadsOfLove #LoveTheFanSquad #ForTheFansOnly #Aaghians
However, we still have to see how the love equation of Ali and Zarnish turns out to be. Being a fresh pair, it will be interesting to watch their sweet and sour romantic story.
Timings
Being a Valentine Day special, the telefilm will air on 14th February 2017, Tuesday at 8:00 PM! So curl up all comfy on your couch and tune into Yeh Ishq Nahi Asan on Urdu1. Better not miss this dose of entertainment
Stay tuned to Brandsynario for more updates!