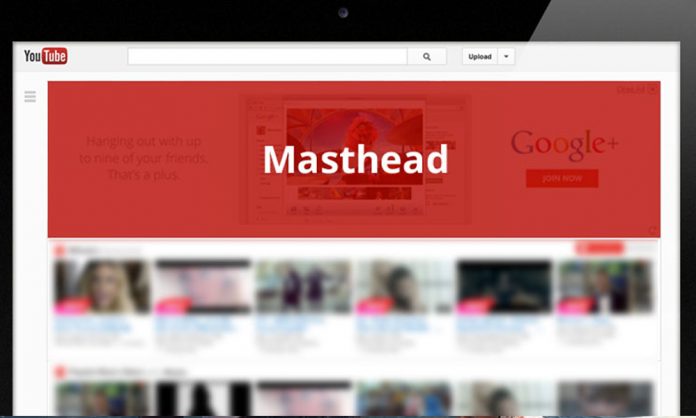 Around a year back I was requested by a friend to look for the data on Digital Industry Spends in Pakistan. Such data about other regions is easily available on the internet. However, I was unable to find anything on the internet for Pakistan, which is based on figures and facts.
The next thing I was thinking that one should start collecting and recording the data so that they can present it publicly, which will further highlight Pakistan's internet growth. I realized that I should start off with the easily available data and put some efforts and time to collect, compile and record it. Therefore, I decided to collect everyday advertisers on Youtube's Homepage on the masthead.
Youtube Masthead is sold at $12,000 exclusive of taxes, for a 24 hours period in Pakistan. I decided that if a reasonable amount of data can be collected about YouTube masthead, we can establish an opinion on the digital spends from major players on at least one of the most famous medium. Today, I am publishing the compiled data below.
"The objective was to capture only the market spends on the medium, and not how it performs. I am sure, each advertiser will have their own preferences when it comes to KPI's and results."
Starting from 1st of January 2018, till 31st July 2018, I have recorded 169 days out of 212 days. Which is around 80% of the data. out of 169 days, 20 days were recorded as empty where no ad was placed on the masthead slot. based on the recorded days and the number of times advertisers appeared, I am presenting below the data.
Overall Market Share of advertisers on YouTube Masthead Pakistan
I recorded 53 ads from the FMCG category, 50 ads from Mobile phone manufacturers, and 31 ads from eCommerce, which, in this case, is only one brand that has advertised 31 times.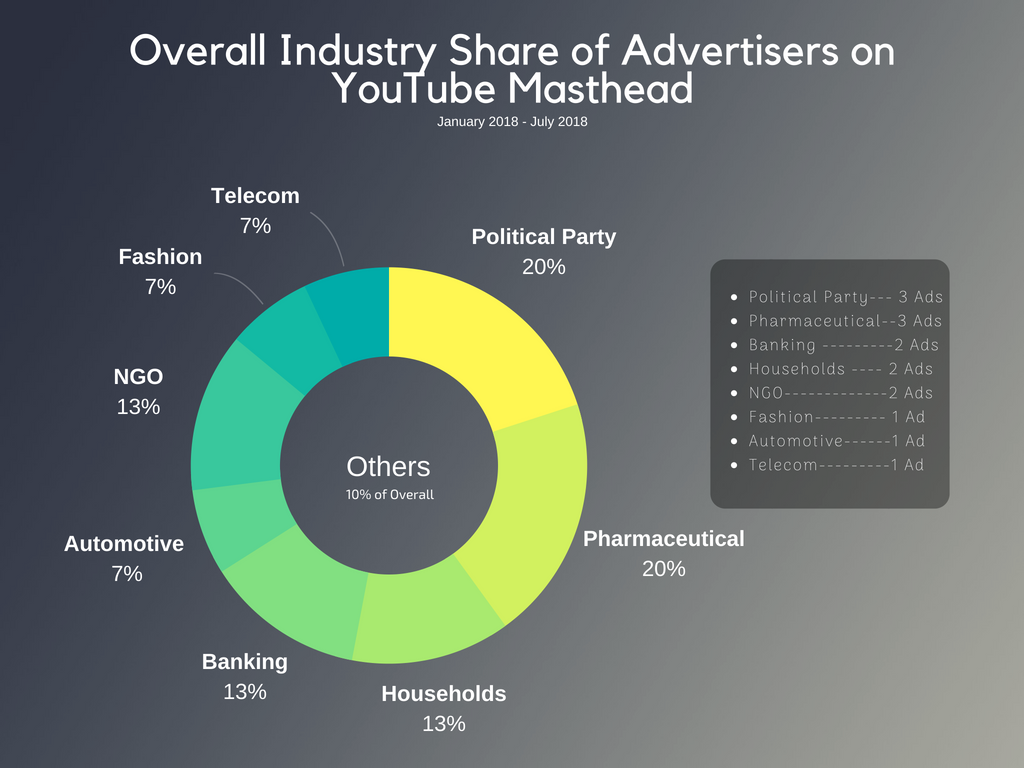 90% of the mastheads were acquired by FMCG, Mobile Phone manufacturers and E-commerce, the remaining 10% were purchased by Pharmaceutical, Political Party, NGO, Households, Automotive, Fashion, Telecom, and Banking.
Top Spenders in FMCG Category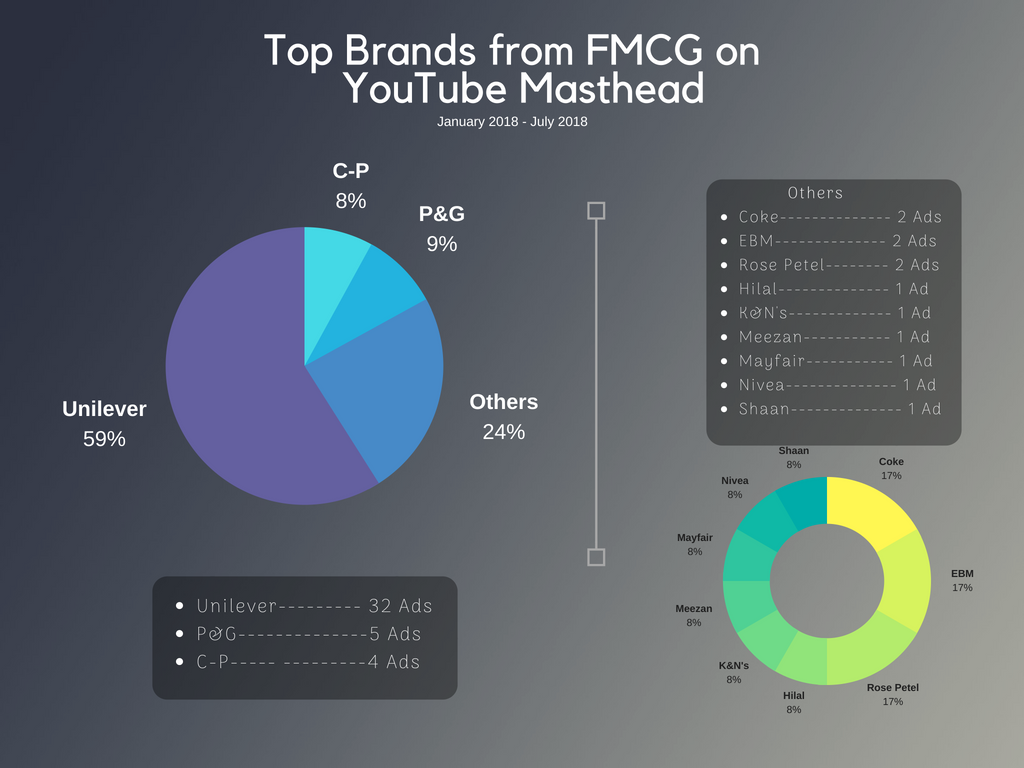 Since FMCG has the lion's share, I would like to further dig into it and share which Brands/Companies contributed to what makes up the 37% of all. Followed by Unilever, P&G, and Colgate-Palmolive, 24% others included Coke Studio, EBM, Rose Petal, with 2 mastheads each, and Hilal, K&N's, Meezan Cooking Oil, Mayfair, Nivea and Shaan foods with one masthead each.
Top from Mobile Phone Manufacturers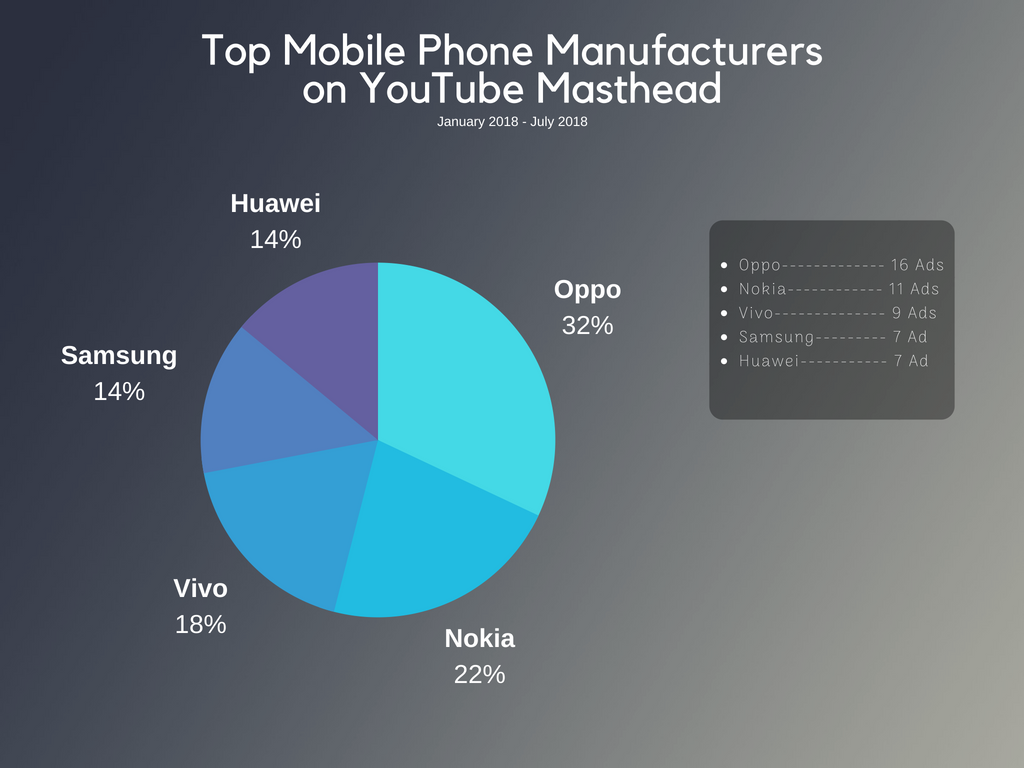 Mobile Phone manufacturers took the second largest shares with Oppo being on top with 16 mastheads, followed by Nokia with 11, Vivo with 9 and Samsung and Huawei with 7 Ads each.
 eCommerce & Other Bands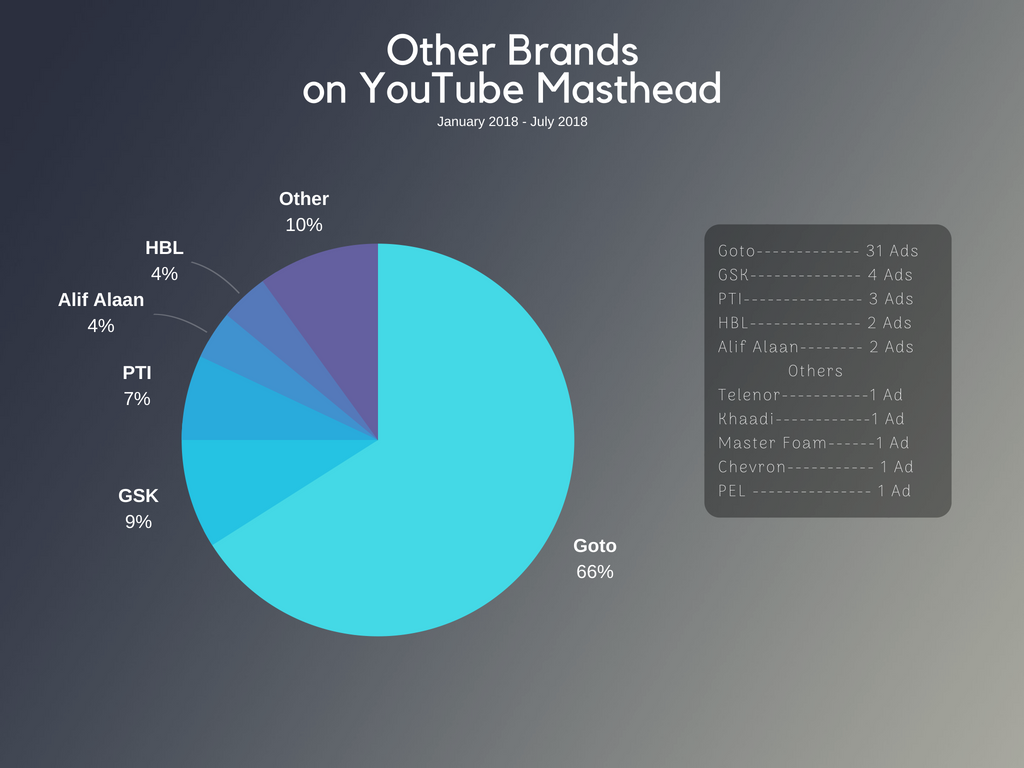 From the eCommerce industry, which has the 20% share from overall, has only one Brand, i.e., Goto.com.pk with 31 Ads. Others, which stands at 10% of the pie, included brands GSK with 4 mastheads, PTI with 3 mastheads, HBL and Alif Alaan with 2 mastheads each. Brands that only tested the water with 1 masthead are Telenor, Khaadi, Master Foam, Chevron, and PEL. (I have missed some days, which surely will have more brands, or repetition of the mentioned ones)
 Highest Spenders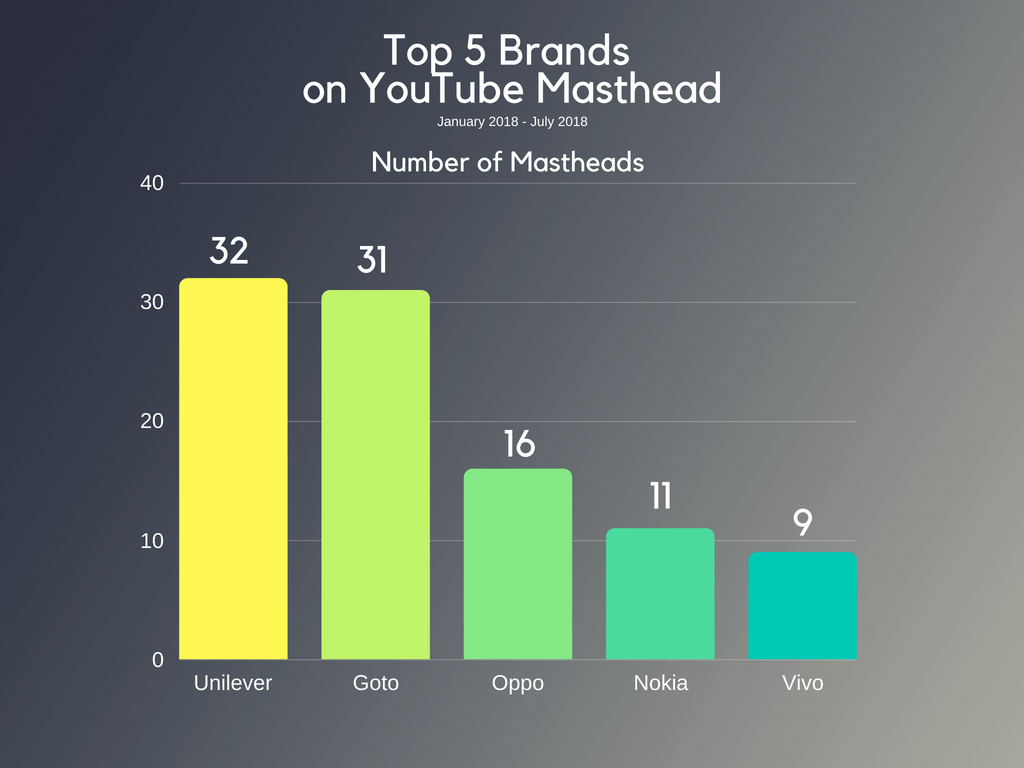 In any case, the 80% data states that Unilever has the highest inclination towards Youtube mastheads with 32 slots published during the period. below is the company wise standing of mastheads with 80% accuracy.
In the end, I would like to thank Google for instilling the confidence among the advertisers to pay handsome amounts in return of valuable reach. Moreover, the purpose of my writing is to break the ice and make other stakeholders publish more data that is available at their ends so that more investments can make their way to digital industry in Pakistan.
I believe more and more advertisers, Publishers and other stakeholders should collect and public their data so that Pakistan's internet growth gets more attention from International partners from the Digital Fraternity.
My efforts are just a drop of water and I believe Google Pakistan should publish a more accurate list of Brand data based on their spending, not only from Youtube but from other mediums that Brands are putting their online dollars in.
Contributed by: Saad Zaki
Originally published on Linkedin