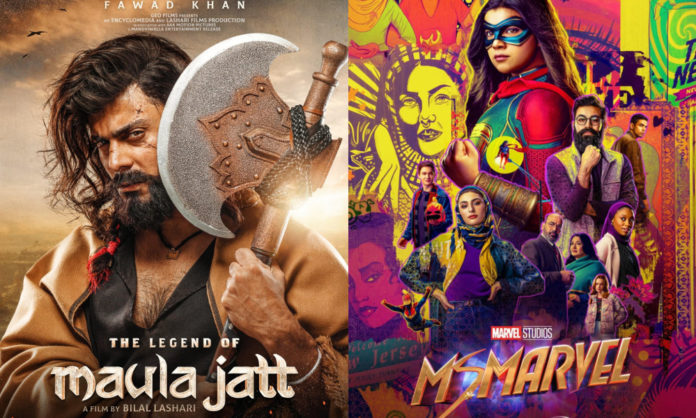 Google has recently released its "Top Trending Google Searches in Pakistan 2022 list as part of its yearly "Year in Search". The "Trending Searches" category provides a summary of the top searched terms in Pakistan in 2022. Today, we've listed 'Top 10 Most Searched Movies & TV Shows In Pakistan In 2022' for you in this article. Check it out:
Bilal Lashari is the director and writer of the 2022 Pakistani Punjabi action-drama movie The Legend of Maula Jatt. The movie is an adaptation of the 1979 cult hit Maula Jatt, and its creators do not consider it a remake or a prequel. Fawad Khan plays the title role in the movie alongside Hamza Ali Abbasi, Humaima Malik, and Mahira Khan. Maula Jatt, a fearsome prizefighter with a troubled history, is the protagonist of the story. He wants retribution against Noori Natt, the most feared warrior in the Punjab region.
IMDb Rating: 8.9/10
Based on the Marvel Comics character Kamala Khan, aka Ms. Marvel, Bisha K. Ali developed the American television miniseries Ms. Marvel for the Disney+ streaming platform. The program centers on Kamala Khan, a 16-year-old Captain Marvel fan with a vivid imagination. Kamala feels out of place at school and occasionally even at home until she acquires superpowers akin to the characters she admires.
IMDb Rating: 6.2/10
A 2022 American superhero movie Black Adam stars Dwayne Johnson as the title DC Comics character. The movie is a Shazam! spin-off (2019). Along with Johnson, Aldis Hodge, Noah Centineo, Sarah Shahi, Marwan Kenzari, Quintessa Swindell, and Pierce Brosnan also appear in the movie. Black Adam is let free from his earthly grave, some 5,000 years after being endowed with the enormous powers of the Egyptian gods—and imprisoned just as swiftly—and is prepared to wreak his own brand of justice on the contemporary world.
IMDb Rating: 6.6/10
The superhero movie Thor: Love and Thunder, released in 2022, is based on the Marvel Comics character of the same name. Along with Christian Bale, Tessa Thompson, Jaimie Alexander, Waititi, Russell Crowe, and Natalie Portman, it features Chris Hemsworth as Thor. When Gorr the God Butcher (Bale) tries to exterminate all gods, Thor (Bale) must go back to fighting and enlist the help of Valkyrie (Thompson), Korg (Waititi), and Jane Foster (Portman), who is now the Mighty Thor.
IMDb Rating: 6.3/10
Doctor Strange in the Multiverse of Madness
A superhero movie based on Marvel Comics that stars Doctor Strange is called Doctor Strange in the Multiverse of Madness. Along with Elizabeth Olsen, Chiwetel Ejiofor, Benedict Wong, Xochitl Gomez, Michael Stuhlbarg, and Rachel McAdams, Benedict Cumberbatch plays Stephen Strange in the film. Strange defends America Chavez (Gomez), a young woman who can travel around the multiverse, from Wanda Maximoff  (Olsen).
IMDb Rating: 7.5/10
London Nahi Jaunga is a 2022 Pakistani drama comedy film that was produced by Humayun Saeed and directed by Nadeem Baig. It is a sequel to the movie Punjab Nahi Jaungi from 2017. Along with Sohail Ahmed, Kubra Khan, Asif Raza Mir, and Saba Faisal in supporting parts, it has Huamayun Saeed and Mehwish Hayat as the main actors. Zara(Mehwish Hayat), the protagonist, has always appeared to have a full life on the outside, but she has always felt something is missing. That is, until she finds her mother's diary.
IMDb Rating: 5.2/10
Based on the DC Comics superhero Batman, The Batman is a 2022 American superhero movie. It represents a reboot of the Batman movie series. Along with Colin Farrell, Zoe Kravitz, Paul Dano, Jeffrey Wright, John Turturro, Peter Sarsgaard, and Andy Serkis, it features Robert Pattinson as Bruce Wayne/Batman. When a vicious serial murderer starts killing important politicians in Gotham, Batman is compelled to look into the city's covert corruption and wonder if his family is involved.
IMDb Rating: 7.8/10
Pakistani action-comedy Quaid-e-Azam Zindabad was written by Fizza Ali Meerza and Nabeel Qureshi, and it was also directed by Qureshi. The ensemble cast of the movie also includes Nayyar Ejaz, Mehmood Aslam, Mahira Khan, Javed Sheikh, and Fahad Mustafa. Many Pakistanis hold dear the motto Quaid-e-Azam Zindabad. The nation that was once founded on the foundation of being pure and clean is now engulfed in corruption. Bribery is used to enter several institutions. A film with a strong message, fantastic action and romance, and a unique tale that will make you think and laugh.
IMDb Rating: 7/10
Pakistani television series Sinf-e-Aahan is produced by Nadeem Baig and written by Umera Ahmad. Sajal Aly, Kubra Khan, Yumna Zaidi, Ramsha Khan, and Syra Yousuf are the series' main actors.
Six bold, passionate, and opinionated women from various origins are the focus of the story Sinf-e-Aahan. These women defy expectations by enlisting in the Pakistani Army and working to establish themselves as capable leaders and assets.
IMDb Rating: 7.7/10
George R. R. Martin and Ryan Condal are the creators of the HBO fantasy drama series House of the Dragon. It is the second TV series in the A Song of Ice and Fire series and a precursor to Game of Thrones (2011–2019). The series, which is based on Martin's 2018 book Fire & Blood, takes place around 100 years after the Targaryen Conquest unites the Seven Kingdoms, over 200 years before the events of Game of Thrones, and 172 years before Daenerys Targaryen is born. The series, which has an ensemble cast, depicts the occasions leading up to the beginning of House Targaryen's collapse, a brutal conflict of succession known as the "Dance of the Dragons".
IMDb rating: 8.5/10
Stay tuned to Brandsynario for the latest news and updates.