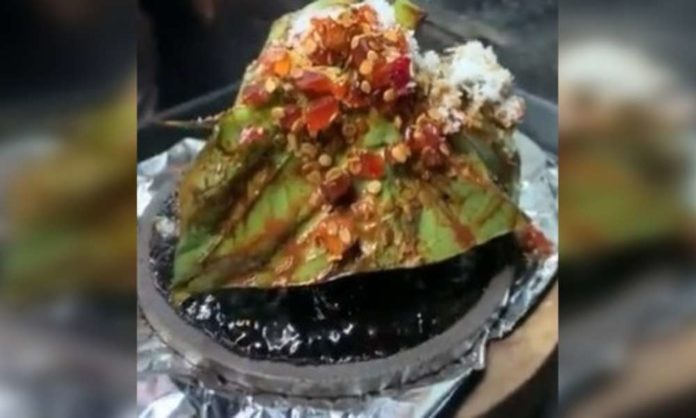 If there's one dessert that has come about to be a hit across age groups, it has to be the brownie. A mix between a dense fudge and cake, the brownie is truly a feast for the senses. This is why we commonly find chocolate brownies with ice cream on the menu of many popular restaurants. However, one fusion brownie prepared by a restaurant in India has left the internet stunned. Twitter users came across a weird 'Paan Brownie', and it indeed left a bad aftertaste in the mouths of many internet users.
Brownie Paan
Since it was uploaded on Twitter, the video has amassed more than one lakh views along with outrageous reactions from netizens. People expressed their disappointment over the unusual pan and brownie dish, while many even accused the cook of preparing it. Some even said they wouldn't eat pan after watching this video, and some said they would like to taste it. A large number of people expressed displeasure at seeing that they ruined both brownies and paan for them.
Take a look at the video here:
Pan and Browny Combo. Only from Ahmedabad, Gujarat. 👍🏽👍🏽 pic.twitter.com/ggXwGURFS1

— raman (@Dhuandhaar) November 9, 2021
In the viral video published on Twitter, a person is seen preparing a bizarre pan. The video opens to show a piece of chocolate brownie kept on a heated plate on top of which he drizzles some amount of chocolate sauce. Then he adds a scoop of vanilla ice cream, another layer of chocolate sauce, and finally a paan twist.
Read More: This Twitterati Tried Makai Ki Roti With Noodles, Would You?
Twitter Reacts 
While the weird creation did look aesthetically appealing, Twitter users could not understand the need to innovate the dish in the first place. Several people thought that the combination of Paan and chocolate was indeed a bad idea. Others wondered why such innovations were found mainly in Gujarat only.
The post mostly left netizens unsure of the combination, with some even accusing the makers of ruining both brownies and paan for them. Nevertheless, there did seem to be a few takers for the unique treat. One person pointed out that they have seen worse combos like Oreo Pakodas.
Read More: Oreo Pakora Served With Green Chillies Is Making Foodies Vomit
Take a look at the reactions.
You know what.. you don't need to mention Gujarat for such posts… People already know most horrendous things start from Gujarat.

— Rusted🗨️ (@safarnaama04) November 11, 2021
The Bombayite gujju in me gets killed each time I come across such wierd food inventions by gujjus…have seen Gujjus munching on Cheese Mayo Chocolate Dosa in my residential area

— Prashant Paleja (@caprashant1) November 9, 2021
Humans produce better things every morning.

— Shutter Down (@Sydusm) November 10, 2021
Aap ko toh jail bhijwaungi, dekhiyega!

— TanRants (@LongIslandIcyT) November 9, 2021
Paan Brownie is not the only bizarre dish to have gone viral in the recent past. A street food stall in Ahmedabad recently grabbed our attention with a curious and strange Oreo Pakoda. Believe it or not, the chocolate cream biscuits were dipped in a besan batter and then deep-fried!
What are your views on the weird food combos? Let us know in the comments below.
Stay tuned to Brandsynario for the latest news and updates.