When it comes to marketing our business, we Pakistanis really can think outside-the-box. Many marketers know how to incorporate trends into their business smartly. One of the most popular ones these days is none other than 'Ertugrul'!
Prime Minister Imran Khan recommended the Turkish drama serial. The premier shared that he wishes such content to be produced within the country.
The story revolves around Ertugrul, the son of a nomadic Kazi-tribe leader who rescues three people.
Eventually, the arrival of those individuals causes some trouble. Finding a new place for them then leads to the founding of the historic Ottoman Empire.
The show became an instant hit in Pakistan as it became one of the most-watched shows. It is stretched across 4 seasons and has broken many records due to its popularity.
So much so that Pakistani brands roped in the main cast members as brand ambassadors. Moreover, many businesses also started to use the franchise name to attract customers to gain more sales.
One of the latest businesses to incorporate the franchise is a Punjab-based family restaurant called Dera Salateen.
This eatery has cleverly used the characters' names in the series as the name of their dishes!
https://www.facebook.com/104462330951045/photos/a.105599374170674/395646528499289/
https://www.facebook.com/Shaban.NeoTv/posts/1701941923301359
Now, Ertugrul fans can enjoy delish Mutton Rosh named after the famous Halima Sultan. The delicacy of the dish will leave you wanting more!
Indeed it's a brilliant strategy for the restaurant to keep up with the local trends to promote their business.
However, this is not the only business nor restaurant to do so. Others have adopted similar ideas. One such local business is a small barbeque stand (as shown below), which has used the name Ertugrul to catch pedestrians' attention.
Ertugrul barbeque point on banks of Dal Lake Srinagar in Indian Occupied Kashmir.#ErtugrulGhazi #Ertugul #Kashmir pic.twitter.com/ppOdYLMLS6

— FZB tweets (@FZBtweets) June 11, 2020
The franchise name is now being printed on packs of chips and food and being used as a car vinyl.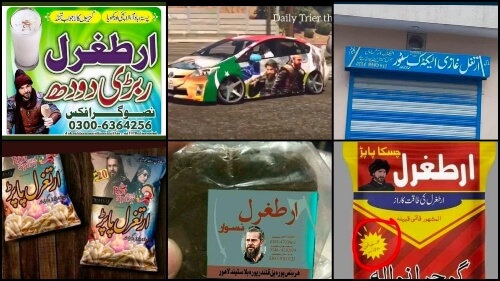 You can also buy merchandise after the franchise to show your family and friends who the real fan is and how crazy you are about the series!
#ErtugrulGhazi
IYI T shirt https://t.co/mOzGdmR6Sq

— Samra Saghir 🇵🇰 (@SaghirSamra) July 1, 2020
The Ertugrul craze does not stop here. Brandsynario also went out of the way to develop a list of Pakistani celebrities to cast if the series was made in Pakistan!
Click on the link below to view our list!
If Diriliş: Ertuğrul Was Made in Pakistan, Here's Who We Would Cast!
Have you come across the Ertugrul craze recently? Could you share your stories with us?
Stay tuned to Brandsynario for more news and updates.