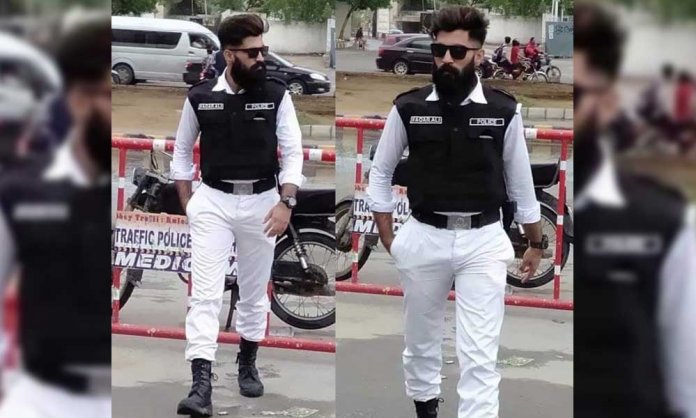 You don't need to be a superstar or possess some talent to gain attention these days. Sometimes all it takes is one big moment or viral picture to rise to fame.
Numerous everyday people have gained popularity thanks to their good looks. Remember the handsome 'chai wala' who broke the internet?
Currently, the internet seems to be obsessing over a Karachi based traffic police officer whose pictures while on duty went viral.
He has people wanting to break rules and get fined due to his extremely well-groomed appearance.
Social Media Reacts Pakistani Traffic Police Officer
Here's what social media has to say:
Pakistani's are clearly not used to seeing well-groomed police officers.
Karachi me Bina pan khy aur bhagir moty pait ka Handsome Traffic police officer 💕 pic.twitter.com/ottTpnkLab

— Qureshi (@Qureshitweet99) August 1, 2019
He's getting way too much attention
Handsome Traffic Police officer spotted in Khi Sakht laundiyan yahan pighalti hain pic.twitter.com/ixH2ONnr2l

— WaQar Ameer Sathio (@Bolo_WaQar) July 31, 2019
Some think he should be a model instead
Yr ye to model lg rhaa h

— THOMAS👑 (@BuraKhawab__) July 31, 2019
Others are not too impressed
Ya rha handsome 😂 pic.twitter.com/Mz4ZfoYCQ0

— Abdul Wali Bughio (@WaliBughio_PPP) August 1, 2019
The policeman, Waqar Ali Sanjwani, states he gets a lot of recognition from strangers while he's on duty. He also added that he enjoys the attention.
"I love my job as a police officer, but also have a passion for modeling," he told the media.
The police officer revealed that has done photoshoots for his friends. However, he says he hasn't taken official permission from the police department to model for brands.
What are your thoughts? Is he remarkably attractive or just surprisingly too well-groomed for a Pakistani police officer?
Watch the full episode below: