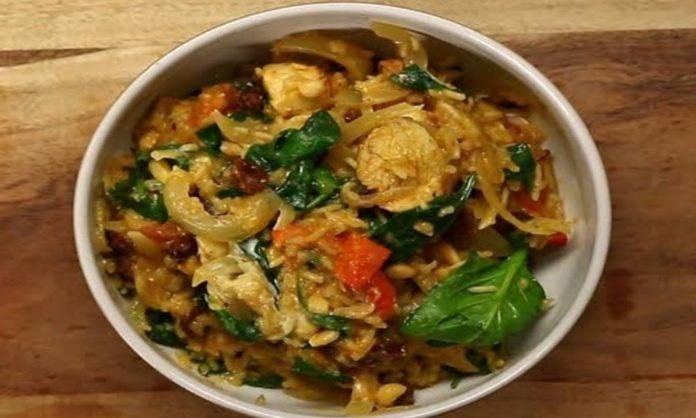 Tasty Uk shared a one-pot Qorma recipe on its channel and it is making us want to pull our eyes out. The one-pot Qroma recipe isn't something you would like to see let alone try to create. The disastrous concoction of spices cooked in a mix of meat, rice, and veggies looks awful.
The one-pot Qorma recipe has sparked a debate on social media and it seems like the differing opinions can not be beaten let alone convince a South Asian to try this recipe. The recipe feels like an abomination and we Pakistanis simply cannot bring ourselves to try it. If you still have no idea what we are talking about then take a look at the recipe below.
Read More: Oreo Introduces Its 'Most Oreo' Limited Edition Flavor
One-Pot Chicken Korma 😍 pic.twitter.com/pQDerTbyZX

— Tasty UK (@TastyUK) December 3, 2022
Twitter Reacts
Twitter's reactions to such kind of food videos are always legendary. The users' response to such videos is always legendary and is something we always look out for. The social media users took to the comments section of the @TastyUk official channel and spammed the post with comments asking them to stop.
Here's fish and chips: pic.twitter.com/PtLRM3FbTk

— Hasan Abdullah (@journalisthasan) December 5, 2022
"What the hell is this? Rice? Even after colonizing us, you can't cook our food. Definitely need Kohinoor back." One user wrote.
"What do you think of this? Wonder how the chef got the pass to cook Chicken Korma like that. No offense to any vegans." Another wrote.
Nice korma dear, here is some black pudding. pic.twitter.com/lsyv7JCYp3

— Imran Khan (@iopyne) December 4, 2022
"Now that we know what it feels like to have your local dish gets ruined. We Pakistanis must ask for forgiveness from Italians for ruining their Pizza and British for ruining their fish and chips." 
Read More: An Eatery Is Selling 'Asian Nachos' & People Are Calling It A sin
While the Qorma is a standard celebratory dish of Pakistan, this one-pot Qorma recipe has shaken it up. Needless to say that we are hurt and don't want to see something bad happening to another Pakistani dish anytime soon.
Stay tuned to Brandsynario for the latest news and updates.