Education is an essential part of life and in order to survive in this world which is transforming at a fast pace, it is important to educate yourself so you can compete in the world.
What Happened in KPK?
A brilliant example of not letting your circumstances come in the way of your education was set today at Khyber Pakhtunkhwa.
On 21st December, a picture surfaced on Twitter of a student who brought her newborn baby to the examination hall. Newborn babies need intense care and observation and since she could not concentrate, the examiner offered to help.
Huge respect to this pukhtoon exam administrator who takes care of a baby while his mom bzy in her written examination ❤️ pic.twitter.com/cJt8fxkuhv

— Sadaam خان♡ (@SadaamKhaan) December 21, 2020
In the picture, it can be clearly seen that the examiner held the baby like his own so that the mother could concentrate on her examinations.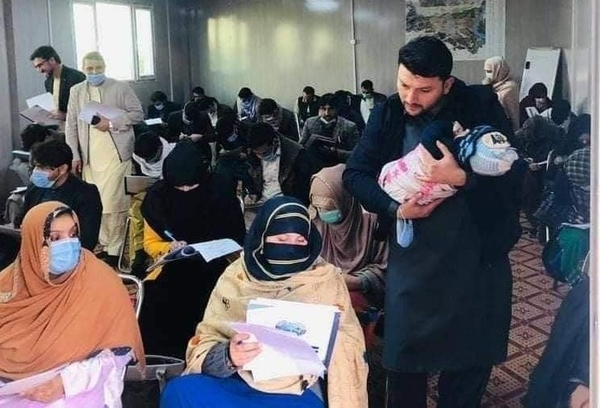 The pandemic has already affected the education sector all around the world. Researches reveal that the number of applicants that have applied for admissions has reduced drastically due to financial uncertainty and a decrease in the quality of education.
A few months back, somewhat a similar scenario occurred at Kabul University where a teacher was seen taking care of one of her student's child and fed the child so the mother could focus on her lecture.
This is the best picture of 2020 from #Afghanistan!
Ustad Mahmood Marhoon, lecturer of Pashto Department in #Kabul University is taking care of a baby while the mother is busy in her exam. A great gesture of Humanity & Kindness 😍 pic.twitter.com/NhVnHkFmHo

— Khalid Amiri (@KhalidAmiri01) August 28, 2020
The picture garnered a lot of attention and praise for the teachers as people appreciated the gesture that assisted the mother to solve her exam. The teacher's name was Mahmood Marhoon and he was hailed online for his selfless gesture for the student.
He was later revealed as a faculty member of the Pashto Department at University of Kabul and he was later asked to comment on the BBC where he thanked everyone who praised him and stated that he has received praises and love from people, all around the world.
The following examples and scenarios hold a great example for the teachers and students, both. Teachers who understand the circumstances of their students and help them cope with it are highly regarded and appreciated whereas the students who let their circumstances dictate their decisions. This sets a great example for everyone who has let their circumstances hold them back from achieving their true potential.
The mothers who are pursuing their education despite all the responsibilities are also to be applauded as our culture and people's judgment normally expect them to settle and hold themselves back. But fortunately, these two women and their teachers set a great example for the world this year. The following incidents have given us hope for the future; specially in a year, that has mostly brought bad news and curses upon us.
Follow Brandsynario for more news and information.