ACCA is a competitive field where a strong majority of students choose to make their career paths. The field of accountancy is no easy feat however, it has been termed a  boring one. However, ACCA's latest ad is a paradigm-changing one that completely changes the way we think about ACCA. 
Read more: Here's How BTW Is Making Waves Among Gen-Z One Purchase At…
What Is It About?
The ad is called "Aagay Ki Soch" in which a whole song has been made on thinking ahead. Provided there is a song, the whole ad looks like a music video. It features three women singing and playing games and then actually having a dance routine too. The singers are from Gintara and their selection is a representation of diversity and inclusion.
Who would have thought dance, music, and song would be used by ACCA to promote itself and it would work so well? The choreography is eyecatching and the song goes incredibly well with the spirit of the ad— to put a new twist to the old.
What Worked And What Could Be Improved?
It nailed some aspects which were trying to show that ACCA can be a lot more than boring white offices. It chose to show only women to encourage women to be a part of the field, to be the face of ACCA. They also had young women to target young people who will be deciding their careers. The ad seems to be clearly built on the premise of innovation, integrity and inclusion. 
It brings forth the idea that Gen Z is the population that breaks past all barriers and revolutionizes each field they touch. The lyrics are suggestive of the fact that qualified finance professionals from ACCA can be remarkable globally. Think Ahead – think of the future and what can be achieved! We loved the neon colours and the uplifting vibe of the ad altogether.
However, sing-songey ads and dance routines ads feed into the culture of everything having to do with pop. Many might be confused about the message since it requires reading into it.
The Song
"Aagay Ki Soch" could be a banger, let's be real. The song has well-thought-out lyrics that could appeal to even the toughest crowd. For instance, when they sing "ginti ki game hai saari, yehi hai dunya daari" it really hits. It brings home the idea that the skills ACCA teaches are not limited to just screens, they're life skills that take Gen Z to the next levels.
"Jidhar bhi tu jayega, rasta tu payega" is also another verse that remained stuck in our heads. It captures the mindset that Gen Z are unstoppable when they put their minds to something.
What Did People Say?
People are discussing this ad on KAMN on Facebook, a group where all sorts of advertisements are discussed. Many are confused about the relevance of this ad to the field of accountancy because they are not reading into it. From the surface level, they just see a song. Others are raising constructive critique where they think the ad has some good elements but it missed out heavily which is why this ad does not stand to make an impact.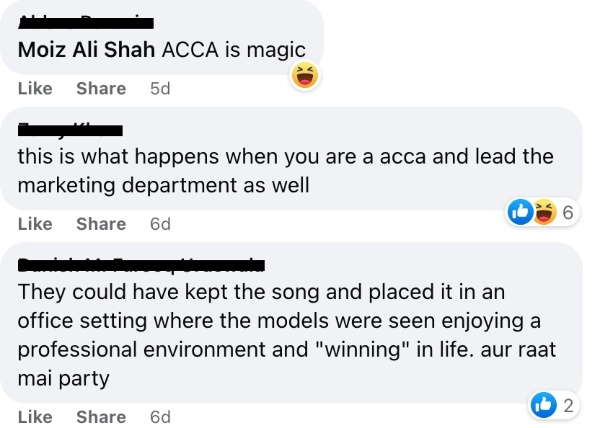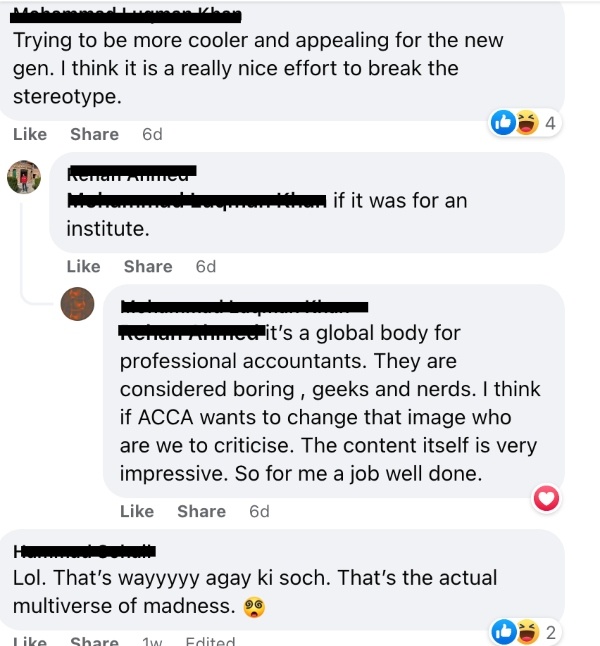 There's more: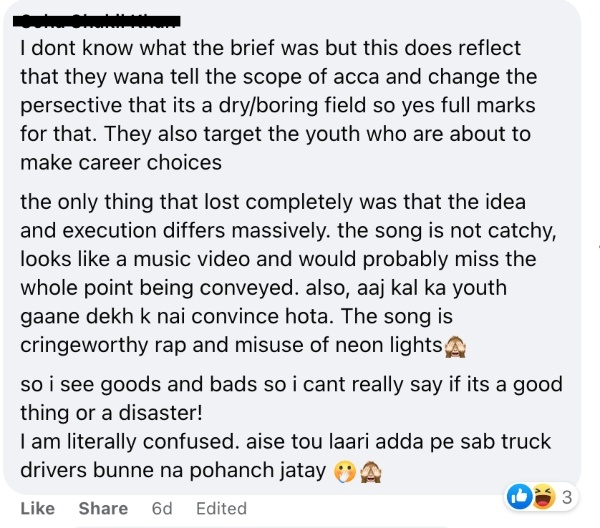 Read more: Interested In Learning About NFTs?
Stay tuned to Brandsynario for the latest news and updates.