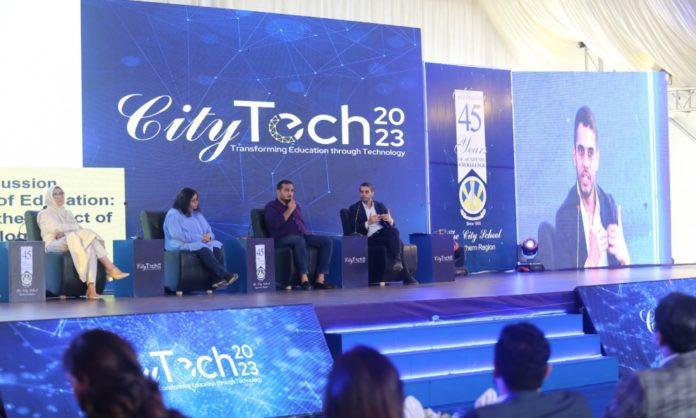 Humanities and technology are combined in educational technology to not only produce novel learning experiences but also to broaden access to contemporary education. Therefore, it is not surprising that EdTech has taken the globe by storm.
Modern computer labs or classroom desk-based computers are now standard in City institutions and all other contemporary institutions. As a result of this significant shift in educational institutions, our students are eager to expand their knowledge and skills and feel fully at home using computer technology.
Hence, it is not surprising that the CityTech2023 conference was a great triumph. In order to discuss how technology is gradually changing education, the conference brought together business leaders, educators, and technologists to focus on the effect of technology on education.
Is the future of EdTech in today's classrooms, which is constantly growing and, for the developers, financially extremely profitable, really that bright? The majority of conference speakers concurred that the success of the programs is determined by the learning results. The problem is not with technology per se, but with what technology can do. Learning won't be as effective as it should be, according to keynote speaker Dr. Kevin Martin, Centre Manager of Cambridge University's "Digital Education Futures Initiative" (DEFI). He made this point by emphasizing the importance of partnerships and dialogue in the learning process and experience.
The current covid crisis internationally made this point very obvious. There were other issues besides a dearth of infrastructure. Learning results will be subpar if engagement and conversation are absent. In order for EdTech to be effective for teachers, Dr. Martin continued by stating that it must be centered on high-quality transformative experiences, that teachers must be involved in the creation of EdTech interventions, and that teacher training must be teacher-centric. EdTech is "a servant, not a master," said Mr. Rob Jamieson, Head of Partnerships at Pearsons School Qualifications, who was a second keynote speaker. Teachers should be led by their knowledge of the material and not become deterred by lofty promises made by particular programs.
Mr. Khan Kashif Khan, Director of Strategy and Operations at The City School Southern Region, when asked to share his vision and thoughts on EdTech said: "Digital technology has made the entire educational process faster, more efficient, and more interactive than previously. Students are learning faster, staying engaged, and retaining more with well-made virtual lessons and they are enjoying entire individual and group projects so it's no surprise that students learn faster." 
Like all the other conference speakers, Mr. Khan suggests that schools include technology in their curriculum as a necessary first move. "It's no longer a matter of choice but a crucial responsibility. The goal must be to prepare students for a world that is continuously changing, and technology is an essential component of that preparation. Without technology, students may not be equipped to handle the demands of the modern world which may leave them irrelevant. Therefore, it is essential to make technology integration a priority and to continuously explore and incorporate new technologies to ensure that students are adequately prepared." 
The City School's main plan is to create solutions in close cooperation with significant technology partners like Microsoft and Google. The objective is to bring about a significant change in the methods used to offer educational programs. In other words, the conference's goal was to promote a more comprehensive reform of education rather than to teach new skills.
The City School places a high priority on making sure that all of its faculty and staff are adequately prepared and trained to use technology in the classroom. Technology permeates every part of teaching and learning, not just the ICT curriculum. Therefore, regardless of their topic area, all teachers and staff are exposed to it. Teachers do not need to be ICT specialists because The City School invests in its infrastructure to make technology simple to use. Instead, a supportive setting is offered to make it simple for them to incorporate technology into their instruction.
Mr. Jamieson claimed that we are gradually transitioning from knowledge-based education to computer-based education, quoting Jack Ma.