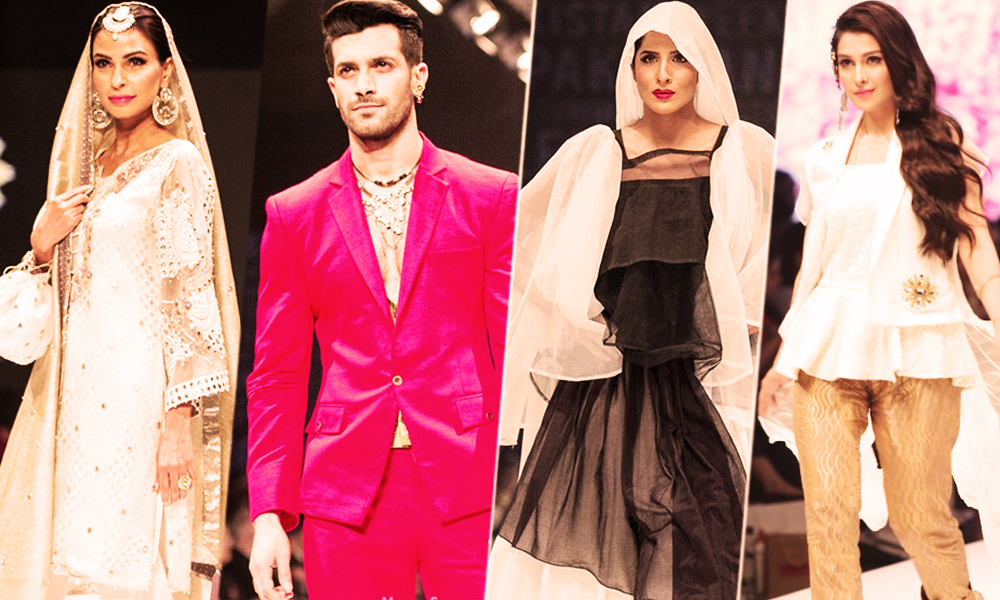 The ultimate three-day fashion parade kicked off last night with a fervour that even organizers might not have imagined. Everyone was just so excited and interested in witnessing this fashion week happening for the 10th time in Karachi. Where every fashion week brings us the detailed insight into latest trends and outfit designs that make our jaws drop, we also get to see some not-so-appealing sights, attires, and accessories.
On day 1 of FPW, where we spotted some gorgeous apparel lines, we also witnessed some unusually weird creations that we just didn't want to see.
Here we have summed up some of the best and bizarre moments witnessed at FPW S/S'16! Have a look!
The Best of FPW Day 1
Dazzling dresses, magical models and the stunning showstoppers, there was a lot for the fashion lovers on Day 1, let's see what really stood out to make an ever lasting impression.
Best Collections
Stunning ensembles are something we all set our glances on the ramp for and the designers who did not seem to disappoint the attendees are Deepak Perwani, Maheen Karim, Sanam Chaudhry. But, the two names that truly stood out and received a lot of applause from the audiences are Uzair Shahzad (participant of Bank Alfalah Rising Talent) and Kayseria.
Shahzad was a true genius who stunned everyone with his innovative designs. He emphasized on recycling and showcased attires made entirely from safety pins and bird cages.
Kayseria, on the other hand, showcased a very traditional collection. On a pastel color palette, the designs were enriched with intricate embroidery and mirror work.
The assemblage had everything from a short shirt with straight pants to long shirts and lehengas.
Best Accessories
Wardha Saleem for Jafferjees was a show dedicated to accessories! Ace designer Wardha collaborated with Jafferjees where the accessories brand presented its latest handbag collection and Wardha created a gorgeous line of apparel for the models to walk the ramp showcasing those amazing handbags.
The hand painted bags illustrated birds and floral designs. All the bags were done on a colour base of black accentuated with neon green.
Handbags were not the only accessory that stood out, footwear was also something to look out for! Model stuttered down the ramp in knee-high gladiators that perfectly complimented Wardha's designs and Jafferjees' bags.
Celebrity Showstoppers
This is one part of the fashion parade that keeps everyone high on heels with excitement. Celebrity showstoppers bring life to the whole show and they always do justice to the clothes. The day 1 had not one or two but three celebrity showstoppers.
But one celebrity that truly impressed us is Ayeza Khan. It was so good to see her back in the limelight doing everything from acting to walking the
Besides Ayeza, we got to see ravishing Ayesha Omar and handsome Sikander Rizvi for Maheen Khan and Deepak Perwani respectively.
The Bizzare Moments of FPW Day 1
Where we got to witness some of the trendiest fashion collections and stunning showstoppers; we also saw something we didn't bargain for. Some of the worst collections from day 1 are:
Just..what were you thinking Mr. Designer? 
Every fashion week showcases that one collection that makes everyone lose their mind and people suddenly start wondering 'what was the designer actually thinking while creating these outrageous outfits' or was he thinking at all?!
This mostly happens when the designer solely relies on creativity and fails to merge his creative spin with an eclectic aesthetic appeal.
First, Syeda Urnia – contestant of Bank Alfalah Rising Talent left our mouths open in astonishment, when presenting her Jubba inspired collection. Using all blacks and whites with flowy cuts and an odd finish, her collection surely was the true definition of the word bizarre.
Obaid Sheikh's collection in the trends section of the show was also something that brought a cheeky smile to everyone's face! He made our male models wear some of his shockingly bright coloured dresses.
Never Ending Line Up
The first day of FPW seemed to be a never-ending line-up of designer assemblages. This time around, FPW introduced the trends tradition, quite a bit of a drag for the attendees. The section had three designers namely: Maheen Karim, Obaid Sheikh and Sanam Chaudhry who showcased four different designs one by one.
Also, Delphi ended up showcasing its collection on Day 1 even though the name was not mentioned in Day 1's lineup. Something the attendees just did not expect!
Chaos and Delay
Overall, there was a lot of enthusiasm and a large number of people came to witness the fashion week this year; Sadly the arrangement was not up to the mark at all! Many attendees were seen standing during the entire show. Also, there was a lot of delay between one designer's showcase and the next's; this was the reason why many people left their seats during the show.
We even spotted Deepak Perwani, the official spokesperson of the fashion council making some last minute arrangements and dealing with chaos backstage and at the main event.
Pakistani Celebrities Stun as Showstoppers for Fashion Pakistan Week 2016
Stay tuned to Brandsynario for more updates on FPW S/S'16.
Photographs credit: Movie Shoovy