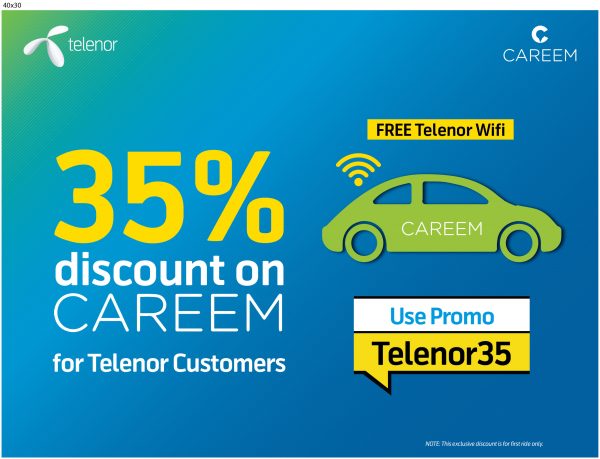 Pakistan's telecom services provider, Telenor Pakistan, has decided to join hands with Careem, to provide discounted rides to Telenor customers.
According to the partnership, Careem will let Telenor customers avail 35% discount on their first ride. In order for the customers to have a more pleasant experience, they will be able to enjoy free WiFi service during their ride. As part of the deal, captains will also enjoy special data packages from Telenor Pakistan.
Careem's network operates in major metropolises of Pakistan including Karachi, Lahore, and Islamabad. Commuters can use their mobile application for convenient access and online portal to call a ride.
Michael Foley, CEO Telenor Pakistan, said, "We are pleased to enter into this partnership with Careem as it comes in line with Telenor's commitment to deliver the best possible services to our customers.
With Careem, Telenor subscribers will not only enjoy cheaper and more comfortable rides, but also WIFI connectivity on the go. We will continue to look for newer avenues of serving our valued customers."
Telenor Youth Forum Recruitment Officially Opens in Pakistan
Junaid Iqbal, Managing Director Careem, added, "We are delighted to have struck this crucial deal with Telenor Pakistan which is the biggest proponent to digital enablement in the country. The agreement will not only help facilitate our mutual customers but go on to explore new prospects of making our businesses more accommodating and preferable to our customers. We will explore the possibilities of building upon this agreement and expand our joint venture in the future."
Telenor Pakistan's initiative with Careem will be a valuable addition to the mutual customer base of both businesses. With the expanding operation of Careem, more and more Telenor customers will be able to benefit from the initiative in the near future.