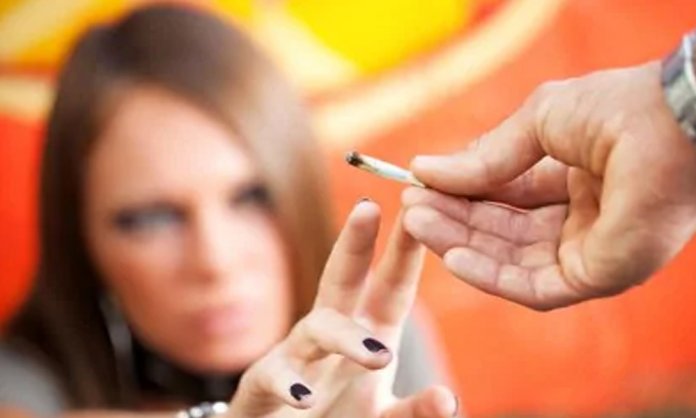 New US research has found that more young people are choosing to try marijuana before smoking cigarettes or drinking alcohol, which could put them at a higher risk of cannabis-related problems later in life.
Carried out by researchers at the National Institute of Child Health and Human Development, the study analyzed data from 275,500 individuals aged 12 to 21 who took part in the US National Survey on Drug Use and Health.
The survey asked participants about their use of marijuana, cigarettes, alcohol, and other forms of tobacco or illegal drugs, and at what age they started using the drugs.
The results showed that in 2014, the last year that data was collected, 8 percent of participants reported that marijuana was the first drug they ever used, compared to 4.8 percent in 2004.
According to author Brian Fairman, the increase in those trying marijuana first could be related the decline in those who start smoking cigarettes first, which dropped from about 21 percent in 2004 to 9 percent in 2014.
Fairman also added that, "We also observed a significant increase in youth abstaining from substance use altogether, which rose from 36 percent to 46 percent, and therefore, it is unclear the degree to which increases in those initiating marijuana first could be due to youth abstaining or delaying cigarettes."
In addition, the results showed that those who tried marijuana before alcohol or cigarettes were more likely to be male, and Black, American Indian/Alaskan Native, multiracial, or Hispanic.
Worryingly, the researchers also added that those who try marijuana first are also more likely to become heavy users later in life, and develop a cannabis use disorder.
"Our findings suggest important targets for public health intervention and prevention of marijuana use, especially among American Indian/Alaska Native and Black youth, who are less likely to have access to treatment or successful treatment outcomes," says Fairman, who added that prevention strategies could be improved by targeting groups differently based on their risk of starting tobacco, alcohol, or marijuana first.
Research published on Thursday also suggested that teenagers who view more advertising for medical marijuana are more likely to use marijuana, or show an intent to use it, and have a more positive attitude towards the drug, while Canadian research also published this week found that the age at which young males try marijuana could also influence how likely they are to have a drug problem later in life. The study found that boys who start smoking the drug before age 15 have a 68 percent risk of having a drug problem at age 28, whereas those who start smoking between ages 15 and 17 have a 44 percent risk.
The results can be found published online in the journal Prevention Science.