The world of automobiles is taking quite a turn in Pakistan. Brands are entering the country with swift speed and local production is going high. Companies like Suzuki and KIA are trying their best to appease the audience. Due to the new auto policy 2021, there is going to be a major change in car prices. Vehicles like Suzuki Cultus and Alto are sure to see a price change.
Just like that, Kia Picanto is going through some price changes too. Many people are looking to buy these cars and they want the best one. Of course, it depends a lot on the person's preference. However, there are some features that put one over the other. Today, we take a look at a friendly comparison between Suzuki Cultus and Kia Picanto.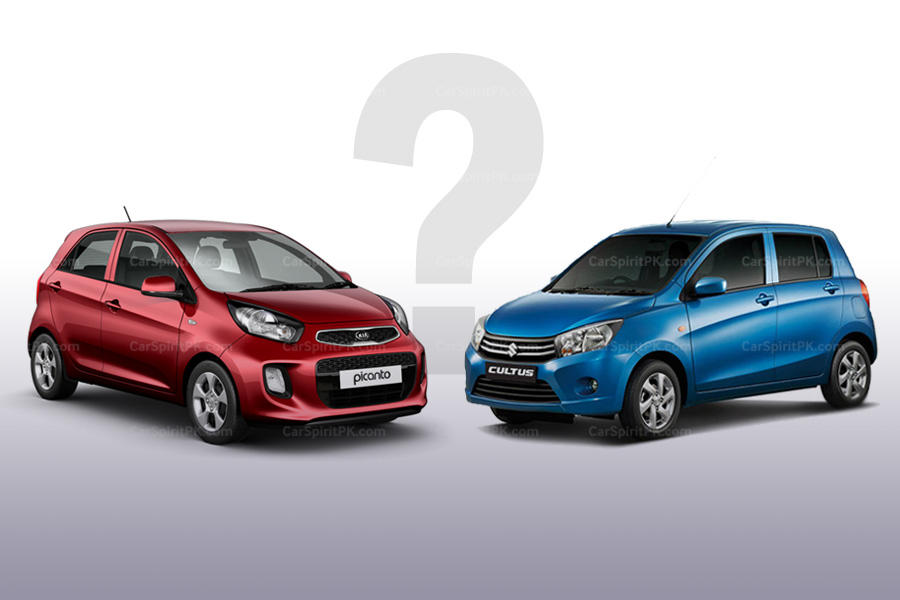 Suzuki Cultus
Available in more than 5 colours, there is a lot to explore on this vehicle. Suzuki Cultus saw a change in design and variety after 2018. It was then that the vehicle entered into a new era of rebirth. It falls in the 1000cc category, which means the auto policy affects it greatly. There are currently three variants on the market,
VXR, Manual
VXL, Manual
Auto Gear Shift
Read more: Hyundai Elantra Vs Proton Saga – A Friendly Comparison
Of course, as you go towards more ease of drive, the price goes up too. With a city average of 18-19 km to the litre, this vehicle can be a good investment. The current prices of the variants are Rs.1,655,000 for the VXR, Rs.1,830,000 for the VXL. The Automatic variant is currently available at Rs.1,975,000.
KIA Picanto
Kia is one of the fastest rising brands in Pakistan. Almost everywhere you go, you see their Sportage being driven on the streets. Despite there being so many brands available, a lot of people are going for this one. Picanto is the compact release by Kia and it comes in two variants. Set at 1000cc, the variants are,
Yes, it is quite as simple as whether you want automatic or manual. It all depends on the driving style and preference of the driver. The seats are comfortable and the vehicle can really prevent back pain on long drives. With a fuel average between 18-20 kilometres, it is sure to give you a run for the money. This can be a good investment over the long term. The manual variant costs about Rs.1,781,000 and the automatic is Rs.1,922,000.
The Verdict:
While the Suzuki Cultus may give more room for selection, Kia runs ahead in its features too. Both of the vehicles are in tough competition and it all boils down to the driver. We recommend that you test both vehicles before making a decision. After all, buying a car can be a whole ritual on its own.
Stay tuned for more from Brandsynario!