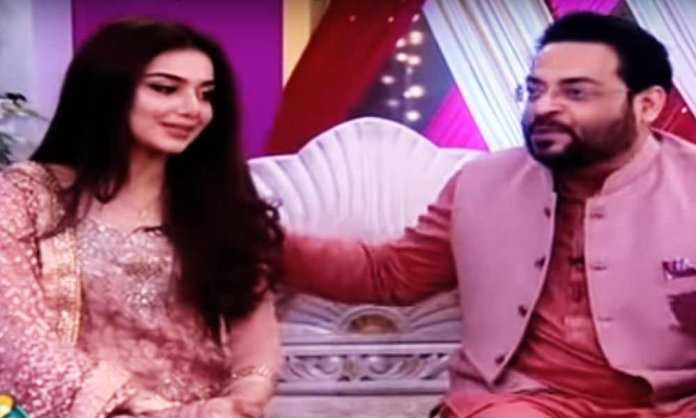 Aamir Liaquat's second marriage with Syeda Tuba Aamir has indeed become the talk of the town! People are eager to know more about the couple and their untold love story.
Consequently, various publications came forward to interview his second wife. Faysal Quraishi became the first host to invite the newlyweds on his morning show.
So much so, the episode was trending at No.1 on Youtube.
Following Faysal Quraishi's example, Sanam Baloch too invited the pair on her morning show 'Subah Saverey Samaa Kay Saath'.
Sanam gave them a warm welcome on the show and Aamir Liaquat took to Twitter to thank the channel!
What a welcome 🙏 @SAMAATV and. @thesanambalochh pic.twitter.com/7kjkhi48gT

— Aamir Liaquat Husain (@AamirLiaquat) December 10, 2018
Wondering how Aamir Bhai proposed Tuba?
Seems like he sat on his knee like a romantic hero and wooed Tuba into marrying him.
Later, Aamir Liaquat sent a proposal to Tuba's home to seek her parent's approval. He also revealed that he never took any dowry from either of his wives.
The politician also proposed his wife live on T.V and you can watch it here!
https://youtu.be/kaFHiAUno6Y
Tuba also revealed why she calls Aamir Liaquat 'Panther'
Social media had a field day when Tuba revealed on Faysal Quraishi's morning show that she has saved Aamir's name as 'Panther' in her phone. The memes that followed were hilarious.
However, the new bride has now revealed the mystery behind the name!
https://www.youtube.com/watch?v=XTWrZpkD1Lk
But what shocked us the most was Aamir Bhai's announcement for a Netflix project!
Aamir Liaquat claims that his second wife has a perfect face for Pakistan's entertainment industry and has revealed that he is all up for Tuba working in movies.
However, when Sanam asked if Tuba is the heroine of his upcoming movie; Aamir Liaquat shocked us all by announcing a Netflix production.
Was he serious or was he kidding, we will know soon for sure!
https://www.youtube.com/watch?v=MkN5IKfqh8w
Also, check out these unseen pictures of the couple exclusively shown on Samaa
https://www.youtube.com/watch?v=wbhnaOotKP4
You can watch the full episode of Sanam Baloch's morning show here.
https://www.youtube.com/watch?v=ae-BUjWpTio