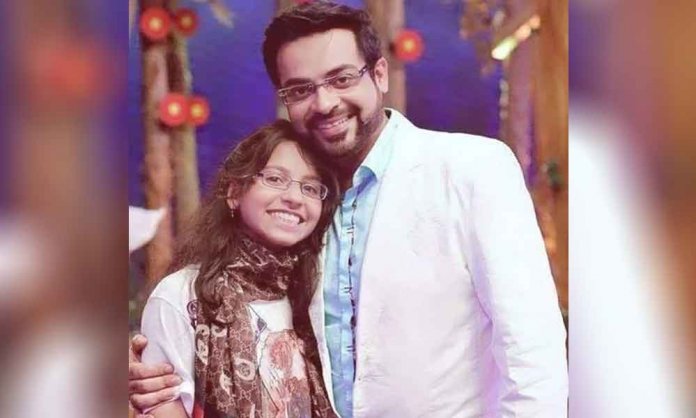 Aamir Liaquat's second marriage with Syeda Tuba Aamir has indeed become the talk of the town! People are eager to know more about the couple and their untold love story.
Consequently, various publications came forward to interview his second wife. Faysal Quraishi became the first host to invite the newlyweds on his morning show. So much so, the episode is now trending at No.1 on Youtube.
It is no secret that Aamir Liaquat has received a lot of backlash over his second marriage and the hate brigade shows no signs of slowing down.
Aamir Liaquat's Second Marriage: Faysal Quraishi Defends the Televangelist
Here's What Has Been Happening!
It all started when his daughter from first marriage, Tuba Aamir Liaquat took to social media and revealed that her family is torn apart after her father's second marriage.
Another day, another tragedy
Ever since you hurt your family
Sincerest prayers for you to recover
And that too goes for the homewrecker
Hoping Allah guides you to the right way
Whilst your children wipe their tears away.

Your devastated daughter in pain,
Duaa Aamir.

— Duaaart🎨 (@Duaa_e_aamir) November 17, 2018
Her confession caused a huge controversy. Aamir Liaquat was accused of cheating on his wife and Syeda Tuba Anwar was blamed for breaking a home.
Following his daughter's post, the politician cleared the air that he still provides for his first wife and children.
https://youtu.be/vx-pTIlBLcw
Meanwhile, Tuba Aamir also took to Twitter to silence all the gossip-mongers.
RUMORS & GOSSIP IS TEMPORARY, OUR MARRIAGE IS PERMANENT#ALHAMDULLILAH
Yesterday, the couple made their first appearance together in the ARY' Zindagi's Morning Show. During their heart-to-heart with Faysal Quraishi, the couple revealed quite a lot about their relationship.
What's more, the couple urged keyboard warriors to stop interfering in their personal life and spreading malicious rumors about their marriage on the web.
Watch his complete interview here!
https://www.youtube.com/watch?v=qJfl7AROZIE&t=2766s
Soon after the show, Dua took to Twitter again and stated that whatever has been buzzing on social media is true and all are her own words.
Her cryptic tweet indeed said it all!
What I write, what I think, what I say on social media is all mine. They are my words. My truth.

— Duaaart🎨 (@Duaa_e_aamir) December 4, 2018
However, her followers were quick to grasp her message!
Magar Apke Father ko ye nahi laghta🙃

— Hira Ali (@Hira_Laghari72) December 4, 2018
Ap k papa ko lgta k ye sb koi aur likhta h …wo accept nhi krty k ??

— Maryam Butt💫 (@MaryamB70900378) December 5, 2018
He block me from his account coz bhe cant face…the truth

— shafaq (@DollShafaq) December 5, 2018
It is reported that Tooba and Aamir developed a strong camaraderie while working together. Meanwhile, the scholar's first wife, Bushra remained unaware of the relationship.
Aamir Liaquat and Bushra have two kids, a son named Ahmed Aamir, and daughter Dua Aamir.
What do you have to say about Dua Aamir Liaquat's tweet?
Let us know in the comments below