Spotify took over the world since it came into existence. It has been ruling the music industry as all users and streamers turn to the app to enjoy their favorite music. Ever since Spotify was launched in Pakistan, it has also given recognition to new and emerging talents that have today, become, the face of Pakistani music. In order to celebrate its one year in Pakistan, the app has released the funniest and most adorable ad that captures everybody's feelings and behavior as of late. Don't miss out on it:
Read more: Rap Music To Thrive In Pakistan, Thanks To Pepsi
What Is The Ad About?
The ad shows a grandfather sitting and listening to "Young Stunners". There goes the irony as you see someone in their late 60s sitting with the 'young' rockstars of the music industry. However, what's even better is the very song 'dada' is listening to. dada is listening to 'Afsanay' which is Young Stunners' most famous and loved song to date. The song is their classic one with brilliant lyrics and a voice that transports you elsewhere.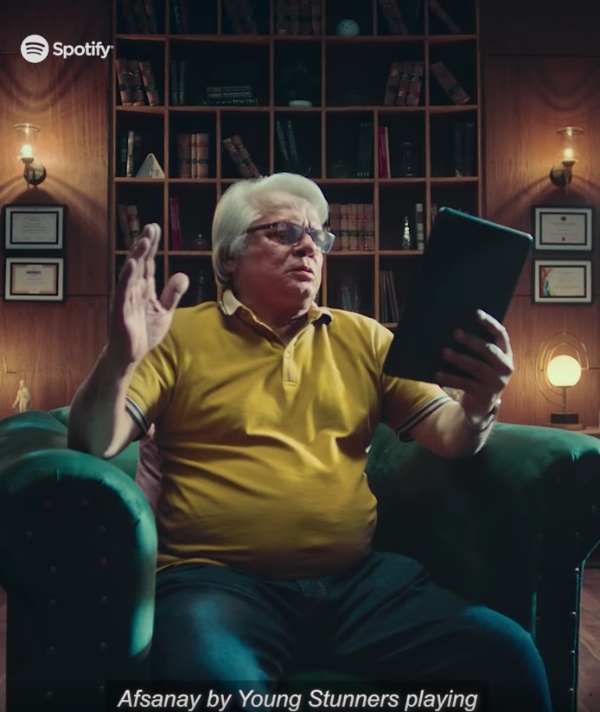 In the ad, dada is seen fully vibing to the song. That is when the grandson comes in shocked and asks upon seeing his dada, "Since when have you been listening to the songs I listen to?". To this, dada responds by saying, "Since Spotify came a year ago!". 
What Is At The Heart Of This Ad?
At the core of the ad is the idea that Spotify unites all ages for the love of music. It is one platform where music from all over the world is featured and can be heard by everyone. As the ad shows, dada and grandson both get to bond over their love for Young Stunners through Spotify. 
Check this out!
And here's another one!
This is also evidenced by the fact that Ali Sethi and Shae Gill's recent Coke Studio production, "Pasoori" has made it to a global chart of Spotify. The song is number 3 on "Global Top 50" signifying that the song is being heard all over the world courtesy of the app.
View this post on Instagram
The Rise of Pakistani Music
In the past few years alone, Pakistani music has risen to heights we never could have imagined. Young and new artists like Young Stunners, Maanu, Hassan Raheem, Danny Zee, Taha G and Salor have captured the hearts and minds of young and old alike.
Read more: Spotify Reveals Data On Pakistani Music's Borderless Reach
Let's also not forget Shamoon Ismail who got us all grooving to Punjabi before AP Dhillon did.
Stay tuned to Brandsynario for the latest news and updates.