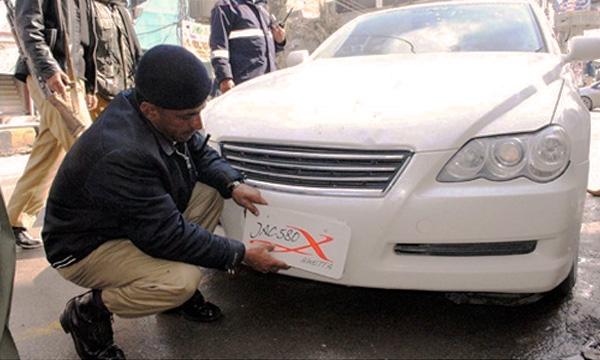 Sindh Traffic Police & Citizens Police Liaison Committee (CPLC) have started a crackdown on illegal number plates. The directive has been issued by The Supreme Court of Pakistan to law enforcing agencies. The orders directs to fine and/or apprehend motorists with fancy or 'applied for registration' number plates.
The details for fines or arrest have not been revealed till now. All fancy number plates, number plates with notorious black discs and applied for registrations come under this directive. Karachi has become a hub of number plate law violations and one can see different cars being driven on the road without govt. issued number plates.
On the other hand The Sindh Excise and Taxation Department has distributed 15000 car and motorcycle number plates within last 10 days. The plates are issued by the department as soon as vehicle registration is filed.
Although the department is working on fast track basis for number plate issuance, there is a big backlog of earlier registrations that have been consuming time and work load.
Punjab government has plans for customized number plates and is working towards achieving this goal.
The new plates as rumored will include marks and/or holograms of famous Pakistani icons and personalities like Nishan-e-Haider recipients, Mehdi Hasan, Noor Jahan & Faiz Ahmed Faiz. Special automatic cameras will be able to identify these proposed number plates as reported.
Let's hope these new number plates aren't made a mockery of by printing holograms and icons of political leaders.