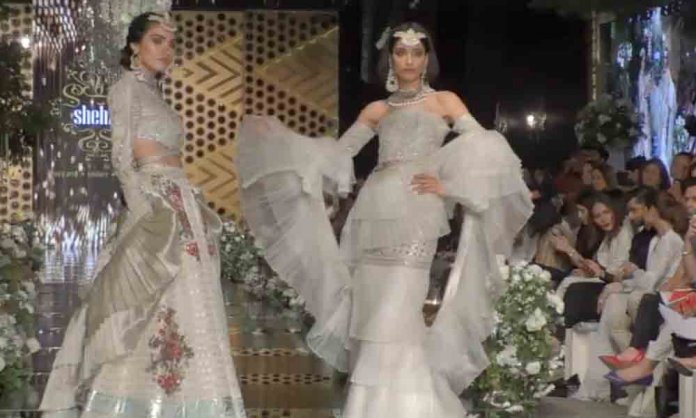 Aks, a solo show by Shehla Chatoor, was held at the Old Custom House Karachi over the weekend, April 28th, 2019.
Shehla Chatoor is known for her inclination towards presenting bridal collections through bygone eras.
The designer amalgamates heritage with subtle modernity and harnesses expert craftsmanship to create exquisite, timeless pieces that any girl would dream of sporting on her big day.
In a press release, Shehla Chatoor stated:
"For the last two decades Bridal Couture has been a very important and major part of the SHEHLA brand.  I have always seen Bridals as a timeless investment. I view these artisanal pieces like items of jewelry which can be passed on to future generations as heirlooms."
A Subtle Yet Fantastically Royal Collection
The ensembles were a magnificent blend of subtle tones, indulgent shades, and metallic hues enveloped in heavy ornamentation and an enchanting colour palette.
The collection became even more impactful, thanks to the backdrop complementing her designs. One look at the catalog and the words grand, royal, and fascinating come to mind.
The meticulously detailed work adds more drama to the vibe when paired with the flair, flow, and voluminous layering of the pieces.
A Treat for Men and Women Alike
Another pleasant, noteworthy observation was the men coming out on to the catwalk, clothed in enchanting white and pastel Shalwar Kameezes and Sherwanis.
Alongside Fouzia Aman as the showstopper, popular stunners including Sunita Marshall, Sadaf Kanwal, and Mushk Kaleem also graced the runway. Their alluring skin glistening from the shimmer in their attire, they were the epitome of elegance, indeed.
With ravishing cutout backs, tiny sparkling batwas, and the dreamlike aura engulfing the entire show, Aks by Shehla Chatoor was an experience in itself.
Shehla Chatoor – Charming Audiences Since the Past Two Decades:
 Renowned for her eclectic taste and artistic intuition, Shehla Chatoor has been designing stunningly classic, aesthetically pleasing collections since the last twenty years.
Watch glimpses from the show here and tell us which one you'd love to wear: