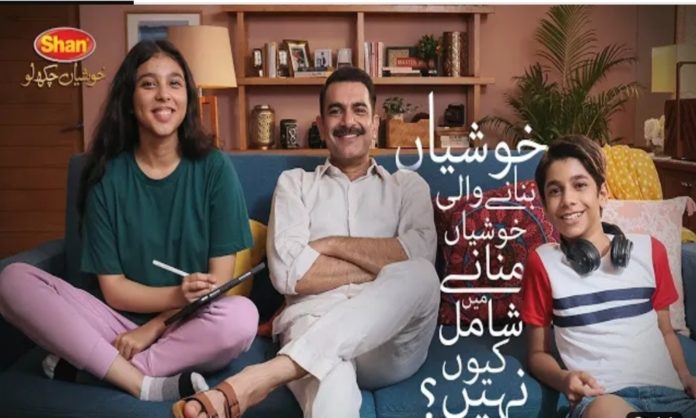 When it comes to TVC and digital advertising, Shan Foods has always been a pioneer in making a mark. While Shan has managed to dominate the food industry its take on societal roles and its relationship to food has always been pivotal. Shan has managed to roll out some of the most iconic TVCs over the decades. Needless to say, each commercial always tends to leave an impact on its viewers. This time, Shan has managed to do the same and has started a conversation that only seems arbitrary given the times we live in.
Shan's Latest TVC 
As 2023 started, Shan released another TVC which started a much-needed conversation about breaking stereotypes. The commercial was launched after a series of small clips were shared on Shan's platform with the hashtag #khushiyanBananeWali. The campaign talks about the role of our mothers and housewives who work day and night to make their homes what they are. From cooking food to setting tables and celebrating events, all they worry about is house chores without getting the proper time to take part in the celebrations wholeheartedly.
This campaign has managed to shed a light on the roles of housewives and mothers from a perspective probably never seen before. Needless to say that the TVC will make you emotional and teary-eyed. So without further ado take a look at it below.
Read More: The Eat Festival 2023 To Celebrate A Decade Of Karachi's Biggest Food Event
Housewives Are Workers Too?
The old notion that housewives have no job is decades old. Meanwhile, patriarchal norms have made it more difficult to shed a light on the problem. However, it is only the beginning and the discussion still has a long way to go. Housewives who are stay-at-home mothers manage to work day and night without any time off. Something as timid as it sounds it is mind-Boggling once we realize that chores are no less than a job and housewives are not worth anything less than those who work in the offices.
With this campaign, Shan is raising its voice to help people understand what mothers and housewives go through daily. While it is something that has been neglected and avoided, now is the time to put a different spin on the same perspective and Shan has done it amazingly.
Read More: Krave Mart Celebrates 1st Anniversary!
Stay tuned to Brandsynario for the latest news and updates.