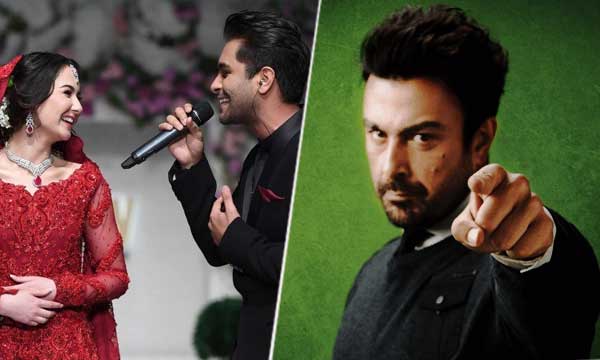 Asim Azhar and Hania Aamir, the new love birds in town, have people drooling over their perfect chemistry.
Consequently, wherever they go, the question arises if they are officially in a relationship or not?
From their interesting exchange of comments on Instagram to photoshoots together, Asim and Hania surely make an adorable couple.
Not to forget, the pair took social media by storm over their romantic walk on the ramp for Zainab Chotani at FPW 2019.
Asim Azhar's recent interview to BBC Asian Network is also making rounds on the internet in which he opened up about his relationship Hania Aamir.
When asked if he's in a relationship with Hania, Asim couldn't help blushing and said:
I don't think I'm in a position to answer that really casually or frankly.
However, he casually avoided the question of their relationship status, saying:
I respect her. Any comment, whether yes or no, I would want her consent.
This interview caught the attention of many including our superstar Shaan Shahid, who came up with an interesting response and advised Asim Azhar to "seek respect and not attention"!
Here's what he posted:
— Shaan Shahid (@mshaanshahid) March 23, 2019

When one of the followers asked the reason behind his comment, Shaan Shahid said:
Never brother I don't need to …it's just that it's very personal to be discussing it on a public forum.. respect for your loved one comes first .. that's all

— Shaan Shahid (@mshaanshahid) March 23, 2019
Well, apparently the recent comments by Asim Azhar over his relationship with Hania Aamir are just for the sake of attention according to the veteran star. He thinks such remarks are very personal to be discussing on a public forum.
Watch Asim's full interview below
"You see my heart beating really fast?" ❤️ Pakistani pop star @AsimAzharr speaks about his relationship with actress Hania Amir for the first time. He tells @iharoonrashid that she "brings positivity" in to his life. pic.twitter.com/sGoW4IXBl8

— BBC Asian Network (@bbcasiannetwork) March 23, 2019
Have something to add to the story? Let us know in the comments below!
Originally published on Veryfilmi.com