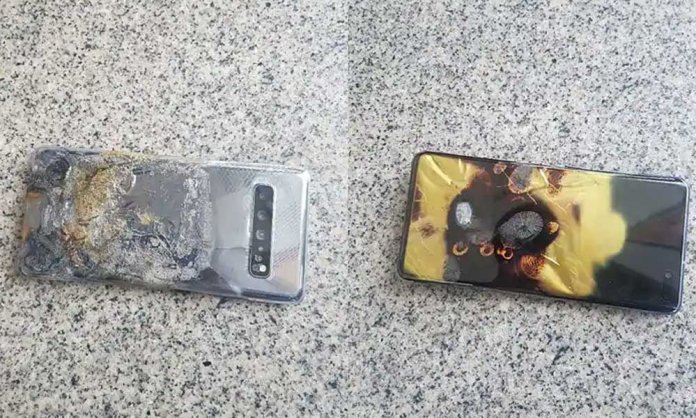 Everyone remembers how Samsung Galaxy Note 7 shook the world when reports about it randomly exploding filled social media.
Following the incident, the brand did everything possible to prevent such incidents from occurring in the near future. However, it looks like their efforts have gone in vain.
A South Korean man has claimed that his Galaxy S10 5G caught fire just after a couple of days of purchasing.
Samsung Galaxy Fold Screens are Breaking & Users are Freaking Out!
Identified as Mr. Lee, he claims that the phone was only in his possession for 6 days.  Reportedly, the set caught fire after overheating.
Lee further added that his phone was laying flat on the table surface and was not connected to a power source at the time of the outburst.
However, Samsung has refused to offer him a replacement phone or refund on the grounds that the Galaxy S10 5G caught fire because of an external factor and not an internal glitch.
To this, Lee shared that after it had caught fire he threw the set on the ground which could have caused the external damage.
As of now, Samsung has not responded any further about the matter. As of now, there is no confirmation as to what caused the fire.
However, it is to be noted that Samsung's Galaxy S10 5G debuted in South Korea just a few weeks ago with a 4,500mAh battery, the biggest ever from the smartphone manufacturer.
Stay tuned to Brandsynario for more news and updates.